Keith Reginald Warner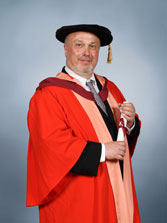 Doctor of Music
14 July 2017 - Orator: Dr John Pickard
Chancellor,
Our honorary graduand, Keith Warner, has two important appointments to keep today. The first is, of course, this ceremony. At the end, though, he must dash to the Royal Opera House, Covent Garden in time to take a curtain call at the end of a performance of an operatic adaptation of The Merchant of Venice, which he is directing.
Keith has spent a lot of time at the Royal Opera House lately. This month he has achieved the remarkable feat of having two different opera productions performed there by two different companies. His new production of Verdi's Otello, described by the Independent as 'the hottest ticket this year', recently came to the end of its opening run and Keith will be back there next summer for the revival of his now classic production of Wagner's The Ring of the Nibelung, now the longest-running production of The Ring in the Royal Opera's history. In the past few years alone, his opera productions have been seen as far afield as Berlin, Vienna, Copenhagen, Warsaw and Tokyo. It is no exaggeration to say that he is one of the most distinguished and sought-after opera directors in the world.
Keith was born in 1956 in Finchley, North London. His background was not a privileged one: the family lived in a council flat and, after his father had an accident leaving him unable to walk or to work, life was tough. Keith's mother did various jobs to keep the family afloat but money was scarce and he recalls the household furniture being repossessed more than once. Nevertheless, family life was emotionally stable and happy. Keith remembers his parents enjoying musicals and films and recalls listening to classical music and to the dramas of George Bernard Shaw on BBC radio – and of sensing that there was something special in what he was hearing; something challenging and exciting.
Life took a decisive turn when Keith was 11 and encountered Muriel Jobson, a trained classical singer who had done a good deal of acting. In her retirement she offered free lessons to local children who were interested in music and theatre, so Keith's weekends were soon taken up doing drama and singing in a choir. Shakespeare formed the backbone of the dramatic work, and in his teens Keith found himself taking major roles in specially adapted versions of the plays. Meanwhile, a local drama group offered the opportunity to explore adventurous repertory, including Ibsen, Brecht and Pinter. Soon Keith was going into town to join the queues for cheap seats at London's major theatres. He fondly recalls seeing Laurence Olivier in Long Day's Journey into Night 17 times, and being fascinated by how the actor varied his performance from one night to the next. He also remembers the extraordinary impact of the music dramas of Richard Wagner, the composer who has perhaps had the most lasting influence on his career.
At school Keith received violin lessons and a private benefactor at the local church paid for him to have piano and composition lessons. He kept up his violin playing well into his time as an undergraduate here at Bristol, though it was not Music that he came to read, but English and Drama in which he graduated in 1978. The late Professor Charles Tomlinson, the acclaimed poet, translator and editor, was a particular inspiration. The University Opera Society gave Keith the chance to cut his teeth as director and designer, working on anumber of productions, including some Stephen Sondheim revues at a time when Sondheim was little known here. This last experience would lead to further involvement with Sondheim's work and, ultimately, a friendship with the composer that continues to this day.
Keith considers his time at Bristol to have been the happiest three years of his life. Intellectually, it taught him not to be afraid of difficulty, but to revel in it. Personally, it brought him great happiness, not least meeting his wife, Emma, who was reading French and German and whose subsequent work includes the first English translation since the 19th century of Richard Wagner's seminal theoretical works on music and drama.
And it is Wagner's work that runs through so much of Keith's subsequent career. He did his final-year dissertation on The Ring and it was a production of Wagner's Lohengrin in Bayreuth that gave him his biggest international break and the support of Wolfgang Wagner, the composer's formidable grandson.
Keith once said: "The thing about Wagner, is that there can be no true success in any production of his operas, only degrees of failure." But for him, the challenge of Wagner offers an inexhaustible supply of intellectual stimulation, through the complexity of the ideas and the intimate relationship between words and music.
The opera director's 'script' is the musical score which, unlike the text-based theatrical script, is precisely fixed in time. The actors in an opera have a set of extra problems to think about – precise rhythms, intonation, sung diction (in any one of a number of languages). Then there are the instrumentalists – up to 120 of them in a particularly large opera. As Keith Warner says: 'you have got to take account of what the music is doing. I don't think the music is primary, but neither is it secondary. Music and text are equal partners.'
That deeply Wagnerian concern for the relationship between music and words has been a constant point of reference in a career that has encompassed an eight-year stint at English National Opera, an associate directorship at Opera Omaha and productions with dozens of major opera companies around the world. Wagner believed that art could, and should, fundamentally change people's lives; so it's not surprising that Keith feels he's done some of his most rewarding work with Streetwise Opera, which works with people who have experienced homelessness, using music and drama to help them make positive changes in their lives.
For Keith Warner, powerful formative experiences, first as a teenager lucky enough to find support within his local community, and later as a student at this university, sowed the seeds of the creative leadership he now demonstrates internationally.
Chancellor, I present to you Keith Reginald Warner, as eminently worthy of the degree of Doctor of Music, honoris causa.