Emma Stenning and Tom Morris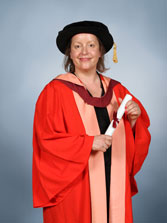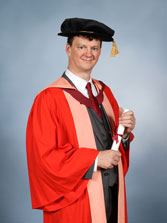 Doctor of Letters
July 2017 - Orator: Dr Catherine Hindson
Pro Vice-Chancellor,
Just over 10 years ago today I arrived in Bristol to take up a post in the then Drama Department, now the Department of Theatre to find the city's famous theatre, the Bristol Old Vic, in a state of peril – its future uncertain.
It is therefore a huge pleasure today to be acknowledging and celebrating the work of Emma Stenning and Tom Morris – Chief Executive and Artistic Director respectively of Bristol Old Vic – who have turned the fortunes of the theatre around, given it a face lift, and produced and directed some extraordinary and exciting shows along the way.
Emma Stenning was born in 1975. She went to Yateley Comprehensive School in Hampshire, where her love for theatre flourished, and then on to Gonville and Caius, Cambridge to read History and produce for Footlights.
After graduating Emma started her career in the Arts as she meant to carry on: spinning lots of professional plates, fast, and at the same time! While working as a producer at Oxford Stage Company, she continued to run the theatre company, Straydogs, that she had established with a University friend, Simon Godwin, now a world-renowned theatre director.
A stint as Head of London Theatre for Arts Council England followed, then a role as producer of the 2009 Manchester International Festival, delivering a number of premieres, including Rufus Wainwright's opera Prima Donna. More recently Emma was London and Cultural Programme Advisor at the Organising Committee for the Olympic Games. By the time Emma arrived in Bristol she had produced work that had reached audiences of millions. Yet, in spite of these successes, she continues to work to support others in the Creative Industries, acting as a mentor for other arts professionals and serving as Deputy Chair of the Globe and Chair of the Bike Shed Theatre in Exeter.
Stepping back a little in time, in 1998 Straydogs had their first professional booking, by the then Artistic Director of Battersea Arts Centre Tom Morris. It was here that the professional partnership that Bristol has benefitted from began. Four years later Emma joined Tom at Battersea as Executive Director.
Tom Morris spent his school days at Stonyhurst College, and then moved to Pembroke, Cambridge, where he read English Literature. His love for the subject led him to begin a PhD, and though he enjoyed undergraduate teaching enormously, he stepped away from postgraduate study to a career that began with freelance journalism, broadcasting and production, working for – and this is an edited list - the Independent, the Sunday Times, the Guardian, Radio 4, the Maly Theatre Moscow, and the Cambridge Arts Theatre.
From 1995 - 2004 he was Artistic Director at Battersea Arts Centre. Under his stewardship, it became a powerhouse of experimental theatre, generating and supporting companies who were producing some of the most exciting theatre of the late 1990s. Work with Kneehigh followed and since 2004 he has been an Associate Director at the National Theatre.
It was at the National that the production that will forever be connected with the name Tom Morris was born. War Horse first appeared before audiences in 2007 and continues to thrill and move full houses around the world – it's currently onstage in China. The Broadway production won five Tonys, including best direction of a play for Tom and his co-director Marianne Elliott. More recently he directed the Death of Klinghoffer for English National Opera and the Metropolitan Opera, New York. Tom's status as that rare thing – a theatre director who has become a household name – was recognised in 2016 with an OBE for services to Theatre. In 2009 Tom and Emma returned to their working partnership, accepting the job of turning around Bristol Old Vic - the longest continuously-running theatre in the UK. Charged not only with regenerating the programme and expanding and diversifying audiences, but also leading on a major building project. In 2011/2012 the theatre's main house – the city's original late eighteenth-century Theatre Royal was stripped back to bricks and mortar.
Phase two of the project is ongoing. If you venture down to King Street today you will see a gaping hole where the 1970s venue frontage stood. The rebuild will reveal the eighteenth-century brickwork of the old theatre, offering new studio- and function spaces that will bring in income for more productions. A fusion of the very old and the very new that represents their management in many ways.
Alongside the logistical and financial challenges of the £12.5 million redevelopment project, Emma and Tom have kept on producing and directing. There have been many high points in the Old Vic's 250th anniversary season but, for me, the pinnacle was the Grinning Man, anextraordinary and engaging musical spectacular that has won wide critical acclaim. It was edgy and dark, a reflection of Tom's conviction that
'Playing safe doesn't really work, the theatre has only survived so far because of the city's […] love for it. Essentially it's a quarter of a millennium love affair, which like all love affairs has had its fair share of ups and downs'.
The Department of Theatre's partnership with the Bristol Old Vic is one we value very highly; it enables us to provide students with valuable back-stage access, performance space and work placement opportunities, and the impact on their development is clear. This year also marks the beginning of a Heritage Lottery Fund project between the Theatre, the University of Bristol's Theatre Collection and Bristol Archives that will make visible the Theatre's history and heritage and bolster their exciting programme of outreach and engagement.
There is so much in the careers and personalities of Emma Stenning and Tom Morris for today's graduates to draw on and take away, and I have today just offered a glimpse of the highlights. Their work speaks to the importance of risk and persistence, to the need for passion, integrity and collaboration and to the conviction that the creative industries will, and must, continue to develop and flourish, functioning as an essential part of as many people's lives as possible. Emma has noted that while 'today's executive leadership in regional theatre is complex and thrilling. It's also rarely visible, and often not very well understood'.
Pro Vice-Chancellor I am delighted to be able to address both the hidden and the very visible work of this professional partnership here today.
I commend to you both Emma Stenning and Tom Morris, each eminently worthy of the degree of Doctor of Letters, honoris causa.