Matt Lucas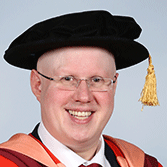 Doctor of Letters
Thursday 16 February 2017 at 1.30 pm - Orator: Dr Alex Clayton
Chancellor,
The final words of the English Shakespearean actor Edmund Kean are said to have been "Dying is easy. Comedy is hard." And it's true. Dying is easy. Literally anyone can do it. And everyone probably will, at some point in their life. But there's another part to this apocryphal quote that is easy to overlook, and that's the part that says: "Comedy is hard." Which is quite a random thing for Kean to have said on his deathbed. He might just as easily have said "Skiing is hard" or "Pole dancing is hard". But he didn't. He probably didn't say "Comedy is hard" either, because, as I mentioned, the quote is apocryphal. I digress.
Most comedians started out as babies, and our Honorary Graduand Matthew Richard Lucas is no exception. At the tender age of 21, as part of the Vic Reeves and Bob Mortimer comedy panel show Shooting Stars, Matt Lucas made his mark in an adult-sized romper suit – an unusual demand for the BBC costume department. If you've ever seen Matt as George Dawes, the giant bi-polar baby who keep the scores, plays the drums, sings charming ditties and yells abuse at the show's contestants, you'll doubtless bring him to mind – in fact, you probably couldn't forget him if you tried.
As a teenager Matt had developed a precocious talent for performing comic characters, honing his craft by watching the masters of classic comedy. Matt has relayed how on one occasion, at a party, he called his friends away from more familiar teenage party activity to come and watch a VHS of Modern Times – which is kind of the definition of a comedy nerd. Matt has described himself as a naturally shy character, which puts you even more in awe of the courage it must have taken to put himself on stage as a young man and perform live comedy, developing amongst other things a character called Sir Bernard Chumley, an aristocratic luvvie who would later be featured in one of Matt's early TV projects.
Prior to his big break with Vic and Bob, Matt Lucas had briefly attended this University on an undergraduate course in Theatre, Film and Television. It's a course that has fostered numerous comic talents, including Simon Pegg, Marcus Brigstock, and Matt's long-time collaborator, David Walliams. However, partway through the course, with professional opportunities beckoning, Matt decided to leave the University on a one-year sabbatical. That gap year proved so successful that so far that it's lasted 22 years. We can't hold that against him, although now that we're giving him this Honorary Degree we might turf out the stuff from his locker, which is starting to smell.
Of course, Matt's collaboration with fellow Bristol graduate David Walliams is responsible for his most celebrated work, the deliriously brilliant and occasionally puerile sketch show Little Britain, originally a show on Radio 4 before it became a phenomenally successful BBC TV series. I recently took my children to a pantomime of Aladdin and was amazed to hear how many of the catchphrases and references derived from Little Britain, including "Yeah But No But", "Computer Says No" and "Fat Fighters". I mention this principally to let Matt know about some untapped opportunities for claiming royalty payment. But it also illustrates the way so many of his creations, themselves inspired by traditions of music hall and popular performance, have become woven into the texture of contemporary popular culture and the consciousness of millions.
That depth of influence owes to great writing, great invention, but even more so to the sheer memorability of Matt's performance work. Who can forget seeing him as the ostensibly disabled character Andy Pipkin, vaulting from his wheelchair at the local swimming pool, mounting the steps of a diving board, and bombing 20 feet into the pool below – all while his oblivious carer fusses about how to lower him into the water? It's a masterpiece of comic staging, timing, and energetic performance, worthy of the great silent comedians. From this springboard was launched a terrific screen career that continues to gather pace: comedy series like Come Fly With Me and his experimental dialogue-free sitcom Pompidou; scene-stealing appearances on the big screen in films such as Bridesmaids and Paddington; as Tweedledum and Tweedledee in the Tim Burton-directed Alice in Wonderland and its sequel, Alice Through the Looking Glass; and most recently in the TV series Doctor Who as Nardole, perhaps the most adorable Doctor's Assistant since Nurse Duffy quit Casualty. Matt is also noted for his extensive charity work, including being a patron of The Karen Morris Memorial Trust, a UK charity for leukaemia patients and their families.
And so, Chancellor, I present to you Matthew Richard Lucas as eminently worthy of the degree of Doctor of Letters honoris causa.