Chris Jolly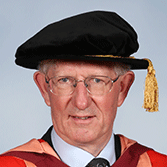 Doctor of Science
Wednesday 15 February 2017 at 1.30 pm - Orator: Professor David Smith
Vice-Chancellor
At a time of great turbulence in higher education many have questioned the true value of a university education. Here at Bristol, we believe that a university education should prepare our graduates for challenges and opportunities throughout their life. We have recently reaffirmed this principle in our new University Vision and Strategy, through the development of our Bristol Futures initiative, which puts a renewed emphasis on the development not just of discipline-specific knowledge, but also higher level transferable skills and attributes.
It is therefore appropriate that we should be recognising the achievement of one of our former Chemistry graduates, Chris Jolly, whose personal creativity and enterprise has had a truly global impact in children's education.
Chris is the founder of Jolly Learning. His published programme, Jolly Phonics, is an integrated system that is used across the world to teach children to read in English. Words are broken up into 42 letter groups, each with their own sound. It identifies five skills, including learning the sounds of each phenome, learning letter formation, blending sounds for reading, and segmenting words to spell them. The fifth skill is dealing with tricky words¾the words that just can't be decoded—and it is no coincidence that Chris is a member of the Simplified Spelling Society. Jolly Phonics offers a multi-sensory child-centred approach. There are accompanying actions for each sound, and there is even a Jolly Phonics song. I'll spare you the actions and the song.
When he graduated in 1968, Chris did not imagine that his life would take the direction it has. During one summer vacation, Chris had had a job in a Leeds brewery. For many chemists, this would have been their dream job, but it made Chris realise that he had wider ambitions. So, when he graduated, Chris set off to teach Chemistry through Voluntary Service Overseas in Malaysia. There was initially some confusion. Chris was placed in one school that wasn't expecting him, and then in the grand Victoria Institution in Kuala Lumpur. But Chris didn't want to teach in a good school in the country's capital. He was keen to challenge himself and quickly managed to secure a placement in another school up country, where he felt closer to the community and able to make a bigger impact.
Chris returned to the UK and took up a series of business roles. He gained a lot of experience, but became increasing frustrated by working for someone else. He therefore decided that he would set up on his own. It was Chris's connections in stationery and toys that was to see the launch of Jolly Learning. He was approached to market an educational game, and initially, he looked for a brand that might take the product on, but realised that he was best placed to market it himself. Subsequently, he met Sue Lloyd, and together they launched Jolly Phonics, which has gone on to be a phenomenal success—used in schools across the UK. For an assessment of the impact of the system, I did think of referring to the numerous papers and theses that have been published in the educational research literature. However, it seemed more appropriate to consult some of the learners …
"I like the way the songs go because they are really useful to learn your sounds, and the sounds help you learn your letters and the letters help you learn your words and words are what help you read.
However, the impact of which Chris is most proud is not here in the UK, but in the developing world. Chris's experience in commerce taught him the importance of addressing actual need, rather than perceptions of need. For many of the poorest families in the world, their most important aspiration is for their children to be able to read and write in English. The commercial success of Jolly Learning has meant that Chris has been able to introduce Jolly Phonics for free to many countries in Sub-Saharan Africa and the Indian Sub-Continent. The impact in Nigeria is especially telling, where around 50 000 teachers have now been trained in teaching English with Jolly Phonics, and where national adoption now means that all children will now benefit from using the system.
Chris's insight has also been invaluable to the University in informing the way that we teach. Chris has highlighted the many parallels between teaching children to read, and teaching chemistry. Both start with learning some of the basics … how to read and spell simple words like dog and cat … learning off by heart the elements in the first few rows periodic table. But it isn't possible to memorise every word or every chemical reaction. Children need to read unfamiliar words and chemists need to be able to predict the outcomes of new reactions. Both reading and chemistry therefore rely on understanding fundamental principles. The process has to start with that initial phase of learning, to build confidence and make rapid progress, but very quickly the deep learning has to take over.
It therefore seems entirely appropriate that as we launch our Bristol Futures curriculum, we honour one of our alumni through the award of this degree. Chris Jolly truly embodies the principles of Bristol Futures: Innovation and Enterprise, Global Citizenship and Sustainable Futures.
Vice-Chancellor, I present to you Christopher Jolly and eminently worthy of the degree of Doctor of Science honoris causa.