Simon Timothy Cook OBE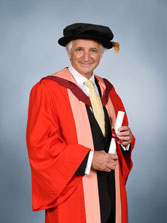 Doctor of Letter
July 2017 - Orator: Professor Judith Squires
Pro-Vice Chancellor,
Bristol was named the best place to live in Britain in 2017. In making the award The Sunday Times Best Places to Live Guide noted that "city crams in all the culture you could wish for. The city is a worthy winner thanks to its ideal combination of extraordinary culture, impressive schools, buzzing culinary scene, exciting redevelopment and community spirit. We sum the city up as cool, classy and supremely creative."
Culture is the lifeblood of a vibrant city, expressed in the many ways we tell our stories, celebrate, remember the past, entertain ourselves, and imagine the future. Participating in culture is a source of delight and wonder, it forges identities and preserves a community's sense of place. From cinemas to museums to theatres to dance studios to concert halls, culture brings people together. For children and young people, participation in culture helps develop thinking skills, builds self-esteem and improves resilience. Creativity and cultural engagement have been shown to improve both mental and physical health. Culture is the glue that holds communities together - cultural activities such as festivals, fairs and classes create social inclusion, community empowerment and civic pride.
So, if Bristol is the best place to live in Britain, it is in no small part due to the vibrancy of its culture - and the work of those who have fostered and championed this culture.
Simon Cook is a leading advocate for the cultural life of Bristol. He has campaigned tirelessly for enhancing the cultural capacity and resources of our city, and given his time and expertise generously to build the networks required to deliver on exciting new cultural projects that have transformed Bristol's sense of identity and confidence.
Simon Cook was born in Norwich, educated at Norwich School and the University of Sussex, where he gained a BA in English Literature in 1976.
After working in business for a while, Simon trained at Bristol Old Vic Theatre School to become an actor. He has performed with the Royal Shakespeare Company and Bristol Old Vic and appeared in many television dramas. He is known for his roles in Broadchurch (2017), Frankie (2013), Cal (2013), Casualty (2003), Family Affairs (2000), the Bill (1998), Grange Hill (1990). And there was his brief, but infamous, appearance in EastEnders, when he was kicked out of the Queen Vic by Shane Ritchie (for chatting up Samantha Mitchell).
He combined working in theatre and television with a high-level career in local politics. He was a Bristol City Councillor for 17 years, having been elected in 1999 to represent Clifton East ward. During that time he spent a year as Lord Mayor then worked within the Council's ruling Cabinet as Deputy Leader (2005-12) then Leader of the Council (2012). He was also appointed by Bristol City Council to be its representative on the University's own Council between 2011-13 and served on the regional council of Arts Council England with great distinction.
During this time, he had a wide range of responsibilities, ranging from Business Change, Leisure, Transport and Spatial Strategy. As Assistant Mayor for Place on Bristol City Council Simon oversaw major projects within the city, such as the arena. Simon also oversaw the final stages of the successful bid to become European Green Capital 2015.
But his specialization was always culture, working with arts organisations in the city and with the Arts Council to improve Bristol's cultural life. Simon has consistently – and successfully - pressed for maintaining the council's level of investment into the arts. He recalls that when he first took office, a senior officer at the Council made it quite plain that the new Museum of Bristol project (that was to become MShed) had to be cancelled as it was unaffordable. Simon leaned over the desk and said very firmly: "This project cannot be cancelled." The officer eyeballed Simon for a moment, said nothing then got up and left. The rest is history: the M Shed project was delivered successfully – providing the city with an exciting and innovative flagship Museum for Bristol, that tells the story of the city and its unique place in the world, by working with the people of Bristol to create displays and tell the stories of our past and spark discussion about our future.
Simon also created the Bristol Music Trust in 2011 to run the Colston Hall, a Grade II listed concert hall owned by Bristol City Council and Bristol's home of music since 1867, hosting performances from a wide range of artists, from Murray Perahia to Jimmy Hendrix and David Bowie. To ensure that the venue maintained its place at the heart of the city's cultural life, Simon supervised the delivery of the new foyer which opened in 2009, and led the campaign to refurbish the main hall - securing £25m to date from towards the £49m revamp. The concert hall is about to close for refurbishment and re-open with a new name. Simon's commitment to securing a long-term and sustainable future for the Colston Hall has been crucial, and helps the city to champion music.
He served as director of Bristol Cultural Development Partnership for a decade and as chair for five years. His leadership was essential. And as befits a cultural organisation that work saw his acting talents used as well as his administrative skills. He played Brunel at the Brunel 200 banquet in 2006; Phileas Fogg for the Bristol Great Reading Adventure Around the World in Eighty Days in the same year; and Sir George White for the BAC100 year celebrating a century of Bristol aviation in 2010. To mark the fiftieth anniversary of C P Snow's famous two cultures speech he read the original to a packed gathering in Bristol's Festival of Ideas.
Having stepped down as a councillor, Simon continues to act as a leading advocate for the cultural life of Bristol. He has served on the Regional Council of Arts Council England and now sits on the Boards for the Bristol Cultural Development Partnership, Bristol Ensemble and Bristol Music Trust. He was awarded an MBE in 2016 for services to culture.
In the words of Andrew Kelly, Director of the Festival of Ideas: "Simon Cook is a leader of great distinction. He has vast experience in developing and managing projects; bringing together partnerships; networking and influencing. His personal support for arts organisations over many years has been outstanding. He has left a lasting legacy from his time as a councillor and council leader and there is promise of much more to come. We need more political leaders with passionate experience in arts and culture like Simon."
Pro Vice-Chancellor, I present to you Simon Cook as eminently worthy of the degree of Doctor of Letters, honoris causa.