Gillian Elizabeth Camm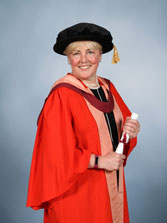 Doctor of Laws
July 2017 - Orator: Samantha Budd
Pro-Vice Chancellor,
The first thing that strikes you about Gillian Camm is her air of professionalism and calm confidence: you can just sense that this is someone who can get things done. At the same time, she's very self-effacing. Gillian's career so far has involved major leadership roles and overseeing transformations across a number of sectors. She is also a very experienced non-executive director who specialises in challenging, coaching and guiding executive teams as they introduce large-scale changes to their organisations. But if you ask her what she's about, what makes her tick, and what has kept her going, her answer is very clear: that her passionate belief in education and in ensuring equality of access for all have been the most important motivations in her work, and have shaped both her career and her wider life.
Gillian graduated from Liverpool University in 1981 with a BSc in Psychology. The early 1980s were a time of huge social unrest, and the area of Toxteth in Liverpool suffered some of the most serious rioting that we have seen in this country in recent decades. These were troubling times, but they also saw a resurgence for gay rights, black rights and women's rights. This provided the climate for a degree of optimism, and Gillian, as a young woman with a good education, could feel confident that she would be able to smash through the glass ceiling. And so she started her career as an Industrial Relations Officer for a diesel engines company.
This would have been a challenging environment for a young woman, but Gillian was more than equal to it. After three years she moved on to work in a series of management roles in areas such as industrial relations and human resources She became adept at handling complicated, large-scale challenges, part of a skillset that she continued to develop during seven years as a management consultant before she moved into the next phase of her career. For that new [phase], she stepped up into the first of many roles as a board member for some of the most well-known and complex organisations in the UK. These include serving as a commissioner for the National Health Service, a member of the General Medical Council, a Non-Executive Director at the Home Office and a Senior Independent Director of Wessex Water. It's probably fair to say that she's seen more boardrooms than most.
Gillian's work for the sector doesn't stop there. She also chairs the Leadership Foundation for Higher Education, an organisation with a mission to ensure that our universities are led by people equipped with the best skills so that the UK can continue on its journey to deliver the highest-quality university experience and can continue to stand in the forefront of global education.
Of all the diverse roles that Gillian has had, some of the work she's perhaps proudest of is her service as Chair of the Board of Governors at the University of the West of England – a position she has held for almost nine years. I've already mentioned her passion for education and her concern for establishing fair access for all, and she has worked tirelessly with Steve West, the Vice Chancellor at UWE, and the rest of the board to put these principles into practice. Her efforts helped to set that institution on the course that has taken it to where it is today, with its outstanding reputation for delivering a wide range of applied and professional education programmes as well as a rich academic offer, attracting a really diverse student body from the local community and beyond.
All students, Gillian insists, should be given the best possible chance to flourish, to enjoy their time at university and to make the most of their education. I know that she feels honoured to be among you today as a fellow graduate of the University of Bristol – an institution which is at the heart of the remarkable city in which she has invested her time, skills and much of her career.
I asked Gillian how it felt to find out that she'd been recommended for an honorary degree. She was humble in her response and talked of imposter syndrome… But I can assure you that Gillian Camm, whose incredible contributions to the university sector, to this city and to areas beyond is no imposter. She is the real deal.
Pro Vice-Chancellor, I present you Gillian Elizabeth Camm as eminently worthy of the degree of Doctor of Laws honoris causa.