Professor Sir Richard Blundell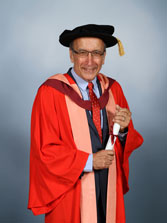 Doctor of Laws
July 2017 - Orator: Professor Frank Windmeijer
Vice Chancellor,
On this day 44 years ago, Top of the Pops played David Bowie's 'Life on Mars', Mott the Hoople's 'Honaloochie Boogie', and the unforgettable 'Skweeze Me Pleeze Me' by Slade was number one. It was also the time that Richard Blundell, now Sir Richard Blundell, was sitting here to receive his first class BSc in Economics and Statistics.
Economics was not what Richard originally intended to do. He started an undergraduate degree in acoustic engineering, following his passion for music and being a guitarist in a prog-rock band. However, he was soon unsure about his choice and a chance encounter over a beer with an economics student convinced him to switch. It is tempting to venture here into an exposition on counterfactual worlds and treatment effects, but suffice to say that that beer set Richard on the road to becoming one of the pre-eminent economists in the world and, without that chance encounter, British economics would be markedly different – and poorer – in ways that I will come back to.
After Bristol, Richard's route took him to the London School of Economics for an MSc in Econometrics followed by a lectureship in Econometrics at the University of Manchester in 1975. During the nine years he was at Manchester he started to develop the research agenda he maintains to this day, focusing on the microeconomic analysis of consumer demand and labour supply in a life-cycle setting, together with developing econometric techniques necessary for empirical analysis. In 1984, Richard was appointed Professor of Economics at University College London, where he remains today, and where he has held the Ricardo Chair of Political Economy since 2005.
Richard's research falls within the area of Economics known as applied micro-econometrics. He has written many seminal papers on how life-cycle labour supply and consumption choices interact with education, family formation, pension decisions and the tax and benefit system. Richard has also developed the tools needed for the estimation of the models in his empirical research, accommodating new data sources and data types as they became available. He developed for example methods for the estimation of discrete outcome models and for the estimating of dynamic panel data models. Some of you may well be familiar with the Blundell-Bond panel data estimator from your applied economics dissertation.
Richard's work is hugely influential; he has for many years been among the most-cited economists in the world, and it is to the benefit of the discipline in this country that he chose to resist the lure from the other side of the pond and to spend his career in the UK.
For Richard's influence has extended well beyond that of academic citations. He is someone who has built thriving communities of academic excellence around him. As Head of Department at UCL for example, he was responsible for its transformation into the Economics powerhouse it now is – beating its close rival LSE to the top UK Economics Department in the latest research excellence exercise and recognised as one of the leading departments in the world.
Richard has also been instrumental in the success of the Institute for Fiscal Studies, known to many by its initials, the IFS. You might be familiar with the public faces of the IFS – Paul Johnson and before him Robert Chote and Andrew Dilnot – appearing regularly in the media to comment authoritatively on tax and benefit policy and to bring politicians and their budgets to account. But their commentary rests on a foundation of academically-rigorous research overseen by Richard who was, for no less than twenty years, the IFS's Research Director. It is rare to find a pre-eminent academic economist who is also committed to influencing policy. In recognition of his contribution to economics and social sciences, Richard was awarded a CBE in 2006, and a Knighthood in 2014.
I said Richard invested in those around him. At UCL and IFS, he nurtured young economists and econometricians, mentoring them to successful academic and research careers. You can find Richard's former PhD students and mentees in top Departments worldwide – in the Bristol Economics Department today, Professors Helen Simpson, Sarah Smith and myself have all directly benefited from his guidance and collaboration during our time at UCL and IFS.
Which brings us back to Richard's links with Bristol. It has long been part of Richard's life. Not only did he get his undergraduate degree from here, he also met his wife, Annie here and their oldest daughter Katie graduated from Bristol Medical School in 2010.
Richard, your list of honours and prizes is long and impressive. You are a past President of the Royal Economics Society, the Econometric Society, the European Economic Society. You have won the Frisch medal, the Yrjo Jahnsson award, the Jean-Jacques Laffont Prize and the Nemmers Prize, to name but a few. It is entirely appropriate that your achievements now be recognised by this University.
The University of Bristol is proud to have you as a graduate, Richard and to celebrate you with an honorary degree today.
Vice-Chancellor, I present to you Professor Sir Richard Blundell as eminently worthy of the degree of Doctor of Laws honoris causa.