Professor Sir John Beddington CMG FRS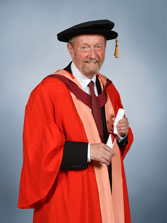 Doctor of Science
July 2017 - Orator: Professor Rich Pancost
Pro-Vice Chancellor,
It is my great pleasure to introduce Sir John Beddington, Fellow of the Royal Society, Fellow of the Royal Academy of Engineering, and former Chief Scientific Advisor to the UK Government. His successes span academia, business and policy; he is a scientific leader; and he is a truly generous colleague and collaborator.
I have known John for four years, during which time he served as Chair of the Cabot Institute's Advisory Board. However, our University connections go back further, to the Icelandic ash cloud crisis. Regionally, our connections are even deeper as John grew up in the West Country – with the accent – when it suits him.
I have had the pleasure of working with John in many ways, heard numerous anecdotes, learned much about our country, our government and our institutions. John was incredibly generous, sharing his wisdom and experiences, in honest but balanced and thoughtful ways; celebrating our strengths and challenging us where we could do better.
And John had a great deal of knowledge to share. Arguably, he is one of the most important British scientists of this century.
Even 'in retirement', John chairs the Boards of the UK Met Office and Rothamsted Research and the Audit Committee of the Royal Society. He is President of the London Zoo, the Marine Biological Association and the Freshwater Biological Association. He is Co-Chair (jointly with the ex-President of Ghana) of the Global Panel on Agriculture and Nutrition. He is an advisor to Marks and Spencers and Rolls Royce and is a member of the Climate Active Advisory Panel to Sarasin & Partners. He is a Trustee of the Queen Elizabeth Prize for Engineering and a member of several Science Advisory Councils. This is what John Beddington calls retirement.
I'd like to share some of John's achievements on his path to 'retirement'. He is a population biologist, best known for his work on the sustainable management of fisheries. However, he has applied his skills to diverse challenges in sustainable resource management. He received his PhD from the University of Edinburgh, studying The Exploitation of Red Deer in Scotland, and served as an Adviser to the International Whaling Commission on Sustainability (or not) of whaling.
He was appointed by Imperial College in 1984, rising to a professorship, and elected Fellow of the Royal Society in 2001. His expertise in economics and biology meant that John was conducting interdisciplinary research long before it was fashionable.
Because of that background, he was asked to chair the Department for Environment, Food and Rural Affairs' Science Advisory Committee and he sat on the Defense Scientific Advisory Committee. Beyond the UK he has advised the European Commission, the United Nations Food and Agriculture Organisation and the World Bank. At the same time, he founded a successful business consultancy on sustainable fisheries management.
In January 2008, John became the UK Government's Chief Scientific Advisor, serving until 2013. It is a period a colleague once described as Ashes to Ashes, reflecting his leadership during the Icelandic Ash Cloud and Ash dieback disease crises.
It is during the former that the University of Bristol forged a strong relationship with John. It might seem odd that Bristol is home to one of the world's top volcanology research groups but it was particularly useful when the Eyjafjallajökull eruptions of 2010 stranded millions of travellers and cost the airline industry alone over £1B. John convened the Scientific Advisory Group (SAGE) to advise the COBR Committee. SAGE included some of the University's leading volcanologists, providing not just the guidance to help get aviation moving again but setting up the framework to minimise future disruptions.
John was also Scientific Advisor when the Tohoku earthquake and tsunami devastated Japan and caused the subsequent Fukishima Daichi nuclear incident. John has since advised some of the Cabot Institute's researchers as they study this event and its impact. At the time, however, he visibly provided evidence-based leadership. When David Cameron asked if the British Embassy should be evacuated, John, on the basis of robust scientific evidence said there was no need. When David Cameron asked if he'd back that up by going there himself, John did. This earned both John and the UK immense respect from Japan, and in 2014 he was presented with the Order of the Rising Sun.
This is not just leadership in a crisis. This is centring evidence and knowledge at the heart of political decision making.
It's worth pondering this. Britain was one of the few countries that did not withdraw its Embassy staff. Imagine what that meant to Japan. What that meant for British citizens living in Japan. For their relationships with friends, neighbours and colleagues. Every government decision has a multitude of consequences. That is why those decisions have to be wise, considered and informed. John lives and breathes those ideals.
Related to that, John had another, less heralded but perhaps more impactful achievement as Chief Scientist. He ensured that there is now a Chief Scientific Advisor for every major government department. In a so called 'post-fact' age when evidence is ignored and politicians argue that we 'have had enough of experts,' I am grateful that John had the foresight to formally embed evidence at the very heart of government decision making.
John's influence on this country has been vast and for this The Queen awarded him with a CMG in 2001 and a Knighthood in 2011.
His influence on this University has been equally vast. It has been a great honour to work with John and to read this oration. John continues to inspire me and I hope he will inspire you to build on what you have learned at the University of Bristol. To use what you have learned and will continue to learn for the betterment of society.
Pro Vice-Chancellor, I present to you Professor Sir John Beddington as eminently worthy of the degree of Doctor of Science, honoris causa.