Interview with Rohin Athavale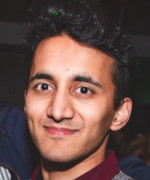 Rohin has a background in medicine and previously studied in Oxford. He is part of the 2021-2022 cohort for the MSc in Digital Health.
What made

you

pick

the

U

niversity of Bristol

, and why did

you choose the MSc in Digital Health

?
I picked the MSc in digital health because it's clear that the use of technology in healthcare is only going to increase, a fact which coupled well with my natural interest in tech. I think there is huge potential in the field, especially within the NHS, and feel that formally studying digital health will give me the skills to integrate this aspect of healthcare into my medical career.
I'd been visiting Bristol for years before finally moving here last year, and so have always been fond of the city. I really enjoyed living here over the last year, despite the lockdowns, and so was happy to find out that I could study digital health here at the University of Bristol.
What is your background

?
I studied medicine at the University of Oxford, graduating in 2020, and last year worked as a junior doctor in medicine and psychiatry at Southmead Hospital, Bristol.
I have some prior experience in digital health in the form of working on implementing a digital improvement tool to help staff find appropriate referral pathways at Southmead. I also spent some time working at a biotech company in Oxford who have designed a system to take physical observations by camera.
How did you find the application process?
It was a fairly simple process, I only needed to write up a personal statement and update my CV in addition to signing up to the University of Bristol's website. The interview was also straightforward, there weren't any odd questions!
What are you enjoying most about the programme

so far

?
I really enjoy the variety of teaching, my favourites are probably our modules on ethics, the healthcare systems, and learning how to code. It's also great to be able to work with a range of people from all sorts of different backgrounds, especially since I've been stuck with medics for the last few years!
What do you plan to go onto

after the MSc

, and what are

your

future career aspirations?
I plan on returning to clinical work next year on a part-time basis and hope to spend
some
of my leftover time on digital health, for example through
a
Topol
digital fellowship. I also really
enjoy teaching, and so am looking to expand my
work
in medical education to complement teaching I'm already doing at UWE.
How are you enjoying life in

the

Bristol?
Bristol is a
really nice
city
-
it generally has a diverse and friendly vibe.
There's lots of stuff to do, recently I've spent a lot of time trying out the board game cafés around the city. There's also a good variety of places to eat and drink. I spend a lot of my spare time out and about in the
city and
try to fit in the gym every now and again.