Interview with Maximiliano Vazquez Morales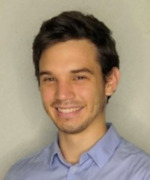 ‌
‌Maximiliano previously studied biomedical engineering in Mexico. He is part of the 2021-2022 cohort for the MSc in Digital Health.
Why did you decide to study in the UK?
First of all I wanted to be in a place where I could have the facility to communicate my ideas. Since I already knew English, I targeted universities in the UK because I wanted to return to Europe. Digital Health is a topic that hasn't been developed well enough around Mexico, therefore I felt the necessity to look abroad. Of all the cities that I've searched, Bristol was the one that caught my attention the most. After the many obstacles I needed to overcome, I'm finally here, and I feel lucky to be sharing my history with my colleagues here in Bristol.
Why did

you choose the MSc in Digital Health

?
Because of my background, I wanted to join a Health Data Science MSc. However, I felt a bit undecided because I wanted to experience more digital solutions in a broader manner instead of just programming and analytics. Nevertheless, I feel pleased with my decision since I can get more insights into this field with the topics taught here and my partners inside the masters.
What is your background

?
I'm a biomedical engineer. I got my degree last year at Universidad de las Américas Puebla in Mexico. During those years, I was interested in the design and power that machine learning could bring to healthcare.
How

did you find the application process?
Applying was relatively straightforward. I only needed to upload the documents and wait for a response. My interview helped me show my genuine interest in the topic; therefore, I justified its need.
What are you enjoying most about the programme

so far

?
The digital case studies and ethics classes are my favourites. I like both because I interact with my colleagues. Developing projects with them makes me understand different points of view regarding any topic. I love Hanna's presentations; they are just the best ones I've ever seen as a student, strongly evidence based. Also, bringing guest speakers every Friday in the Foundations lecture gives me a better approach to developing solutions in the near future.
What do you plan to go onto

after the MSc

, and what are

your

future career aspirations?
I'm still thinking about making a career in research. However, I really like developing projects. Therefore, with the knowledge and soft skills, I'm acquiring this year, I will perhaps move into the industry to contribute to digital health solutions.
What would you say to somebody considering applying to the MSc in Digital Health

at Bristol

?
I would definitely recommend this course to anyone interested in getting a broader knowledge of digital health.