Could disappearing glaciers threaten regional food security?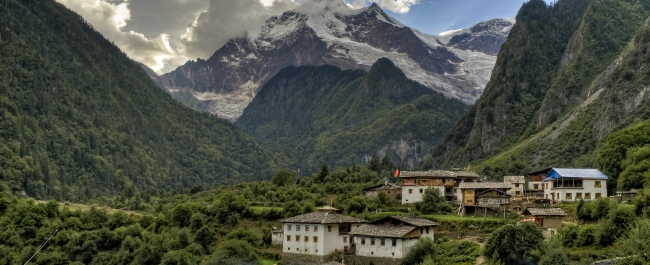 A rapidly warming climate means Himalayan Nepal's vital natural reservoirs are vanishing fast.
The challenge
We know the climate crisis is having – and will continue to have – a dramatic impact on glaciers and water supply right around the world. What's less clear is how that will affect people's ability to feed themselves. At this stage, there's very little data available to help anyone prepare for a future with less water, especially in harder-to-reach locations such as the high altitudes of Nepal. That needs to change; otherwise, there are some potentially serious global implications ahead.
What we're doing
Historians don't usually find themselves climbing glaciers 6,000 metres above sea level, but that's just one key component of this ground-breaking, cross-disciplinary collaboration. Our diverse research team also includes glaciologists and hydrologists who measure the volume of glacial meltwater in local rivers throughout the year. By learning when and where meltwater swells rivers, we can pinpoint the communities most at risk from future water shortages.
Meanwhile, our project's social scientists visit those same communities, often economically marginalised subsistence farmers for whom water is critical to survival, to appreciate their most pressing water use issues.
My role as an environmental historian and an expert in water politics is to put the knowledge we collate and the changes we observe into historical context. Gaining a better understanding of past decision-making and community behaviour helps to explain how and why many current local practices have developed, such as methods for irrigation and the provision of access to water. Digging into historical government water policy and local responses to previous floods and droughts can reveal valuable lessons for us to take into the future.
How it helps
By combining our findings with the knowledge and experiences of the communities who live here, our recommendations are helping NGOs, governments and local people adapt to increasingly unpredictable water supplies.
It's not just the farmers of mountainous Nepal who might benefit from our work, either. Glacial meltwater flows down from these slopes into great rivers like the Ganga (Ganges) and Indus where it goes on to be used for irrigation, sanitation and drinking through large parts of South Asia. With food security across much of the continent potentially at risk from a rapidly changing climate, our research has profound significance for hundreds of millions of people.

Lead researcher profile
Dr Daniel Haines, Senior Lecturer in Environmental History
Partner organisations
Partner Action
University of Leeds