Visit us in Bristol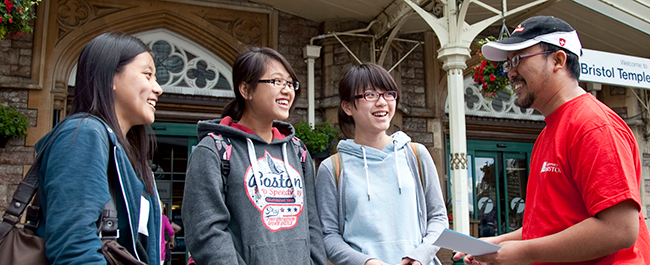 Visiting the University and the city is a great way to find out what it's like to study here.
Open days
Each year, the University runs three open days for prospective undergraduate students, normally in June and September. These are an excellent opportunity to look around the University.
Campus tours
Our student-led campus tours run throughout the year. On the tour you will be able to visit general University buildings and facilities, and ask a current student about their experiences.
Walking tours
If you want to explore the University at your own pace, you may be interested in our self-guided walking tour.
Individual visits
It is possible to visit the Centre for Academic Language and Development on weekdays during office hours.
Please contact us if you would like to visit the centre. Unfortunately, it will not be possible to organise a guided tour or meet with tutors during your visit.
Take a virtual tour of the campus and the city with 360-degree views and photographs. Click on 'Students' Union' to explore the building where we are based.