About the Department of Theatre
The University of Bristol has a long history in the innovative study of theatre and performance. Founded in 1947 by eminent scholar and theatre director, Professor Glynne Wickham, we were the first department in the UK to offer a degree in Theatre Studies. We have since nurtured the talents of notable alumni such as the actors Tim Pigott-Smith, David Walliams, and MyAnna Buring, playwrights such as Mark Ravenhill, Sarah Kane, David Greig, and Laura Wade, ex-student and playwright Kevin Elyot and former Royal Shakespeare Company director Gregory Doran.
The Department of Theatre uses one of the best equipped studio theatres at a UK university, the Wickham Theatre. We also work closely with the University of Bristol Theatre Collection, a renowned theatre museum that is second only to that of the Victoria and Albert Museum in terms of size. Ours is a stimulating environment that is rich in history as well as experimental contemporary practice, and access to these facilities makes our department unique in the UK.
The exploration of live performance is an important part of the way we approach the understanding of theatre. Practice is at the heart of what we do. Many of our researchers are practitioners in the truest sense, running their own theatre companies and showing their work at the Royal Shakespeare Company, Shakespeare's Globe, Battersea Arts Centre and the South Bank Centre, alongside their teaching commitments.
We have strong and dynamic links with a wide range of arts organisations, theatres and media companies in Bristol. Final-year students are given the opportunity to experience workplace environments via placements with our partner organisations. Roles include assistant directing and performing with Shakespeare at the Tobacco Factory, assistant producing and marketing Mayfest, as well as literary development at the Bristol Old Vic.
Those creative links extend into the regional and national theatre. We invite visiting companies to show performances and deliver public lectures, while visiting scholars and artists regularly give talks and attend student shows. A dynamic and thriving portfolio of partnerships has been established with many leading arts organisations including Arnolfini Arts Centre, Watershed Media Centre, Bristol Old Vic, and Inbetween Time Festival.
In addition to our links with the professional theatre, our teaching is underpinned by world-class research resulting in a department that has established and maintained its reputation as one of the leading theatre departments in the UK for over 60 years. Major grants have been attained by staff developing innovative research areas in practice as research, archiving performance and developing the Live Art Archives, including such projects as 'Performing Documents', 'Practice as Research in Performance', and 'The Chamber of Demonstrations'. Our research strengths are in theatre history, dance and performance, contemporary performance, and adaptation and translation.
How we are structured
The Department of Theatre is one of five subject areas within the School of Arts, which itself forms part of the University's Faculty of Arts.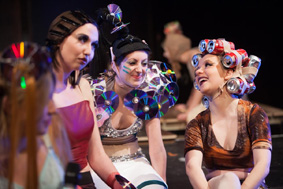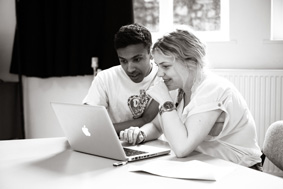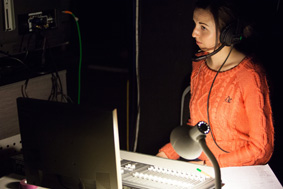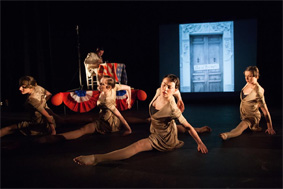 Who we are
Find our more about the academic community that makes up the Department of Theatre.