Electrical and Electronic Engineering
Help create and shape the sustainable technologies of the future.
Industry links
Benefit from our dedicated Industrial Liaison Office, which develops engineering-specific links between students and industry.
Exclusive opportunities
We offer scholarships including the UK Electronics Skills Foundation and E3 Academy Scholarship plus placement and employment opportunities.
Outstanding facilities
We have invested more than £20 million in a state-of-the-art electrical laboratory, as well as workshops and flexible spaces for teaching and design.
Electrical and Electronic Engineering courses for 2022
Single Honours
Joint Honours
Virtual open week 2021
Watch recordings and view resources from our September virtual open week.
Catch up now
Electrical and Electronic Engineering at Bristol
One of the broadest engineering disciplines, electrical and electronic engineering uses technology to address some of the world's major concerns.
Using cutting-edge technologies in fields such as power generation, transport, medicine, quantum information, computing, artificial intelligence, cryptography and communications, electrical and electronic engineers are developing solutions that will shape our future.
Ranked in the top ten for the subject in the UK (Complete University Guide 2022), at Bristol you will learn from world-renowned experts, apply your knowledge in our state-of-the-art laboratories, and will benefit from outstanding industrial links and opportunities for scholarships and placements.

Career prospects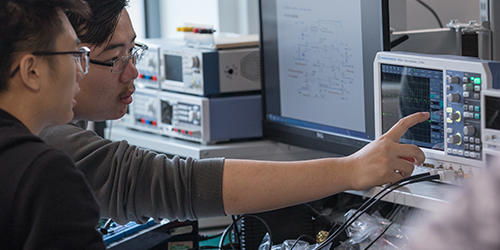 At Bristol you are encouraged to lead, to think in innovative ways, and to challenge existing practice, equipping you with the skills and confidence to make a difference.
Our Industrial Liaison Office supports you to engage with potential employers from year one of your study. They also offer insightful lectures, mentoring and internship schemes.
Demand is growing for skilled graduates to work in industries such as consumer electronics, alternative energy and transport, medical engineering and communications.
Given the highly transferable skill set gained during study, our graduates also pursue careers outside of engineering in fields such as finance and digital media. Recent examples of graduate employers include Jaguar Land Rover, Siemens, Hewlett-Packard, Intel, BBC, Dyson and EDF Energy.
What our students do after graduating
Course structure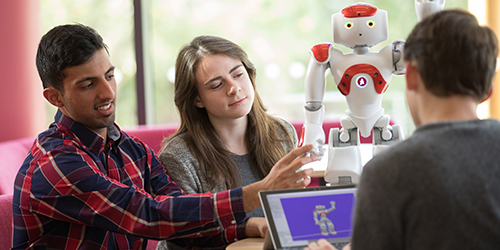 We offer three-year BEng degrees and four-year MEng degrees. The MEng options provide more breadth and depth.
For example, on the Electrical and Electronic Engineering programme, year one provides a strong grounding in mathematics, computing, analogue and digital electronics, communications, electromagnetics, power electronics and control. You'll also take laboratory sessions and will be encouraged to start designing hardware and software solutions in collaboration with your lab partners.
In later years, you will choose from a range of optional units, meaning you can focus on anything from electrical power systems to electronic communications. MEng students will undertake a major group project in addition to an individual research project.
There are options to study abroad in your third year. Current destinations include France, Germany, Spain, the US and Australia. Visit Global Opportunities to find out more.
If you choose to study Electrical and Electronic Engineering with innovation, you will work with interdisciplinary breath, creative teamwork and develop entrepreneurial skills. Or pursue a joint honours degree with Computer Science or Mechanical Engineering.
Ideal location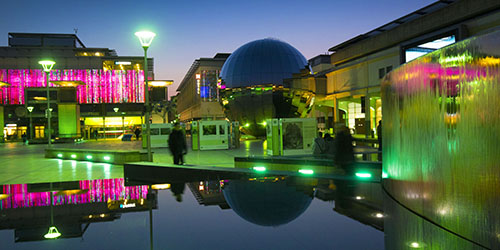 Learn about tech that will shape the future in a UK 'top digitech city' (TechNation 2018).
Bristol is home to one of Europe's largest clusters of micro-electronics and hi-tech industries, the UK's biggest aerospace companies, renewable energy enterprises, and a thriving creative media industry, making it an ideal location in which to study electrical and electronic engineering.