MSc
Palaeobiology
Find a programme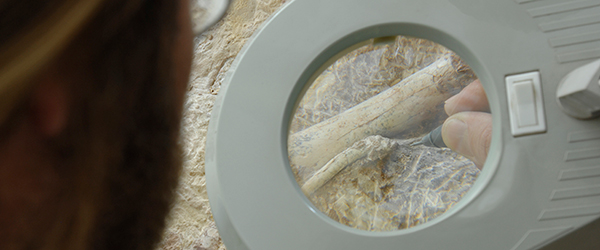 | | |
| --- | --- |
| Awards available | MSc |
| Programme length | One year full-time; two years part-time |
| Location of programme | Clifton campus |
| Part-time study available | Yes |
| Open to international students | Yes |
| Start date | September 2017 |
Programme overview
This programme is for students who are passionate about early life, dinosaurs, mass extinctions, macroevolution, fossil preservation and understanding the palaeobiology of extinct organisms. It examines quantitative aspects of the fossil record and the history of life. The research-oriented MSc bridges the biology-geology divide and will provide you with a strong background for independent research to PhD level or for a career in museums, libraries, management or the media.
This interdisciplinary programme is taught mainly in the School of Earth Sciences, along with some archaeology and biology units. You will engage in current debates in evolutionary biology, systematics and palaeobiology.
You will learn how to analyse problems quantitatively, and design experimental approaches to resolving questions in macroevolution and in the study of ancient organisms. First-hand training in research methods in palaeobiology involves laboratory techniques. In addition, you will learn a range of advanced skills throughout the programme, such as computer software use, numeracy, planning research, problem-solving and communication skills. You will learn multimedia techniques, including presentation of palaeontological data through talks, posters and formal written reports. A key aspect of the programme is preparing your projects for publication, and we provide continuing support to ensure as many projects as possible are published in leading international journals.
Programme structure
The first half of the programme consists of lectures, practical classes, tutorials and visiting speakers, designed to provide a firm foundation in the theory and methodology of the subject.
The programme comprises five core units which all students take, and a number of optional units of which students choose four. We recommend that biologists take some of the more geologically-orientated optional units, and that geologists take some of the biological optional units.
Core units
Current Controversies in Palaeobiology and Macroevolution
Scientific Communication
Phylogenetic Methods in Palaeobiology
Literature Review
Research Methods in Palaeobiology
Optional units
Biomechanics and Functional Morphology
The Cambrian Explosion: the origin of animal body plans
Early Human Origins
Evolutionary Biology*
Evolution of the Biosphere
Geology for Research Palaeobiologists**
Micropalaeontology
Tree of Life
Vertebrate Palaeobiology and Evolution
* Mandatory for non-biologists
** Mandatory for non-geologists
The final part of the programme consists of a research project. For further information on research projects, please see the School of Earth Sciences website.
Entry requirements
An upper second-class honours degree (or international equivalent) in geology, biological sciences, environmental sciences, archaeology, anthropology, or a related discipline. Previous professional experience or qualifications can also be put forward for consideration as equivalent to the academic entry requirements given above. These will be considered on a case-by-case basis.
See international equivalent qualifications on the International Office website.
Application method
Online application form
English language requirements
Profile E
Further information about English language requirements
Admissions statement
Read the programme admissions statement for important information on entry requirements, the application process and supporting documents required.
Careers
The degree is research-based, and about half the graduates go on to academic careers, usually starting with a PhD. The MSc is focused on methods, and you will learn the latest techniques in phylogenetics, biomechanics, and macroevolution training, which is highly sought after by PhD supervisors across the world.
The training in professional skills, including writing scientific papers, is also highly regarded. Some students have used the MSc as a means to go on to careers in museums, the media and education and now hold senior positions as curators and collection managers in national and regional museums. Graduates also work in making scientific documentaries, or are involved in science education at all levels.
Finally, some graduates have gone into commercial work in marketing, the oil industry and computing, where their practical skills in palaeobiology and communication have proved invaluable.
How to apply
Application deadline:
We welcome applications at any time of year. Early application is advised as places may fill quickly.
REF 2014 results
36% of research is world-leading (4 star)
62% of research is internationally excellent (3 star)
2% of research is recognised internationally (2 star)
---
Results are from the most recent UK-wide assessment of research quality, conducted by HEFCE. More about REF 2014 results.