Biochemistry
Find a programme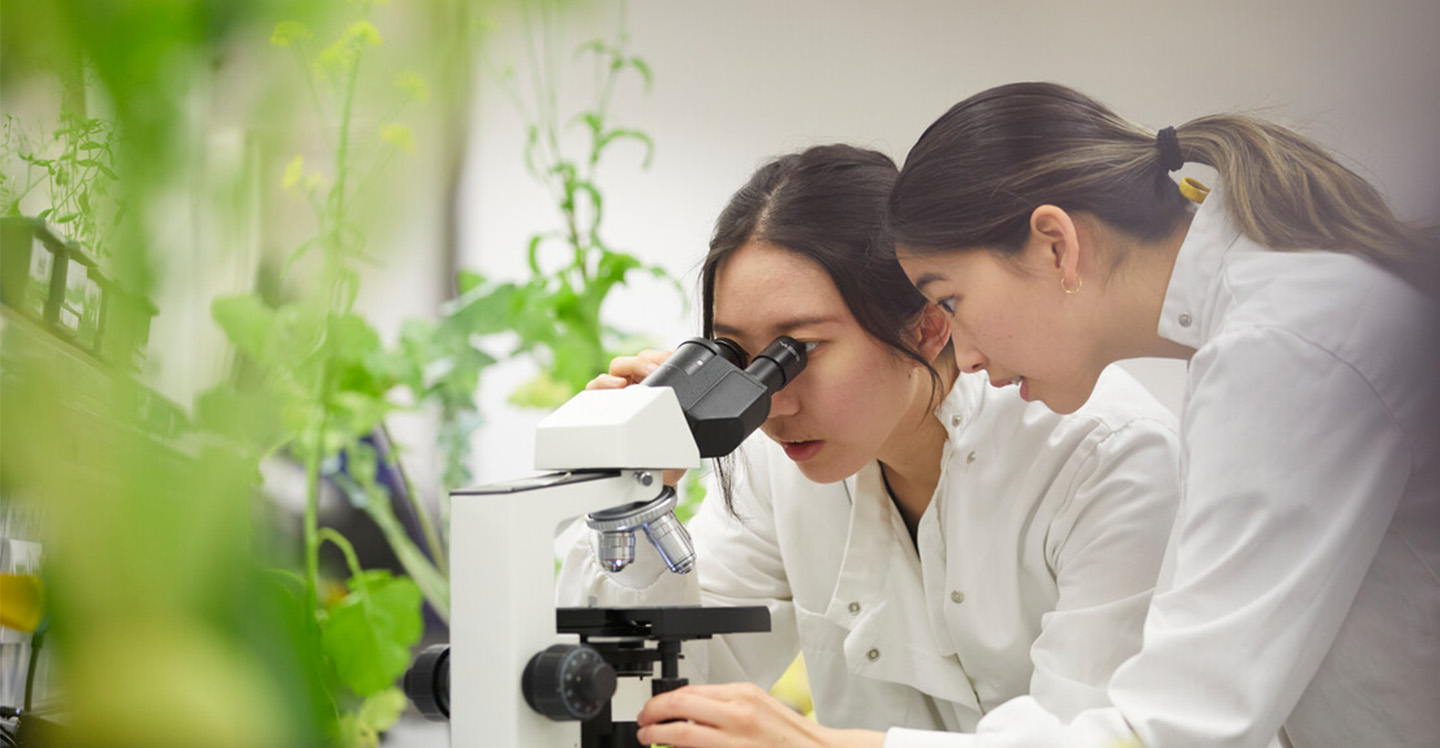 Awards available
PhD, MD, MSc by research
Programme length
PhD: 3 or 4 years full-time or part-time equivalent
MD: 2 to 5 years full-time or part-time equivalent
MSc by Research: 1 year full-time or 2 years part-time
Both MSc and PhD (part-time and full-time) then have one further year to write up
Location of programme
Clifton campus
Part-time study available
Yes
By agreement with supervisor; maximum period of study for part-time PhD or MD is seven years, and MSc is three years.
Open to international students
Yes
Start date
September 2017
Programme overview
As a school, we believe that part of our mission is to train the next generation of life scientists. We take great pride in the standard of our postgraduate provision and offer both three- and four-year PhD programmes. It is also possible to pursue a MD degree, or a one-year MSc by Research degree. Competition for places on our postgraduate programmes is high, but we believe that we offer a unique and nurturing environment for talented students.
You will receive extensive research training covering methodology, critical interpretation and problem-solving, as well as transferable skills training in communication, presentation, teamwork, time management and teaching. Training is also available in enterprise and entrepreneurship. You will have access to the world-class Wolfson Bioimaging Facility that provides a suite of state-of-the-art light and electron microscopes. In addition, the Proteomics Facility offers bespoke proteomics services for researchers.
Fees for 2017/18
Full-time fees
UK/EU

£4,185

Overseas

£19,700
Part-time fees are charged on a pro rata basis
Fees quoted are provisional, per annum and subject to annual increase.
Alumni scholarship
University of Bristol students and graduates can benefit from a ten per cent reduction in tuition fees for postgraduate study. Check your eligibility for an alumni scholarship.
Funding for 2017/18
Funding to support postgraduate studentships is provided by the BBSRC, BHF, MRC and the Wellcome Trust (eligibility criteria apply). A limited number of University scholarships are also available for exceptional UK, EU and overseas students, although international students are usually either self-funded or supported by funds from their own governments.
Further information on funding for prospective UK, EU and international postgraduate students.
Entry requirements
A minimum of an upper second-class honours degree (or international equivalent) in a relevant subject is required for entry to the PhD programme. Applicants who have completed their degree in certain countries will require an MSc to enable them to enter our PhD programme. We may consider MSc by research applications from candidates with a lower second-class degree (or international equivalent). Applicants for the MD should be medically qualified and should consult with the graduate director before applying.
See international equivalent qualifications on the International Office website.
Application method
Online application form
English language requirements
Profile C
Further information about English language requirements
Admissions statement
Read the programme admissions statement for important information on entry requirements, the application process and supporting documents required.
Research groups
Research in the school covers all aspects of modern biochemistry and this is reflected in the wide range of postgraduate projects available.
The school has an international reputation in cell biology, and enjoys an association with the world-class Wolfson Bioimaging Facility, which houses the latest state-of-the-art light and electron microscopes. Our work in this area covers intracellular trafficking, cell shape and movement, and the control of cell death and proliferation.
We have also earned an international reputation for our research in structural biology and biophysics, including rational drug design, mathematical modelling of protein structure and folding, and pioneering work on the interactions between DNA and proteins. Synthetic biology is another key area of active research within the school.
The fundamental research supported by the school is often translated into practical applications aimed at understanding disease mechanisms and improving human health. Our research has made significant contributions towards understanding cardiovascular disease, diabetes, cancer and malaria, and many other aspects of clinical research.
Careers
Most of our postgraduate students become highly productive researchers, publishing in leading peer-reviewed biomedical journals. Over 75 per cent of our students go on to postdoctoral research in academia and industry, both in the UK and abroad.
Other students use the transferable skills gained during their study to enter postgraduate-level employment, including publishing, management and administration. We are committed to promoting the advancement of women in science, engineering and technology.
Staff profiles
Professor George Banting, (Dean of Faculty of Biomedical Sciences), Protein trafficking between the TGN and the cell surface organisation of membrane microdomains.
Professor Leo Brady, (Professor), Structural biology of bacterial and malarial infection processes; synthetic biology.
Dr Steve Burston, (Senior Lecturer), Mechanisms of AAA+-ATPases in protein quality control.
Professor Ian Collinson, (Professor), Structural and functional analysis of a protein-conductin channel: a study of the E. coli SecYEG complex.
Professor Pete Cullen, (Professor), Phosphoinositides - second-messengers that modulate a dynamic spatial and temporal control of cell signalling.
Dr Chris Dempsey, (Senior Lecturer), Membrane insertion of helical polypeptides.
Dr Mark Dillingham, (Professor), Molecular machines for DNA break repair.
Dr Jan Frayne, (Reader), Erythropoesis " in vitro" from stem cell sources and its molecular regulation of sperm function and activation.
Dr Kevin Gaston, (Reader), Protein-DNA interactions and the regulation of gene expression.
Dr Jonathan Hanley, (Reader), Receptor trafficking and the regulation of the actin cytoskeleton at neuronal synapses.
Professor Jeremy Henley, (Professor), Mechanisms of neurotransmitter receptor trafficking and post-translational modifications underlying synaptic structure and function.
Dr Mark Jepson, (Reader), Mechanisms involved in " Salmonella" infection of intestinal epithelia.
Dr Mike Jones, (Reader), Structure, mechanism, stability and device applications of photovoltaic reaction centres.
Professor Patricia Kuwabara, (William P. Coldrick Chair in Genomics), Functional genomic analysis of signalling pathways in " C elegans" .
Dr Jon Lane, (Reader), Molecular regulation of apoptosis and autophagy.
Professor Paul Martin, (Professor), Studies of wound healing and morphogenesis in embryos and post-embryonic animals.
Professor Harry Mellor, (Professor), Regulation of intracellular traffic and the actin cytoskeleton by Rho family GTPases.
Dr Kate Nobes, Regulation of cell migration by ephrin-mediated contact repulsion.
Dr Paul Race, (Senior Lecturer), Structure, function and engineering of cell migration by ephrin-mediated contact repulsion.
Dr Nigel Savery, (Professor), Transcription and DNA repair.
Professor David Stephens, (Professor), Membrane trafficking and cytoskeletal dynamics.
Professor Mark Szczelkun, (Professor), Molecular motors in DNA damage and repair.
Professor Jeremy Tavaré, (Professor), Signal transduction in diabetes and cancer.
Dr Ashley Toye, (Senior Lecturer), Biogenesis of the red blood cell membrane during health and disease. (AE1) trafficking and molecular interactions during red blood cell maturation.
Dr Paul Verkade, (Reader), Understanding intracellular transport through imaging.
Professor Dek Woolfson, (Professor), Protein design, protein-structure prediction and synthetic biology.
How to apply
Application deadline:
We welcome applications at any time of year.
REF 2014 results
33% of research is world-leading (4 star)
51% of research is internationally excellent

(3 star)

15% of research is recognised internationally

(2 star)

0% of research is recognised nationally

(1 star)
---
Results are from the most recent UK-wide assessment of research quality, conducted by HEFCE. More about REF 2014 results.
The Bristol Doctoral College facilitates and supports doctoral training and researcher development across the University.