MA
Chinese-English Translation
Find a programme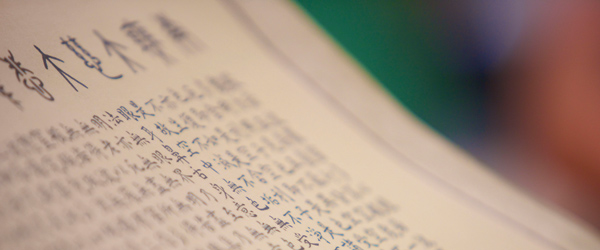 Awards available
MA
Programme length
One year full-time;
two years part-time
Location of programme
Clifton campus
Part-time study available
Yes
Open to international students
Yes
Start date
September 2017
Programme overview
This exciting Chinese-English Translation MA programme will increase your understanding of the field of translation and interpreting. You will explore how practical translation is informed by theory, develop your verbal and written communication skills and build your IT literacy to help you produce translation of the highest quality. Students graduate the programme equipped with specialist skills in interpreting and localisation, as well as transferable skills such as analytical thinking, research and collaboration that are essential to today's increasingly global market.
Students coming to the UK from overseas not only learn advanced translation skills from and into Chinese, but also develop their English language competency and their knowledge of UK and international culture. The programme is also open to students for whom English is a native language with a high level of Chinese, typically undergraduate level or higher.
The School of Modern Languages has an established record in translator training and excellent industry links. Its translation staff include practising professional translators and translation researchers. We are a corporate member of the Institute of Translation and Interpreting and an institutional member of the American Translators' Association (ATA). We are on the ATA's list of approved providers of translator training.
Programme structure
Programme structure
Semester one
During the first semester, all students will participate in weekly workshop­-style classes in the Applied Translation unit taught by experienced professional translators. By grappling with a variety of different texts, participating in class discussions and receiving personal feedback from tutors, students will build the key skills necessary to grow and develop their translation ability.
The Theories of Translation unit is a lecture-based course that gives an opportunity for advanced reflection on the modes and purposes of translation within the translator's social and cultural context, while also equipping students with the theoretical tools and approaches necessary for practical translation and further research.
Units in English for Translators and in Academic English build an awareness of how language works and help to hone English skills for professional purposes. Students whose native language is English may substitute these units for another.
Semester two
During the second semester, the two main core units for all students are a 15,000 word dissertation and an Introduction to Specialised Translation. The dissertation takes the form of either an extended translation plus commentary, or a research-­based dissertation. The supervision process gives students time to formulate their ideas and plan their approach, as for many this will be the most substantial piece of extended writing they have undertaken.
The Introduction to Specialised Translation unit adopts a similar approach to Applied Translation, but focuses on key specialist areas that are in demand in the translation industry. Specialist topics can vary but may include literary, legal, scientific, medical and translation for technology.
In addition to the two core units above, students are also given the opportunity to select from a variety of optional units. Optional units can vary but may include the following:
Interpreting
With a huge increase in Chinese companies operating internationally, there has never been as great a need for highly professional and trustworthy interpreters. This unit equips students with the mental and practical tools to begin to work in the interpreting field. Using state-of-the-art language lab software and including hands-on training from tutors, the unit specialises in business liaison interpreting and consecutive interpreting for conference settings.
CAT Tools
The advent of increasingly sophisticated computer-assisted translation (CAT) software has completely changed the way the translation industry works. Clients and translation agencies increasingly expect translators to be competent in using CAT tools as part of their work. In this unit, students are trained to use some of the most powerful and advanced software on the market, and have the opportunity to earn their certification in the industry-leading SDL Trados.
Subtitling
One particular area of specialisation within the translation industry is the subtitling of film and television. The Subtitling unit trains students to meet the unique challenges posed by this particular strand of translation, such as fixed line lengths and speech synchronisation, and develops their competency in using subtitling software such as WinCaps, which is used by many media organisations including the BBC.
The Translation Industry Today
This unit is an overview of everything you need to navigate the sometimes daunting world of in-­house and freelance translation. Students learn vital skills such as project management, how to negotiate with clients, the legal issues facing translators, and how to set pricing. This unit also includes guest lectures and workshops from representatives of the translation industry.
Supervised Individual Study
Students opt to take this unit if they want to pursue a particular area of specialised interest that is not covered within the normal taught curriculum. This does not involve any scheduled classes, but provides an opportunity to talk with academic staff who are experienced in the chosen field and is usually made up of an extended piece of research similar to the dissertation, which might be publishable in a relevant academic journal.
Entry requirements
An upper second-class honours degree (or international equivalent). Non-traditional routes may also be considered.
See international equivalent qualifications on the International Office website.
Application method
Online application form
English language requirements
Profile B
Further information about English language requirements
Admissions statement
Read the programme admissions statement for important information on entry requirements, the application process and supporting documents required.
Careers
The MA in Chinese-­English Translation provides a foundation for students looking to enter or develop their careers in translation project management, freelance translation or as in-­house translators and interpreters in international corporate and government institutions.
The skills developed through this degree are transferable to a variety of related careers, such as international relations, PR, marketing and business. In addition, the research and theoretical components of this programme provide an excellent entry point to the field of translation studies for anyone aiming to pursue a PhD in the UK or abroad.
REF 2014 results
29% of research is world-leading (4 star)
38% of research is internationally excellent

(3 star)

26% of research is recognised internationally

(2 star)

7% of research is recognised nationally

(1 star)
---
Results are from the most recent UK-wide assessment of research quality, conducted by HEFCE. More about REF 2014 results.