Resources
We have produced the following resources to help with the application and presentation of ROBIS
Domain specific guidance
The ROBIS guidance (PDF, 696kB) provides general guidance on completing ROBIS.
ROBIS training webinar
The following webinar was hosted by the Canadian National Collaborating Centre for Methods and Tools and gives an introduction to the ROBIS tool as well as working through an example ROBIS assessment.
Database
Template for tabular display
The word document below contains an example tabular presentation of the ROBIS assessments. This can be edited to present the results of your ROBIS assessments (you may need to cut and paste the appropriate symbols).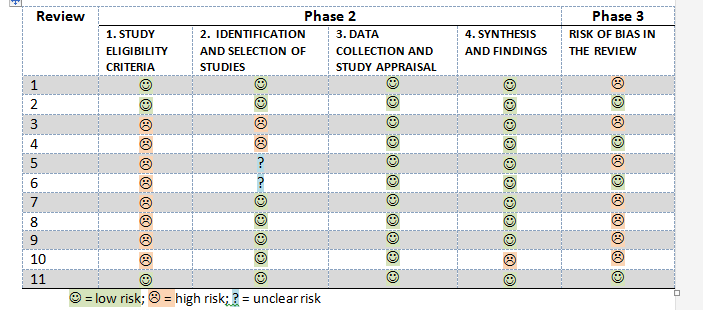 Template for graphical display
‌The excel spreadsheet below can be edited to include the results of your ROBIS assessments and used to produce a graphical summary of the results.