Information for participants
Recruitment for the study ceased in 2009. Further funding has now been granted for the follow-up phase of the study. It is intended that all men are followed up for 10-15 years. The average age of men in the study is now 73 years, ranging from 57 – 86 years.
Over 540 men have had each of the treatments offered by the study: active monitoring, surgery and radiotherapy, all of which are currently used in the NHS.
Follow-up process
Since 2017, your clinical care has been integrated with local NHS services and annual review appointments with study research nurses no longer take place. We will be able to find out some things about your health and care from routinely-collected NHS data and your medical records. For more information about how we use your health and care data in ProtecT, see Your Information, below.
You will continue to receive annual questionnaires. It is very important that you continue to complete these questionnaires, even if you believe nothing has changed over the last 12 months.
Why do we ask for the same information each year?
Your health and feelings may change gradually over several years and this information is very important for comparing the treatments fairly over time. Only by collecting the information for several years would we be able to determine these types of changes which could be useful for determining the best treatment for prostate cancer.
It is very important that you let us know your new address should your contact details change. This is so that we can keep in touch with you during the course of the study. Remember moving abroad or away from your local area does not necessarily prevent you from taking part in the study.
At the University of Bristol, we are committed to keeping the personal and research data about you used in the ProtecT study safe and confidential.
As a university, we use personally-identifiable information to conduct research to improve health, care and services. As a publicly-funded organisation, we have to ensure that it is in the public interest when we use personally-identifiable information from people who have agreed to take part in research. This means that when you agree to take part in a research study, we will use your data in the ways needed to conduct and analyse the research study. Health and care research should serve the public interest, which means that we have to demonstrate that our research serves the interests of society as a whole. We do this by following the UK Policy Framework for Health and Social Care Research.
The ProtecT study uses your name and contact details to send you annual questionnaires and to keep you up to date with how the study is progressing.
How we use your data
The ProtecT study uses your name, date of birth and NHS number to find your hospital records, in order to collect information about your health and care for the study. The ProtecT study will also securely share your name, date of birth and NHS number with organisations that hold official health data (e.g. Public Health England's cancer registry and the NHS). We do this to obtain information about your health and care not easily accessible directly from the hospital. In all cases your data will be stored securely and with access strictly on a need-to-know basis. For more information about cancer registration and your rights please visit https://www.ndrs.nhs.uk/.
The ProtecT study collaborates with researchers around the world. These researchers have access to limited, de-personalised sub-sets of the data in the study, and do not have access to your name, contact details or NHS number. For more information about how your data is used in research visit http://www.understandingpatientdata.org.uk.
Your data will be retained for up to 20 years after the completion of the study, in line with trial conduct regulations.
If you no longer wish to receive annual questionnaires or newsletters from the ProtecT study or do not wish the ProtecT study to access your health data, please contact info-protect@bristol.ac.uk.
Your rights
Under General Data Protection Regulations (GDPR) you have a number of important rights, free of charge. Your rights to access, change or move your information are limited, as we need to manage your information in specific ways in order for the research to be reliable and accurate. If you withdraw from the study, we will keep the information about you that we have already obtained. To safeguard your rights, we will use the minimum personally-identifiable information possible. Further information about these rights can be found on the Information Commissioners website, www.ico.org.uk/for-the-public/
If you wish to raise a complaint on how we have handled your personal data, you can contact our Data Protection Officer who will investigate the matter, using data-protection@bristol.ac.uk. If you are not satisfied with our response or believe we are processing your personal data in a way that is not lawful you can complain to the Information Commissioner's Office (ICO; www.ico.org.uk/concerns/).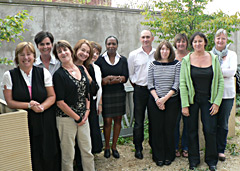 Contact
Contact the Lead Urologist at your local centre:
Bristol Southmead Hospital
Lead Urologist: Mr Ed Rowe
Newcastle Freeman Hospital
Lead Urologist: Mr Edgar Paez
Sheffield Royal Hallamshire Hospital
Lead Urologist: Mr Derek Rosario
Birmingham Queen Elizabeth Hospital
Lead Urologist: Mr Alan Doherty
Cardiff University Hospital of Wales
Lead Urologist: Mr Owen Hughes
Edinburgh Western General Hospital
Lead Urologist: Mr Prasad Bollina
Cambridge Addenbrookes Hospital
Lead Urologist: Mr Vincent Gnanapragasam
Leicester Leicester General Hospital
Lead Urologist: Prof Roger Kockelbergh
Leeds St James Hospital
Lead Urologist: Mr Alan Paul
ProtecT Study
Population Health Sciences
University of Bristol
Canynge Hall
39 Whatley Road
Bristol, BS8 2PS
United Kingdom
0800 783 3167