View all news
From eating disorder to Ironwoman: The amazing student who loves helping others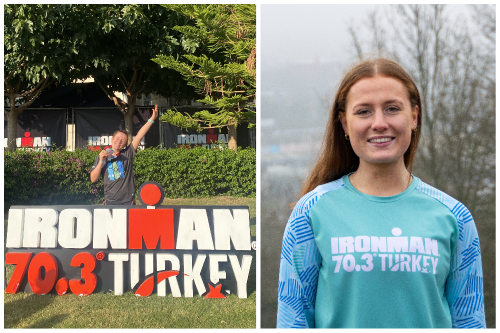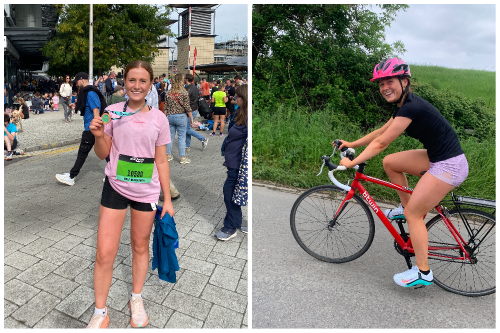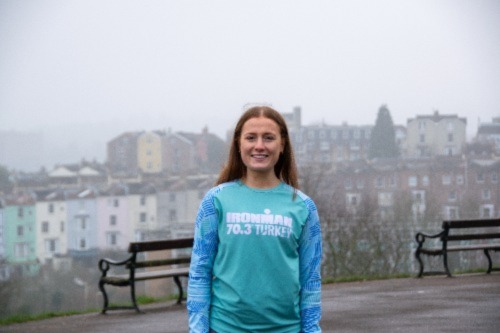 Press release issued: 2 February 2023
When Megan Hamill crosses the finish line of Ironman Austria, it won't just be down to months of punishing training.
It will also be due to a tenacious mindset that has helped her overcome childhood trauma and an eating disorder.
The 23-year-old student spent seven years heavily restricting her food intake to be as thin as possible. But while studying at the University of Bristol she found a new path that has led to an entirely new life outlook.
Last year she completed a half Ironman and this year she is aiming for the podium at Ironman Austria, which would give her spot at the world champs. Both Austria and the world champs are full Ironman triathlons, which take most people between eight and 17 hours to complete
Alongside her studies and training six days a week, she helps others develop healthy habits through her social channels, organising cold water swims and hosting a podcast. She is about to launch her own wellbeing product.
Growing up in Portadown, County Armagh, Megan's life changed dramatically when, aged 11, her father had an accident which left him with lifelong injuries and her mum was later diagnosed with cancer.
"At that age you're really influenced by what's happening around you but you don't really have control over your thoughts," she said.
"My way of dealing with the trauma was by shrinking myself and putting that negative focus on my body. I had a victim mindset and didn't share what was happening with anyone."
Megan would "think about how I looked all the time" and struggled to relax, even with friends.
"I was basically starving myself. Because of the energy imbalance I would get brain fog and I didn't have a healthy menstrual cycle until I was 20. It could be quite lonely at times," she said.
But then, in 2017, things began to change when Megan started cold water swimming, which "helped clear my head and shift the negative thoughts and feelings".
She then discovered self-help books (she has now read 20 of them) and began Wim Hof breathing.
"I didn't have a healthy relationship with myself before," she said. "I'm definitely a completely different person now, full of ideas and innovation. Sometimes when I'm running I literally have to stop and get notes up on my phone to start writing down ideas!
"Food is just fuel now. I used to feel like the photos before nights out were a prettiness competition, but now I think the least interesting thing about you is how you look.
"When I fuelled myself correctly I was able to think clearly, communicate better, articulate ideas better and perform optimally. I felt stronger and didn't want to sacrifice all of this to fit a certain size of clothing."
Studying Geography with Innovation at the University of Bristol and mixing with a diverse range of "interesting people" helped Megan choose a more positive life.
"I'd 100% recommend my course, I've gotten so much from it. You get to express your creativity and apply your own visions and opinions to things while learning the academic theory behind them.
"I was so lucky to find friends at uni who really influenced me in a positive way. We've been on a self-development journey together."
In lockdown Megan started a wellbeing podcast and has a "community" of 30,000 followers on Instagram and TikTok, where she teaches them how to "detach their self-worth from their dress size". She can be reached at @soulfullyginger.
Now in her final year at Bristol, she is determined to get a podium place at Ironman Austria on June 18, which will require her to swim 2.4 miles, cycle 112 miles and run 26.2miles.
Beyond the Ironman podium, Megan plans to become a "female coach" - holding wellbeing retreats and workshops and helping children build resilience: "I definitely could've benefited from that," she says.
She also plans to release a five year diary, which will help readers "plan and manifest" their futures with goal-setting and a vision board.
But the biggest challenge for the perennially busy Megan?
"I'm working on relaxing more!" she jokes.
Further information
The University has a range of support available for those who need help with their mental health, physical health or general wellbeing. Please follow this link to find out more.
Those affected by an eating disorder can seek help from charities like Beat or Eating Disorder Hope.