View all news
Child cancer survivor achieves dream of becoming doctor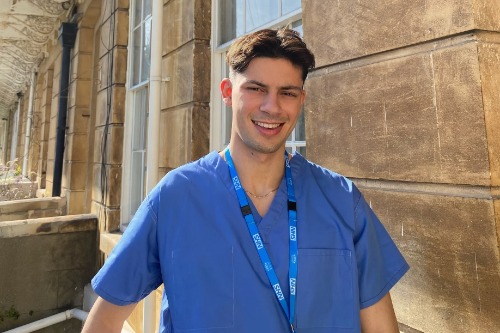 Press release issued: 13 June 2022
A student who beat aggressive cancer as a young child has today become a doctor.
Oscar Oglina was inspired into medicine by the many kind doctors and nurses he encountered when he had stage 3 liver cancer.
Today [June 13], he took the University of Bristol's promise ceremony, their version of the Hippocratic oath, officially ending his time as a medicine student. He now hopes to become a paediatrician so he can help poorly children like himself.
All of Oscar's earliest memories are from Great Ormond Street Hospital, the famous children's hospital in London that became his second home when he was receiving treatment there.
In 2001, a four-year-old Oscar woke up to find a hard lump on his abdomen. Within 24 hours he had received the harrowing diagnosis of stage 3 liver cancer.
For more than a year Oscar endured chemotherapy and underwent surgery.
"I want to pay tribute to my parents," he said. "It's tough as a family to be told that your child has a serious illness.
"My mum was pregnant at the time with my sister, both parents working full-time, looking after me and my then three-year-old brother – I can't imagine the hell they went though.
"Cancer doesn't affect the patient it affects the whole family."
Oscar was too young to understand much of what was going on, although he knew his life was very different from others his age.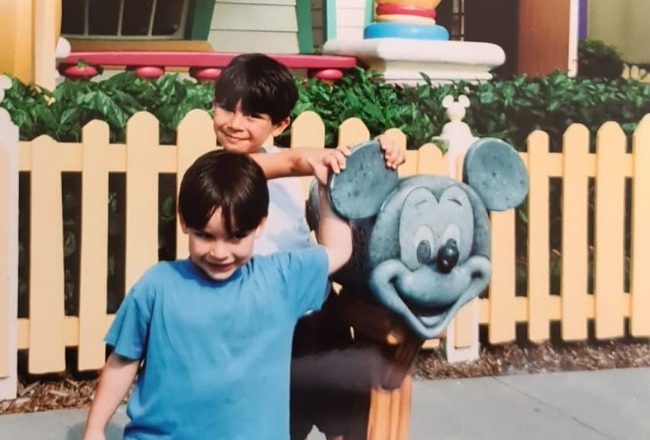 Oscar, aged 5, with brother Hugo on a Make-A-Wish Foundation trip to Disneyland‌
He was removed from primary school to focus on treatment and would remain in follow up care for some time. But as weekly appointments become monthly, and monthly became yearly, he was able to have a normal secondary education.
Now free to apply himself, Oscar dedicated his schooling years toward a single aim: becoming a doctor so he could help people like him and give back to the NHS that saved his life.
He worked hard to gain a place at medical school, becoming a straight A* student, winning multiple prizes and awards, taking on roles of leadership and responsibility at his school and even finding time to volunteer and raise money for charity.
He said: "As I grew up and came to terms with what happened, I had a real drive to get a place at medical school, so I could go back and help other sick children.
"I really respected the doctors and nurses, they were brilliant."
In 2016, he earnt a place at Bristol Medical School – part of the University of Bristol – a time that he "loved".
At medical school, Oscar continued his academic work alongside other achievements, including launching an award winning international teaching series (backed by the Medical Defence Union) and founding a national network of student-run medical societies, backed by the Association of Breast surgeons.
Oscar also remained heavily invested in his charity work. Most notably, he recently helped run a medicine student charity production which raised over £60,000 for Young Lives vs Cancer. The award winning show topped the previous fundraising record by £15,000
In his University of Bristol promise ceremony today he vowed to practise his profession to the best of his abilities; maintain the upmost respect for human life and work for the good of all.
Ashley Blom, Head of Bristol Medical School, said: "Today's promise ceremony affirms a lifetime of hard work for these fledgling doctors.
"Oscar's journey has been more difficult than most. His resilience, tenacity and steadfast resolve to help others are all traits that will make him a brilliant doctor. We wish him the very best in his next steps."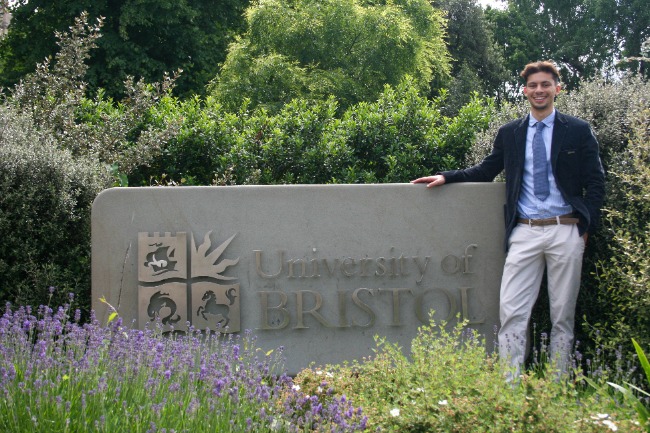 O‌scar after his promise ceremony today (June 13)
Oscar's parents said: "We are so proud of Oscar. From being ill as a child himself to now helping other sick children he's achieving his dreams in an amazing full circle moment."
Oscar believes his experience will help him be a better doctor.
He said: "Once you've faced a serious illness like cancer - you possess a level of true empathy. You better understand what your patients are going through.
"I hope it will aid my work with patients. It's one thing as a clinician to gauge what your patient is going through, it's another to have gone through it yourself."
Oscar's first job will be in Essex, with one of his rotations will be working in paediatrics.
"Getting the job was an amazing moment for me," Oscar said. "I'm massively excited to become a doctor and work as a peadiatrician.
"I just want sick children to know you can lead a fulfilling life beyond cancer, and you can achieve your dreams. I've achieved my dreams and they can too.
"If this story helps just one family, then that's literally all I want."