View all news
'Life begins at 60,' says new PhD student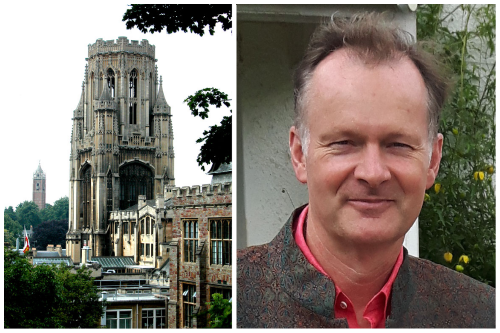 Press release issued: 14 October 2021
For some it's a new watch, a bottle of whiskey or that dream holiday, but marriage advocate Harry Benson had other ideas.
After reaching the big six zero, Harry declared that "life begins at 60" and signed up for a PhD at the University of Bristol's School of Policy Studies.
The move back to education tops off a varied career for Harry, which has seen him fly helicopters for the Navy, work as a banker in Hong Kong and Bangkok and run his own relationship charity in Bristol.
Since winding down the Bristol Community Family Trust 10 years ago – after 700 courses which helped 7,000 people - Harry has been research director at the Marriage Foundation, a charity that advocates for healthy marriages.
"Our last child left home this year and I thought 'I'm still hungry'," the father-of-six said.
"There's a whole psychology around how you can achieve reliable love. Most people want a love that lasts and that's what I have dedicated my life to.
"Academia has virtually ignored the field of marriage. Which sounds extraordinary but there is so little research in the UK – I think I can do some really ground-breaking stuff."
Harry's interest in marriage began when his relationship with wife Katie reached breaking point while he was working in Asia.
He decided to act, moving his family back to the west country, taking up a "fantastic" psychology degree at Bristol and spending his working life helping others build and maintain healthy marriages.
"When I was working as a banker I never once thought I'd end up here, my life is so radically different now," Harry said. "My life really is a vocation; a calling that I can't escape from.
"I know my subject and I love my subject very much. Hopefully this PhD will strengthen and deepen the platform I have created.
"There are lots of other Harry and Kates who need not get into the mess we got into."
Harry, who now lives near Taunton, hopes to achieve "legacy and impact" by publishing several papers on marriage over the course of his PhD, which he started last week.
"This programme will take me three years and then I've got a good ten years in the policy world – or possibly in the academic world, I don't know yet where this will take me.
"We'll find out after three years whether it helped my own marriage – or you'll have to ask my wife!"