View all news
Exploring how the legacy of the transatlantic slavery continues to impact Bristolians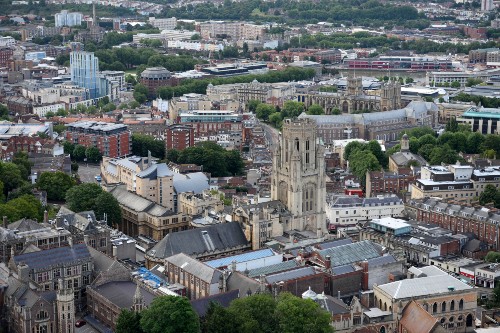 Press release issued: 24 May 2021
A new project, led by the University of Bristol, will work with local citizens and communities in Bristol to build a fuller understanding of how the city's legacy of transatlantic slavery is still impacting on society today.
The project, entitled We are Bristol: reparative justice through collaborative research, is led by Olivette Otele, the University's Professor of History of Slavery and Memory of Enslavement, and has been made possible thanks to funding from the UK Research and Innovation (UKRI) citizen science scheme where members of the public are actively in involved academic research projects as contributors or partners.
This project is one of five that UKRI have invested in, awarding just over £290,000 to the University for the collaboration which puts people at the heart of cutting-edge research.
Professor Otele said: "Bristol's economic, social and cultural life, and the lived experience of its citizens, have been shaped by transatlantic slavery, with the city struggling to address the legacies of this past.
"Recent events in Bristol, such as the toppling of Edward Colston statue, have brought into sharp focus the inequalities that still exist and a strong feeling that the history of the city, how it is represented and taught, still remains unresolved.
"Academics, city partners, citizens and community groups will work together to discuss and examine these important issues to build a greater understanding of the impacts of transatlantic slavery and, importantly, how the city can learn lessons and make changes."
Four projects, led by a range of academics from the University's Centre for Black Humanities, will explore the legacy of the slave trade in Bristol in various forms.
The first project, led by Dr Richard Stone from the Department of History, will investigate the lives of Bristol's slave owners and those they claimed ownership of.
Using the records of compensation awarded when slavery was abolished in 1834, the team of citizen researchers will identify Bristol's slave owners and find out how their money has shaped Bristol's built environment, businesses and charities. The researchers will also use the Caribbean Slave Registers to investigate the lives of those whose forced labour generated this wealth.
Dr Stone said: "We talk a lot about how Bristol has benefited from slavery, but we don't really have a concrete sense of how much and where. So, the aim of this project is for a team of Bristol researchers to use their skills, both existing and new, to provide some answers to these questions.'
"More importantly, though, we hope to address the problem of the invisibility of the enslaved in Bristol. So now, when looking at a grand Victorian building, you will also be able to see the names of the enslaved people whose labours generated the wealth that built it."
Dr Jessica Moody, also from the Department of History, will work with creative partners Cleo Lake and Kwesi Johnson in collaboration with citizens, artists and dance groups, to identify sites of memory in Bristol's cityscape.
The project will explore these sites and their connections to the histories and legacies of transatlantic enslavement by foregrounding the knowledge and experiences of Bristolians, and by using creative practice-led approaches.
The project will culminate in creative performances as new forms of memorialisation at these sites and an Augmented Reality app through which these can be viewed. The app will be developed in collaboration with Digital Technologists, Michele Panegrossi and Luca Biada from FENYCE.
Dr Moody said: "We believe that the full impact and trauma of transatlantic enslavement as well as its complex ongoing legacies cannot be understood solely through standard historical, scientific or academic methods. This is an area where the creative arts make a powerful and necessary intervention in research and engagement.
"Through sharing the creative responses developed through this project via an augmented reality app, we can add alternative narratives and engagements with this history and its legacies onto sites in Bristol chosen by our citizen scientists."
A third project, Bridging Histories, will create a global learning resource for communities exploring issues of contested heritage. This project is directed by Dr Joanna Burch-Brown, current co-chair of the Bristol History Commission and Senior Lecturer in Philosophy.
The project will take learners on a journey through exploring street-level history, family history, sharing recipes and poems, being monument detectives. They'll finish up by becoming changemakers, doing something simple to make a positive change in themselves and their communities.
Dr Burch-Brown said: "People can join in as individuals, or as groups. Everything participants create will be shared online via social media, creating a public library of positive stories connecting diverse corners of our communities."
And finally, Dr Marie-Annick Gournet from the Department of English will partner with the Global Majority Teachers Network and Bristol City Council's education and Skills Directorate to examine how inequalities and racism experienced by people of colour in the education sector are inextricably linked to slavery and its legacy.
Dr Gournet said: "The aim of this package is to work with teachers as citizen scientists to develop ways of understanding and teaching of the different aspects of that legacy, equipping them to be agents for change and enhance their own and other educators' ability to address inequalities."
Councillor Asher Craig, Bristol City Council's Deputy Mayor added: "Listening to and learning from our communities is an important part of our approach at the council. We've partnered with the university in this research to ensure we continue to explore the legacy of the transatlantic slave trade and its continuing impact on the city and its communities.
"We value the contributions that people from different backgrounds make to our city. This is underlined by our commitment to the Public Sector Equality Duty, which enables us to take an active approach to tackling inequality and fostering good relationships in our communities. Our recent citizens' assembly provided the opportunity for a group of residents, reflecting the diversity of Bristol, to put forward their views and ideas on solutions to a number of challenges for our city.
"Bristol has a rich and varied past and the legacy of the transatlantic slavery is one that still impacts citizens in a number of different ways. It's important that we take the time to learn more now to ensure future generations are educated and feel connected to the history of our city. And that individually and as a collective we can move forward together to build a city of unity, hope and ambition."
Tom Saunders, Head of Public Engagement at UK Research and Innovation said: "In the last year, science, research and innovation have become something that people talk about every day, as we have seen how research directly affects our daily lives.
"UKRI is committed to breaking down the barriers between research and society and involving the public in research is one way we aim to do this.
"These exciting new projects will support people from outside of the research and innovation system to bring their lived experience and unique perspectives into the research process."
Further information
Project collaborators:
The Legacy Steering Group comprises the vast majority of African-Caribbean communities in Bristol as well as Representatives from the Merchant Venturers, Afrikan Voices Forum, BSWN's Decolonising Project, Bristol Cathedral, Bristol African Caribbean Cultural Centre, Abolition Shed, BLM Bristol and many others. The Legacy Steering Group will provide expertise on discussions related to memorials about the history of slavery. It will also be used as a networking platform for consultative work between academia and several organisations.
Black South West Network (BSWN) is a Bristol based black-led organisation that is working on racial justice across the region. It particularly focuses on three main themes (Cross-Sector Enterprise and Innovation; Cultural Inclusion; Research and Knowledge). BSWN is well connected with small businesses, marginalised communities and leadership training organisations.
The Commission for Race Equality is an organisation that was set up by the Mayor of Bristol Marvin Rees in 2018. It particularly focuses on Education, Employment, Health, Housing, the Criminal Justice and Leadership. It is aimed at ensuring that race equality is included in the city's policy and strategy at all levels and in all institutions across Bristol.
Cleo Lake is the former Green Party Lord Mayor of Bristol (2018-2019), has served as local councillor for Cotham (2016-2021) and has twenty years experiences in the arts and cultural sector. She has been Chair of St Paul's Carnival, Arts and Events Manager for Stapleton Road, radio produced and presenter for Ujima radio and a dance facilitator and writer in residence for the Arnolfini Art Gallery.
Kwesi Johnson is a movement specialist and has been the Creative Director of The Cultural Assembly for the last 20 years. He has also been the Artistic Director/choreographer of NPO, Kompany Malakhi and is a pioneer of the now worldwide performance genre, Hip Hop Theatre. His current work lies at the intersection of digital, the creative arts & technology and repurposing commercial real estate into creative hubs making online/offline performance and community building work where access is democratised.
FENYCE create participatory digital environments that provide immersive experiences for the arts including performance, improvisational manifestations, art fruition or education. Their interactive installations and exhibits bring novel experiences to public and private spaces. Their aim is to keep pushing the boundaries of interactivity in multi-user digital experiences and develop gestural interfaces for virtual and augmented reality, providing direct and seamless interaction paradigms for mixed reality environments.
Global Majority Teachers Network – The GMT Network was set up to provide better access, retention and progression to people of Colour (GMTs) in the teaching profession; as well as providing better outcomes to students who are currently underperforming. They do this through CPD sessions for staff as well as the sharing of best practice and production of inclusive pedagogical tools and resources to deliver learning.
About UK Research and Innovation (UKRI)
UK Research and Innovation (UKRI) is the largest public funder of research and innovation in the UK. It is composed of seven disciplinary research councils, Innovate UK and Research England.
They operate across the whole country and work with our many partners in higher education, research organisations businesses, government, and charities.
Their vision is for an outstanding research and innovation system in the UK that gives everyone the opportunity to contribute and to benefit, enriching lives locally, nationally and internationally.
Their mission is to convene, catalyse and invest in close collaboration with others to build a thriving, inclusive research and innovation system that connects discovery to prosperity and public good.