View all news
Period poverty champion, 21, now leads global network of 1,000 volunteers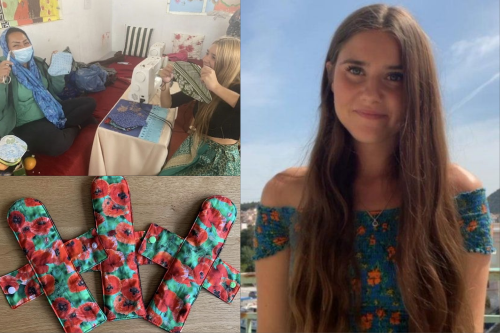 Press release issued: 1 December 2021
A student who learnt to sew a year ago so she could help end period poverty is now running a global network of 1,000 volunteer sewers.
As she studied stitching videos on YouTube, nursed pricked fingers and struggled to thread needles, 21-year-old Ella Lambert could never have dreamt she would help lift 3,000 refugees out of period poverty.
The University of Bristol langauges student was grounded at home in Essex by the pandemic when she decided to launch The Pachamama Project.
After years of debilitating period pains she wanted to help those who suffered similar trials, but had very different means.
"Things just spiraled really quickly," she recalled. "After I'd designed the first pads I got in touch with sewing clubs, WIs, university societies, anyone I could think of.
"It really struck a nerve and before long we had volunteers all over the world getting involved."
Using a pattern that has been updated several times over the past year, the volunteers cut and stitched the Pacha Pads, before sending them to Ella en masse for distribution. So far 30,000 have been made and distributed in Greece, Lebanon, Syria, the UK and the US.
Ella soon found herself working on the project full-time, holding down a 9-5 job at an NGO and studying online.
She is now back studying at Bristol where she continues to run Pachamama with help from her mum and a hard-working volunteer management team. Volunteers are sewing in the UK, US, Italy, France and Germany.
Talking from Lesbos in Greece, Ella said: "Sometimes I have to check myself and realise what we have achieved - amongst a humanitarian crisis and so much difficulty for the people here it's hard to see sometimes.
"I try to remember that you may not be able to save the whole world but you can give one person at a time the power to empower themselves."
Ella has also developed a project where refugees in camps sew the pads from donated material and sell them to NGOs, giving them an income and a welcome diversion as they wait in camps to be processed for months or even years.
After she graduates in 2021, Ella wants to carry on running – and growing – Pachamama.
"I want to use the platform that Pachamama has built to speak out and advocate for refugees," she said.
"I've seen the most horrific things out here, things that people at home wouldn't believe.
"But my real goal is to get schools around the UK making Pacha Pads. I've seen such an amazing reaction from young people getting involved.
"Period poverty is everywhere but the stigma is ingrained in us. I think it's a fun, creative way of normalizing it and feeling more comfortable about the subject."
Sarah Purdy, Pro-Vice Chancellor for Student Experience at the University of Bristol, said: "It's been amazing to watch The Pachamama Project develop from a kitchen table idea to a global force for good.
"The University is incredibly proud of Ella and everything she's achieved."
Further information
Pachamama is the goddess of fertility, a figure greatly revered by the indigenous peoples of the Andes. Pachamama is the Mother Earth of Inca mythology celebrated in Argentina, Chile, Ecuador, Bolivia and Peru. People still celebrate her in a month-long ceremony in August.
To find out more about the Pachamama Project visit their website.