View all news
Where to withdraw? New research maps access to cash across the UK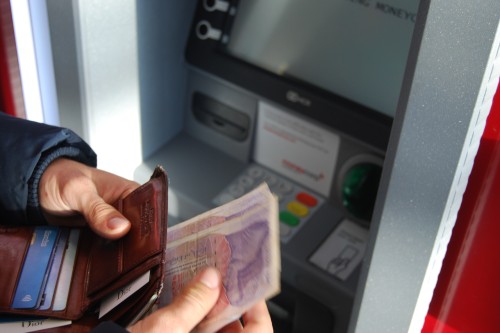 Press release issued: 26 November 2020
A report published today has mapped for the first time how far people have to travel to access cash across the UK.
Key findings of the report, led by the University of Bristol in partnership with the Financial Conduct Authority (FCA) and Payment Systems Regulator (PSR), are:
Free access to cash is readily available on almost all (99 per cent) of UK high streets within 500 metres. Just over three-quarters (77 per cent) of neighbourhoods have some form of free access to cash within 500m.
The number of free-to-use ATMs fell by almost a fifth (19 per cent), a reduction of more than 10,000 machines, between March 2018 and March 2020. This exceeds the fall in the number cash withdrawals from ATMs, which fell by 15 per cent over the same period. By contrast, analysis showed the number of pay-to-use ATMs increased by nearly a quarter (23 per cent) in the most deprived communities.
More free-to-use ATMs are available in deprived communities than pay-to-use ATMs, but there has been a 15 per cent reduction in the number of free cash access points in the UK between March 2018 and March 2020. Deprived neighbourhoods still have three times the number of free-to-use ATMs than the most affluent neighbourhoods and, therefore, for most consumers this has had limited impact to date on how they access cash.
Cash is not so easily accessible closer to home and the distance consumers must travel to get it varies considerably depending on where they live. For example, London residents can access a source of cash within 326 metres on average while communities in Scotland, the South West, and Wales, typically have to travel more than 600m.
For those in rural settings, Post Office branches are shown to play an important role in providing access to cash: Of those rural communities with only one nearby cash access point, Post Offices branches are the nearest cash access point in more than 60 per cent of cases. Bank branches meanwhile are concentrated in urban areas, where they provide nearly four-in-10 free-to-use ATMs.
Cashback generally increases the options for accessing cash in the locality, but the current system has drawbacks, including requiring the customer to make a purchase.
Dr Daniel Tischer, Lecturer in Political Economy and Organisation Studies, who led the research, said: "We are particularly concerned about the recent rise of pay-to-use ATMs in the most vulnerable communities, where people tend to be more reliant on cash in their daily lives to pay for shopping, budget or cover bills.
"Our research confirmed that most UK consumers don't have far to travel to access cash, however, there are important geographical differences which should not be ignored. The reduction in free-to-use options is also important and without intervention, it may get worse in future."
The impact of these changes is that for each pay-to-use ATM there are now less than three free-to-use ATMs per pay-to-use ATM in deprived neighbourhoods, down from almost four in 2018. Affluent neighbourhoods have up to five free-to-use ATMs for each pay-to-use machine. Pay-to-use ATMs are not owned by banks but by private operators and typically charge a flat fee of at least 95p per cash withdrawal.
"There is a lot of work that needs to be done to assess the impact the current closure of bank branches and disappearance of free-to-use ATMs has on local communities and we need to ensure free access to cash is available to all, but in particular those who depend on it most."
Further work is also required to understand the localised experience of access to cash. This includes understanding whether those who most rely on cash are able to access it reasonably easily, and whether the way they access their cash (ATM, bank branch, Post Office) is suitable. This should include the impact of the rising number of pay-to-use ATMs in deprived communities to find out if those in more deprived communities are becoming more reliant on pay-to-use ATMs to access their cash.
Dr Tischer said: "If current trends continue, older people and those on low-income may find themselves in a position where they have to pay for cash, or face walking longer distances which may not always be possible, especially for those suffering from poor health. Cash usage is no doubt declining, but many people continue to rely on cash while many others continue to prefer to use cash for some payments."
In the Spring Budget the Government pledged to introduce new legislation aiming to protect access to cash across the country. This study can help to inform this, mapping more than 110,000 points where cash can be accessed.
The research funded by LINK, the UK's largest ATM network, was supported by LINK, the Post Office, and UK Finance, which gave access to data.
Sheldon Mills, interim Executive Director of Strategy and Competition and the FCA, said: "For the first time we have a clear map of cash accessibility across the UK. Our work with the University of Bristol and the PSR shows that for the majority of people there is still good availability of free to access cash near to where they live and shop. However, there are gaps in provision, creating challenges for some communities and areas of the country. This mapping will be a vital tool to inform our work with HM Treasury, other regulators and industry to find solutions to protect future access to cash, which remains a priority for us."
Eric Leenders, Managing Director of Personal Finance at UK Finance, said: "While growing numbers of customers are increasingly choosing to pay digitally, the banking and finance industry recognises that cash is essential for communities and is committed to ensuring that access to cash remains free and widely accessible to those who need it.
"This report reaffirms the importance of ensuring the long-term sustainability of cash access and provides further insights on the issue as the government sets out new legislation. The industry continues to work closely with the regulatory authorities to ensure that access to cash is preserved and is supporting the Community Access to Cash Pilots initiative which is implementing a series of pilots across the country to test solutions that could help sustain access to cash."
Chris Hemsley, Managing Director at PSR, said: "Nobody should be left behind as digital payments continue to grow. We know that future models of cash access will likely require changes to the current network of ATMs and will likely include a wider range of ways to access cash. We want to see creative solutions that work for people and meet communities' needs for cash, and that offer a variety of options for everyone.
"Today's publication by the University of Bristol builds on earlier work by the PSR to understand the gaps in the provision of ATMs. The university's additional work on understanding cashback is especially useful and this will feed into our work with industry, consumer bodies and SMEs in finding long-term sustainable solutions."
John Howells, LINK's CEO, said: "All communities should have free access to cash and the University of Bristol's work shows the need to act now to protect the free ATM network which is at risk due to the sharp decline in cash usage. Any community which feels it does not have good free access to cash should contact LINK and we will investigate. In the last month alone, Consett (County Durham), Croxteth (Liverpool), Bungay (Suffolk) and Larkhall (Lanarkshire) have benefited from our community request scheme."
Martin Kearsley, Banking Director at the Post Office, said: "This comprehensive study makes an invaluable contribution to the debate about how to ensure convenient and free access to cash for people in every community as we see increasing bank branch closures and higher numbers of fee-charging ATMs. Our 11,500 branches across the UK will remain the central destination where people can access their cash quickly, conveniently and securely over the counter."