View all news
University of Bristol researchers come out in force at national STEM awards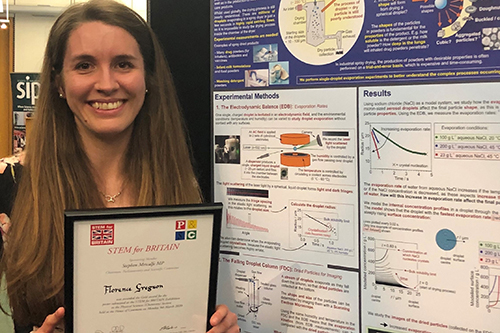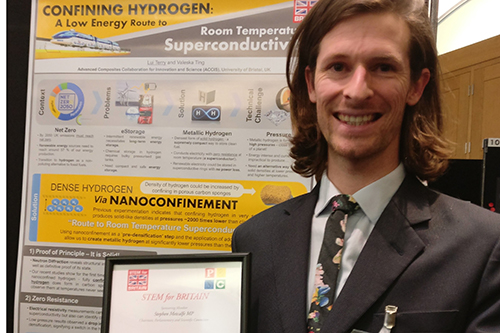 9 March 2020
Nine University of Bristol students presented their research in the Houses of Parliament on 9 March 2020 as part of a national competition which celebrates early stage or early career researchers.
Shortlisted from hundreds of applicants, the students competed in STEM for Britain against other early stage researchers, giving them an opportunity to present their research to MPs at the event, which takes place in Portcullis House in Westminster.
The students who took part are:
They were judged by leading academics, who award the gold medallist £2,000, while silver and bronze recipients receive £1,250 and £750 respectively.
Taking home the gold in Physics and Chemistry were Lui Terry and Florence Gregson, respectively, while Andrés Rivero Bracho picked up the Dyson Award for Outstanding Research Towards a More Sustainable Future.
Florence said: "It was such a brilliant day, presenting my work at the Houses of Parliament and meeting both my home and workplace MPs was such an honour. Then, winning the gold award for Chemistry on top of that - incredible! I am so grateful to everyone who has helped and supported me on this project."
Lui commented: "I've never won anything in my life, so to get the Cavendish gold medal in physics at Westminster means a lot to me. It is amazing!"
Andrés added: "By looking into morphing wings - wings that can change shape during flight in a smooth and continuous way - my aim is to increase the aerodynamic efficiency of aircraft, to try and reduce its impact on our environment. I am delighted that my work and drive to build a more sustainable future has been recognised and can't wait to continue my research."
Stephen Metcalfe MP, Chairman of the Parliamentary and Scientific Committee, said:
"This annual competition is an important date in the parliamentary calendar because it gives MPs an opportunity to speak to a wide range of the country's best young researchers.
"These early career engineers, mathematicians and scientists are the architects of our future and STEM for BRITAIN is politicians' best opportunity to meet them and understand their work."
STEM for Britain was first set up in 1997 by Dr Eric Wharton and each year invites over 200 researchers to promote their work to policy makers, including university research students, postgraduates, research assistants, postdocs and research fellows.
Previous winners from the University of Bristol include Maths Researcher Cline Maistret, who was awarded gold in 2018 for her research in number theory on the parity conjecture.