View all news
Wiltshire dad celebrates Father's Day after baby daughter's life-saving heart operation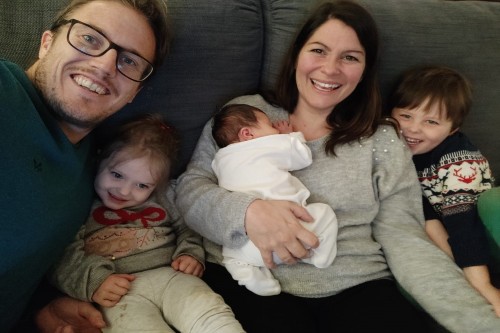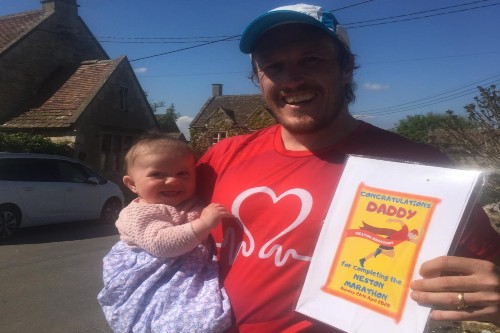 Press release issued: 19 June 2020
A Wiltshire dad is preparing to celebrate Father's Day with his daughter – the first since she was born with a serious heart defect.
Matt Roberts and his wife, Sophie, were stunned when they were told their daughter, Amalie, would be born with a congenital heart disease. Medics had discovered an abnormality in Amalie's heart during the 20-week scan.
Specialists at Bristol Children's Hospital were able to identify that Amalie had transposition of the great arteries, where the two major blood vessels leaving the heart are the wrong way around.
The condition meant that Amalie's heart wouldn't be able to pump oxygenated blood around the body – and Matt and Sophie, from Chippenham, were told that their baby would require open heart surgery soon after birth in order to keep her alive.
Matt, aged 36, said: "The diagnosis came as a shock to us all. The condition wasn't something we were aware of – Amalie is our third-born and our two other children, Thomas and Felicity, do not have any health issues.
"We were told our little daughter would have a fight on her hands in the first few weeks, so we did face an anxious wait. But luckily, we had lots of time to do our research about the condition before Amalie was born."
The couple also had the support of British Heart Foundation Professor Massimo Caputo, who was the surgeon appointed to carry out Amalie's operation. He was able to meet with Matt and Sophie before the operation and help explain the procedure.
"Massimo answered every question we had and was able to reassure us that everything was going to be OK," added Matt.
"We felt that Amalie was in the safest hands."
Amalie was born one week early on November 8 last year, by caesarean section.
After several weeks in hospital, she was able to return home briefly before she underwent life-saving surgery on November 26. This involved 'switching' the major blood vessels around and correcting a hole in her heart – a technique which was pioneered in the 1970s by BHF Professor Sir Magdi Yacoub.
Matt added: "We faced an agonising wait that day and we were waiting by the phone for any news. The surgery took eight hours and we were relieved to receive a call to say that it had all gone well.
"Seeing our little daughter inside an incubator in the intensive care unit (ICU) with wires protruding from her body was a difficult image to take in, and it made us realise the severity of Amalie's heart condition."
Amalie spent nine days in ICU, followed by two days in a high dependency unit, before she was able to return home.
"Being able to take Amalie home with us just before Christmas was so special," said Matt.
Since returning home, Amalie has developed well and is able to live a relatively normal life.
During the Covid-19 pandemic, Matt and Sophie have decided to shield Amalie. Although she is at no greater risk of catching the virus, her condition means she could be at particularly high risk of developing complications from coronavirus if she did.
Amalie will also require regular check-ups and could need further operations in the future.
For now, Matt is looking forward to celebrating Father's Day with Sophie, Amalie and her siblings.
He added: "It's going to be amazing to celebrate with the family. I'm really looking forward to having a lovely day with us all together and having a nice family picnic.
"We credit Professor Caputo, the BHF's research and the amazing staff at the Bristol Children's Hospital for saving Amalie's life. We really cannot thank them enough."
Amalie's experience has also inspired Matt and his family to raise funds for the BHF's life-saving research into heart and circulatory diseases.
Matt was originally due to take on the Marathon des Sables event - a six-day ultra-marathon across the Sahara Desert - in April, but this has been delayed to September due to the Covid-19 pandemic.
While they wait, the family have come up with creative ways to raise funds for the BHF.
"I ran the distance of a marathon around our village, which was 55 laps in total - and even completed the final laps in a pair of leopard print budgie smugglers," said Matt.
"Lots of our neighbours came out to watch in their front gardens and helped cheer me on. Amalie's brother, sister and cousins are also running the distance of a marathon between them and my mum, Linda, is walking 70 miles around her village in her BHF T-shirt and a tutu.
"We've so far raised more than £7,500 and knowing that this money will help fund the vital research of the BHF – including into congenital heart diseases – is incredible."
When the BHF was founded in 1961, the majority of babies with a heart defect died before their first birthday. Now, thanks to research, 8 out of 10 babies survive to adulthood.
BHF Professor Massimo Caputo said: "It's fantastic to hear that Amalie is doing so well following her surgery, and we're delighted that the family have chosen to support the BHF.
"Amalie's operation has only been made possible thanks to the advances in medical research. The BHF funds research into all heart and circulatory diseases, driving new discoveries to keep more hearts beating.
"The only way we can do this is through the generous donations of the public. As people with heart and circulatory diseases are at an increased risk from Covid-19, and the BHF empowers researchers whose normal work is on hold to shift their focus to the fight against this virus, it's now more important than ever for people to back the BHF."
To donate to Matt's fundraiser, visit www.justgiving.com/fundraising/backrow2heartbabies
The British Heart Foundation has launched an online coronavirus support hub to provide information for people living with heart and circulatory diseases in these difficult times. To find out more, visit www.bhf.org.uk/coronavirus
Massimo Caputo is Professor of Congenital Cardiac Surgery at the University of Bristol's Bristol Heart Institute.
Further information
About the British Heart Foundation: With donations from the public, the BHF funds groundbreaking research that will get us closer than ever to a world free from the fear of heart and circulatory diseases. A world where broken hearts are mended, where millions more people survive a heart attack, where the number of people dying from or disabled by a stroke is slashed in half. A world where people affected by heart and circulatory diseases get the support they need. And a world of cures and treatments we can't even imagine today. We are backing the best ideas, the brightest minds and the biggest ambitions - because that's how we'll beat heartbreak forever.
Find out more at bhf.org.uk.
About the Bristol Heart Institute: Bristol Heart Institute is a world-leading centre for translational cardiovascular research and the leading academic cardiac surgery centre in the UK. It specialises in preventing, predicting, detecting, reducing and treating cardiovascular disease, bringing together scientists and clinicians from across the University and the NHS in Bristol, and training the next generation of cardiovascular scientists and clinical academics.
It harnesses the expertise of Bristol's translational science community and benefits from close proximity to outstanding medical facilities, such as the £61M Bristol Heart Institute Clinical Facility.
In this way, it makes the journey from bench to bedside, from scientist to patient, in our fight against heart disease, still the UK's number one killer today.