View all news
Meet the new University Challenge team as they prepare for Paxman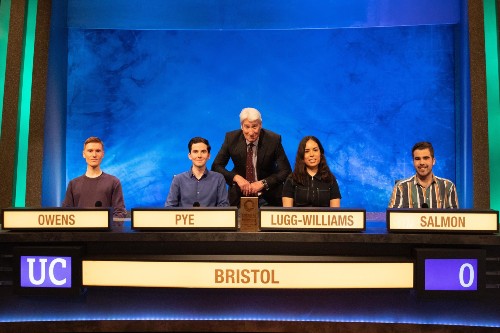 Press release issued: 24 August 2020
A team from The University of Bristol will go head-to-head with University of Oxford's Corpus Christi College in the first round of this year's new season of University Challenge.
Broadcasting tonight on BBC 2 at 8pm, the team is one of 28 who will face the inimitable presenter Jeremy Paxman, who has fronted the popular programme as quizmaster since 1994.
After a gruelling interview and tough test papers, the Bristol team fought off fierce competition from the country's brainiest students to reach this stage, with over 130 student quiz teams auditioning for a coveted place on the show's 50th series.
The brains of the Bristol quiz team this year are:
- Team captain Zizzy Lugg-Williams, PGCE, French and Spanish
- Dom Owens PhD, Computational Statistics and Data Science
- Robert Pye, MSci, Chemistry with Industrial Experience
- Benjamin Salmon, BSc, Politics and International Relations
- Reserve Edward Champness, MSci, Chemistry
Team captain Zizzy Lugg-Williams said: "I was so nervous for the filming, and found that my sense of time completely passed me by and it was over before I knew it! It really helped that as well as teammates, we're friends, and we all banded together to make it an incredible experience that we'll never forget."
University Challenge is the longest-running academic quiz show in the UK. It was first aired in 1962. This year's appearance is a record for Bristol, who have made the televised stage for a seventh consecutive season.