View all news
Study shows heavy smoking can have a damaging effect on facial ageing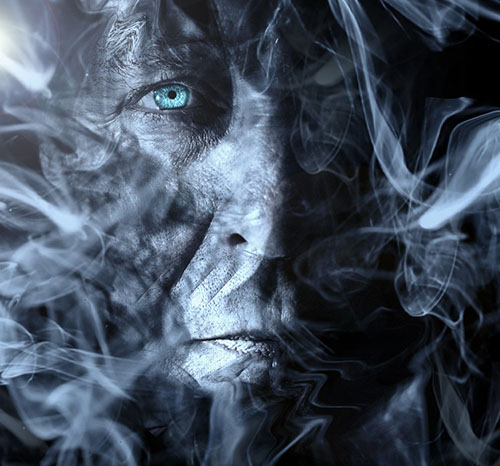 Press release issued: 1 November 2019
Heavy smoking may have a causal effect on facial ageing, according to new research led by the University of Bristol. The study searched across 18,000 traits from the UK Biobank cohort to identify those that may be affected by how heavily someone smokes. As well as recognising several known adverse effects such as on lung health, the research also found heavy smoking could influence appearance.
The study, published in PLOS Genetics, was led by the University's MRC Integrative Epidemiology Unit (IEU) and also supported by the NIHR Bristol Biomedical Research Centre (BRC).
The researchers wanted to demonstrate a new approach that could be used to systematically test for causal effects across thousands of outcomes, by combining two existing methods: the Mendelian randomization phenome-wide association study approach and gene-by-environment interaction tests. To test their new method, the Bristol team searched for the effects of heavy smoking using the UK Biobank cohort.
The research team found their approach worked, as their results included several known effects of heavier smoking e.g. on lung function. They also identified an interesting potential effect of heavier smoking on more facial ageing.
Their finding adds to evidence that found heavier smoking affects facial attractiveness and the amount of wrinkling, which might be reasons to encourage someone to stop smoking or deter them from starting in the first place.
By showing that the approach works, it could be used to search for the effects of other exposures, such as alcohol intake.
Dr Louise Millard, Vice Chancellor's Research Fellow in the Bristol Medical School: Population Health Sciences (PHS) who led the research, said: "We proposed a novel approach that could be used to search for causal effects of health exposures, and demonstrated this approach to search for the effects of smoking heaviness. We searched across thousands of traits to identify those that may be affected by how heavily someone smokes. As well as identifying several known adverse effects such as on lung health, we also identified an adverse effect of heavier smoking on facial ageing."
Mendelian randomization is a technique that uses genetic variation in a person's DNA to help understand the causal relationships between risk factors and health outcomes – here whether how heavily someone smokes causally affects health outcomes.
However, Mendelian randomization is biased if the genetic variant also affects the outcome via other pathways. The research team used additional information – that the effect of heavy smoking only occurs in people who actually smoke – to overcome this problem. By testing associations in ever and never smokers separately they were able to assess whether the genetic variant affects an outcome via smoking or another pathway. If the effect is at least partially via smoking heaviness, the researchers would expect the effect to differ in ever versus never smokers, and this would suggest that smoking causally influences the outcome.
Further work is needed to find out whether being told that smoking could affect appearance is an effective strategy for smoking prevention or stopping.
Paper
'MR-pheWAS with stratification and interaction: Searching for the causal effects of smoking heaviness identified an effect on facial aging' by Louise A C Millard, Marcus R Munafò, Kate Tilling, Robyn E Wootton, George Davey Smith in PLOS Genetics
Further information
About UK Biobank
UK Biobank is a major national and international health resource, and a registered charity in its own right with the aim of improving the prevention, diagnosis and treatment of a wide range of serious and life-threatening illnesses – including cancer, heart diseases, stroke, diabetes, arthritis, osteoporosis, eye disorders, depression and forms of dementia. UK Biobank recruited 500,000 people aged between 40-69 years in 2006-2010 from across the country to take part in this project. They have undergone measures, provided blood, urine and saliva samples for future analysis, detailed information about themselves and agreed to have their health followed. Over many years this will build into a powerful resource to help scientists discover why some people develop particular diseases and others do not.
About the MRC Integrative Epidemiology Unit
The MRC Integrative Epidemiology Unit (IEU) is a research unit based at the University of Bristol with funding from the Medical Research Council. It uses genetics, population data and experimental interventions to look for the underlying causes of chronic disease.
About the National Institute for Health Research
The National Institute for Health Research (NIHR) is the nation's largest funder of health and care research. The NIHR:
Funds, supports and delivers high quality research that benefits the NHS, public health and social care
Engages and involves patients, carers and the public in order to improve the reach, quality and impact of research
Attracts, trains and supports the best researchers to tackle the complex health and care challenges of the future
Invests in world-class infrastructure and a skilled delivery workforce to translate discoveries into improved treatments and services
Partners with other public funders, charities and industry to maximise the value of research to patients and the economy
The NIHR was established in 2006 to improve the health and wealth of the nation through research and is funded by the Department of Health and Social Care. In addition to its national role, the NIHR commissions applied health research to benefit the poorest people in low- and middle-income countries, using Official Development Assistance funding.
About NIHR Bristol BRC
The research centre, awarded to University Hospitals Bristol NHS Foundation Trust (UH Bristol) and the University of Bristol by the NIHR, conducts cutting-edge research to develop new, ground-breaking treatments, diagnostics, prevention and care for patients in a wide range of diseases.
Led by John Iredale (Bristol Pro Vice Chancellor for Health) and Jonathan Sterne, and with George Davey Smith as Scientific Director, the NIHR Bristol BRC has research themes on Cardiovascular Research (led by Gianni Angelini) Nutrition, Diet and Lifestyle (led by Andy Ness), Mental Health (led by David Gunnell), Perinatal and Reproductive Health (led by Debbie Lawlor) and Surgical Innovation (led by Jane Blazeby). The research themes are underpinned by cross-cutting themes in Translational Population Science (led by George Davey Smith) and Biostatistics, Evidence Synthesis and Informatics (led by Jonathan Sterne).
A strand of population health science runs through all themes of the BRC, with a focus on translating scientific discoveries that have arisen from population science into better care for NHS patients.