View all news
Test yourself against real surgeons in a giant game of Operation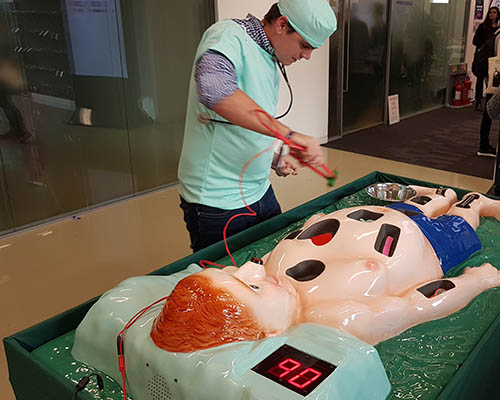 Press release issued: 20 May 2019
Surgeons from the National Institute for Health Research (NIHR) Bristol Biomedical Research Centre (BRC) will be challenging passers-by to a giant game of Operation in Clifton Down Shopping Centre, Whiteladies Road, today [Monday 20 May] from 9am-4pm to mark International Clinical Trials Day.
As well as testing the steadiness of their hands against the surgeons, people will be asked questions about surgery, such as what information do you think you would want to know before you have an operation? Would this be different if it was a new type of operation? How do you feel about robotic surgery, where a surgeon controls a robot?
Almost a third of hospital admissions involve a surgical procedure. With 4.7 million operations carried out in the UK each year and numbers rising, surgery is one of the most important life-saving treatments offered to patients.
With over 17,000 surgeons in the UK carrying out thousands of different procedures from replacing joints and removing tumours to repairing organs and reconstructing after injury, developing new techniques and procedures to help speed patient recovery are essential to improve patient care and reduce the risk of complications. The challenge, however, lies in doing so safely and transparently.
New surgical procedures are being developed all the time. But how do they get tested and how do we know whether a new procedure is better or safer? The NIHR Bristol BRC Surgical Innovation theme is all about developing ways to test new surgical procedures to the same standards applied to other areas of healthcare.
Jane Blazeby, Professor of Surgery at the University of Bristol, leads NIHR Bristol BRC's Surgical Innovation theme. She said:"There's an urgent need to improve how innovative surgical and invasive procedures are introduced and monitored in the NHS – we are working hard to do this. We hope that the giant game of Operation will be a fun way to get the public thinking about some serious issues, about how we make surgery safe and consistent across the NHS."
Further information
About the National Institute for Health Research
The National Institute for Health Research (NIHR) is the nation's largest funder of health and care research. The NIHR:
Funds, supports and delivers high quality research that benefits the NHS, public health and social care
Engages and involves patients, carers and the public in order to improve the reach, quality and impact of research
Attracts, trains and supports the best researchers to tackle the complex health and care challenges of the future
Invests in world-class infrastructure and a skilled delivery workforce to translate discoveries into improved treatments and services
Partners with other public funders, charities and industry to maximise the value of research to patients and the economy
The NIHR was established in 2006 to improve the health and wealth of the nation through research, and is funded by the Department of Health and Social Care. In addition to its national role, the NIHR commissions applied health research to benefit the poorest people in low- and middle-income countries, using Official Development Assistance funding.
About NIHR Bristol BRC
The research centre, awarded to University Hospitals Bristol NHS Foundation Trust (UH Bristol) and the University of Bristol by the NIHR, conducts cutting-edge research to develop new, ground-breaking treatments, diagnostics, prevention and care for patients in a wide range of diseases.
Led by John Iredale (Bristol Pro Vice Chancellor for Health) and Jonathan Sterne, NIHR Bristol BRC has research themes on Cardiovascular Research (led by Gianni Angelini) Nutrition, Diet and Lifestyle (led by Andy Ness), Mental Health (led by David Gunnell), Perinatal and Reproductive Health (led by Debbie Lawlor) and Surgical Innovation (led by Jane Blazeby). The research themes are underpinned by cross-cutting themes in Translational Population Science (led by George Davey Smith) and Biostatistics, Evidence Synthesis and Informatics (led by Jonathan Sterne).
A strand of population health science runs through all themes of the BRC, with a focus on translating scientific discoveries that have arisen from population science into better care for NHS patients.