View all news
Bristol to launch MSc in Digital Health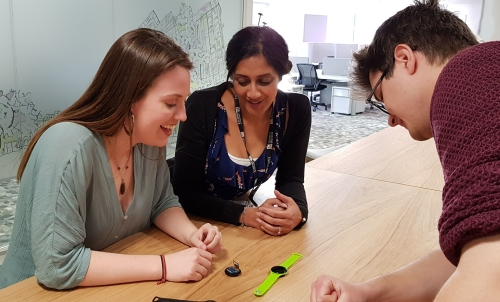 Press release issued: 28 June 2019
The University of Bristol is planning to launch a new taught masters (MSc) degree in Digital Health, admitting its first students in September 2020, thanks to funding from Health Data Research UK.
In addition to a full data science element, the programme will include substantial elements on responsible innovation, healthcare systems and the application of digital technology on major diseases.
Health Data Research UK is funding six universities and their 34 partner organisations to establish health data science master's programmes to address the skills shortage in data science in the UK.
The aim is to draw on the UK's rich and diverse scientific talent base to create a community of health data scientists with new skills that will innovate medical research and open up new, faster, smarter pathways to patient care.
Professor Ian Craddock, who has been leading the creation of this new programme of study says: "Our new MSc in Digital Health will be open to students with degrees in Health Sciences, Engineering, Life Sciences and Computer Science.
This broad disciplinary intake is designed to produce digital health experts who are also strong team players - equipped with the skills to work in multidisciplinary environments within industry and state-provided health and social care services."
Following a selection process that included an independent panel of academics, health professionals and a patient representative, the University of Bristol was one of six universities selected to lead the master's programmes. Each successful institution demonstrated scientific excellence, a track record in postgraduate training, innovative approaches to further education and strong institutional commitment. The funding is to deliver a three-year student intake between 2020 and 2023.
Professor Peter Diggle, Director of Training at Health Data Research UK, said: "We are delighted to support these six universities to develop these vital programmes, which will enable life sciences or quantitative sciences graduates to be effective members of health data research teams. The programmes will genuinely integrate statistics, informatics and health science and will be aimed at medical students and life sciences graduates who are keen to develop their quantitative skills, or at core maths, physics, statistics or computing graduates who want to move into the health science arena.
This brings us one step closer to building a community to lead the health data science revolution."
Further information
About Health Data Research UK
Health Data Research UK (HDR UK) is the national Institute for health data science. Our UK team of experts develop and apply cutting-edge data science approaches to clinical, biological, genomic and other multi-dimensional health data to address the most pressing health research challenges facing the public. Our mission is to unite the UK's health data to enable discoveries that improve people's lives.
The six universities selected were:
University of Bristol
Queen's University Belfast
University of Cambridge
The London School of Hygiene and Tropical Medicine
University of Exeter
University of Leeds