View all news
Vet School student wins international scholarship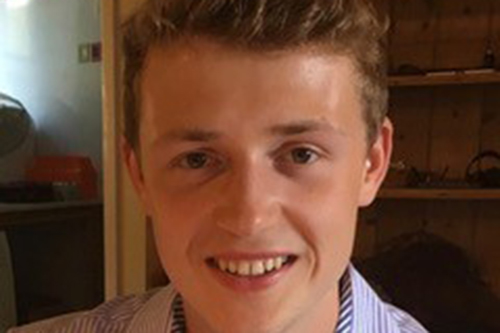 Press release issued: 13 August 2019
A third-year veterinary science student from the University of Bristol is one of ten students from around the world to have been awarded a prestigious Boehringer Ingelheim Scholarship.
William Phillips, who has won a BVDZero Scholarship, was chosen from 454 students who applied for the award.
The programme, which reflects Boehringer Ingelheim's long-term commitment to promoting health and well-being of farm animals, aims to identify outstanding vet students 'who can help address the ever-changing industry and the health, food and welfare needs of the veterinary community'.
Through the BVDzero Scholarship Programme, Boehringer Ingelheim seeks to raise awareness of bovine viral diarrhoea (BVD) in veterinary students. The company believes that such events will help increase BVD awareness and, as a result, help reduce its prevalence.
Each winner receives a €1,000 scholarship to enable them to attend the World Buiatrics Congress 2020 in Madrid, as well as free registration and accommodation at the congress.
William Phillips, a student at the Bristol Veterinary School, speaking about his award, said: "It is a fantastic opportunity to be awarded such a scholarship. I hope that the congress will improve my knowledge of cattle medicine and allow me to work with farmers in the future to improve the health, welfare and productivity of livestock.
"I also look forward to meeting people interested in cattle medicine from across the world and learning more about the global nature of farm animal veterinary and the problems faced by vets in other countries."
William will join Allison Hale, Samuel Kalis and Savannah Basham (USA); Amy Birch (Australia); Bruna Mendes (Brazil); Eugenia Ishaku and Lovina Ikwe (Nigeria); Jessie Hesseling (The Netherlands); Jia Cheng (China); Mariel Burquez (Mexico) and Tahia Logna (Bangladesh) at the congress in October next year.
Attending the event will give students the opportunity to improve their knowledge of cattle medicine and meet subject matter experts and key opinion leaders, as well members of the company's animal health business unit cattle team.
The winners were selected by the BVDzero Committee, consisting of industry experts from various countries, in collaboration with a representative of the World Association for Buiatrics.