View all news
How do touchscreens affect toddlers' play, learning and social skills?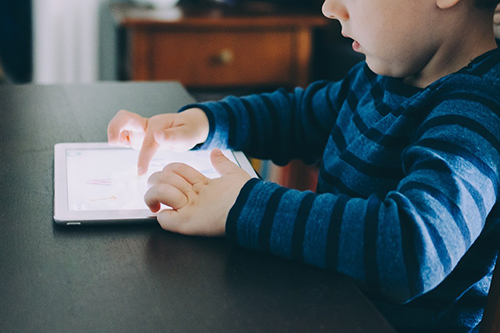 Press release issued: 20 November 2018
Toddlers are being sought for a new research project looking into how touchscreens affect young children's play, learning, and social skills.
Dr Elena Hoicka, a Senior Lecturer in the School of Education at the University of Bristol, is inviting local parents to bring their two or three-year-olds into the University to take part in a one-hour study.
She said: "With technology changing and becoming more interactive, we believe it is important to find out how new technologies affect children early on."
This study seeks to determine if playing with an app increases or inhibits play in the physical world.
During the session, parents will play with their child for 10 minutes, either with an app on a tablet, or with some toys. Then a researcher will play a game with the child for five minutes and see how their response differs after playing with apps or toys.
Parents can find more details and sign up for an appointment online.
Across the world, parents of one to three-year olds are invited to participate in the study by completing an online survey and repeating it six months later.
This study is being conducted by academics at the University of Bristol and University of Sheffield, who are seeking to discover how good – or bad - touchscreens are for children's development.
The survey asks questions about how long children use different types of screens, such as a tablet or a television, the previous day. It also asks questions about how children engage in play, how they prefer to learn, and what children understand about other people.
It only takes around 15 to 35 minutes to register and complete the survey, and then parents receive a summary of their child's learning style, social understanding, and play.
Importantly, parents will be invited to repeat the survey six months later, which allows researchers to determine whether touchscreens have an impact or not. Participants who repeat the survey six months later will receive a £5 Amazon voucher or the equivalent value for their country: $6USD (USA); $8CDN (Canada); $9AUD (Australia); or ₹400INR (India).
Despite creativity and play being key characteristics of effective Early Years teaching and learning, there is little quantitative research on creativity in children's early cognitive development, and sparse research on how touchscreens affect children's development.
Dr Hoicka is hoping to fill this gap in knowledge. She said: "Until recently, the American Association for Paediatrics (AAP) has recommended zero screen time until two years. However, with the help of new research, the AAP has changed some of its recommendations.
"For instance, we now know that children can learn words through Skype, and that television can be beneficial with children over 18 months, as long as their parents watch with them."
This research is funded by the British Academy, the Economic and Social Research Council, and a PhD studentship from the Turkish Government.