View all news
Research collaboration with mobile tech industry leads to national award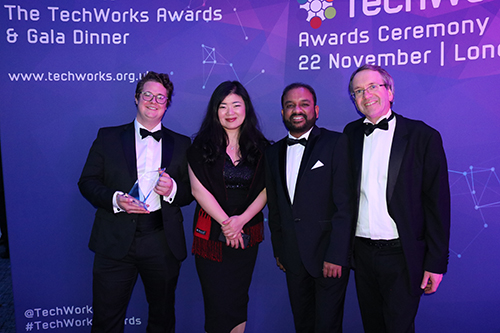 23 November 2018
A University of Bristol research collaboration has been awarded one of the highest accolades in the UK deep tech industry, for a new wireless technology that will transform 4G and 5G global roaming capabilities.
The collaboration between u-blox and Bristol's Department of Electrical and Electronic Engineering came first in the Research Collaboration category at last night's (22 November) TechWorks Awards 2018, which celebrate the year's key electronics innovations, people and companies from across the UK and Ireland.
The Bristol and u-blox collaboration, which began in 2012, won for its R&D project on Reconfigurable Wireless Transceivers for Global Connectivity.
Mark Beach, Professor of Radio Systems Engineering at the University of Bristol and Manager of the EPSRC Centre for Doctoral Training in Communications, said: "This has been a truly unique collaboration and most rewarding to see it yield such a high calibre outcome. We will continue to develop this exciting technology with our partners."
Given increasing consumer demand for 4G and 5G network access, the collaboration between Bristol and u-blox represents a major step forward in providing the mobile networks of tomorrow.
By bringing together u-blox's commercial know-how and experience in wireless product design, and Bristol's expertise in waveform cancellation, the multi-disciplinary team have developed a novel, tuneable, radio architecture for mobile devices. The innovative design facilitates global roaming on 4G and 5G, provides seamless spectrum access across diverse and fragmented frequency ranges, and is the first standards compliant and commercially viable circuit of its type.
Jim Connelly, Director, u-blox Cork, said: "We are thrilled to have won this award and it is a remarkable achievement given the strength of the competition in this category. This has proven to be a very successful collaboration with the University of Bristol and will continue to be so. As u-blox's Transceiver Centre of Excellence, u-blox Cork is highly focussed on sustained R&D activities in the areas of Cellular, Wi-Fi and IoT. Winning this award reinforces our vision of excellence whilst underlining the importance of collaboration in the research ecosystem."
The team from the Communication Systems & Networks Group at the University of Bristol (UK) and u-blox Engineering centres in Cambourne (Cambridgeshire, UK) and Cork (Ireland) have jointly addressed this global challenge through collaborative R&D since 2012. PhD sponsorship and mentoring of Leo Laughlin, and later that of Chinqing (Jack) Zhang, under the supervision of Professors Mark Beach and Kevin Morris, and industrial mentoring by John Haine, Kalim Khan and Micí McCullagh, has culminated with a highly novel Frequency Agile Frequency Division Duplexer solution. In addition to the 9 conference and 7 journal publications, including a recent paper in the prestigious IEEE Transactions on Microwave Theory and Techniques, a standards compliant laboratory prototype has been designed, built and tested through this collaborative venture.
Leo Laughlin, Research Fellow in the Communication Systems and Networks Group, added: "We are absolutely delighted that our hard work on this project has been recognised with this award. The success of this project was only possible through the close working relationship of this academic/industrial team, which has allowed us to develop and apply novel radio technologies to target a highly specific commercial need."
Additional support for the project came from the University's EPSRC Impact Acceleration Account, which issues strategic awards designed to support knowledge exchange between research organisations and industry partners in R&D.
Further information
Technical information about the research can be found in the following paper: Leo Laughlin, Chunqing Zhang, Mark A. Beach, Kevin A. Morris, John L. Haine, Muhammad Kalimuddin Khan and Michael McCullagh, "Tunable Frequency-Division Duplex RF Front End Using Electrical Balance and Active Cancellation" in IEEE Transactions on Microwave Theory and Techniques, 2018.
About u-blox AG Swiss u blox (SIX:UBXN) is a global provider of leading positioning and wireless communication technologies for the automotive, industrial, and consumer markets. Their solutions let people, vehicles, and machines locate their precise position and communicate wirelessly over cellular and short range networks. With a broad portfolio of chips, modules, and a growing ecosystem of product supporting data services, u-blox is uniquely positioned to empower its customers to develop innovative solutions for the Internet of Things, quickly and cost-effectively. With headquarters in Thalwil, Switzerland, the company is globally present with offices in Europe, Asia, and the USA.
About the University of Bristol The University of Bristol is one of the most popular and successful universities in the UK. It was ranked within the top 50 universities in the world in the QS World University Rankings 2018. The University of Bristol is ranked among the top five institutions in the UK for its research, according to new analysis of the Research Excellence Framework (REF) 2014, and is the 3rd most targeted university by top UK employers. Bristol is a member of the Russell Group of UK research-intensive universities, and a member of the Worldwide Universities Network, a grouping of research-led institutions of international standing. The research described was conducted by members of academic staff and postgraduate students associated with the Communication Systems and Networks (CSN) group.
About the Communication Systems & Networks (CSN) Group The CSN Group was formed in 1985 to address the research demands of the fixed and wireless communications sectors. It combines fundamental academic research with a strong level of industrial application. The Group has well-equipped laboratories with state-of-the-art test and measurement equipment and first-class computational facilities. Recently the Group has joined forces with the University's High Performance Networks (HPN) Group and the Photonics Research Group to form the Smart Internet Lab. The postgraduate students from The University of Bristol are funded by and trained through the EPSRC Centre for Doctoral Training (CDT) in Communications.
About the EPSRC Centre for Doctoral Training (CDT) in Communications The EPSRC Centre for Doctoral Training (CDT) in Communications is a state-of-the-art environment for training postgraduates to lead innovative research, future product development and exploitation.The Centre will help to build UK capability in communications engineering by addressing the skills shortage in the sector. It will focus on Future Communications: People, Power and Performance; while communications technology is the enabler, the Centre recognises that it is people who are the creators, consumers and beneficiaries in terms of its broader applications.
About TechWorks / TechWorks Awards
The UK's leading Deep Tech industry association with established communities in Manufacturing, Automotive, IoT Security & Power Electronics. Techworks' focus is to build a better and stronger tech ecosystem in the UK, helping to connect brilliant ideas with partnerships and investments that accelerate speed and enhance routes to market and profitability. TechWorks presents awards to recognise the achievements and behaviours that are conducive to a healthy and vibrant industry in the UK and Ireland. The awards showcase excellence within the industry rewarding the innovation, expertise and ambition of businesses.