View all news
Vet School postgrad selected for the first ever national PhD Training Programme in antimicrobial resistance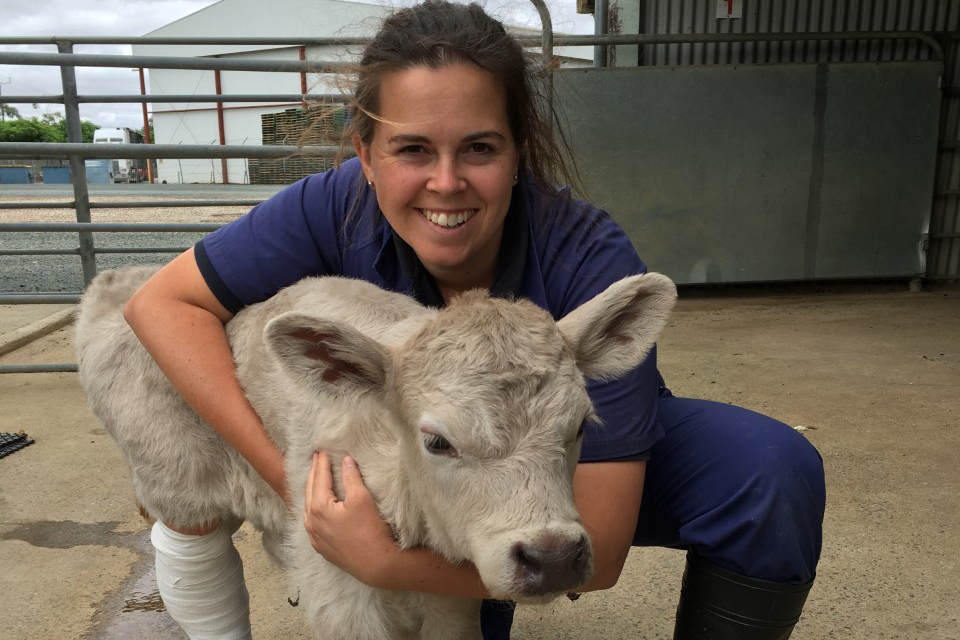 Press release issued: 16 November 2018
A postgraduate student from the University of Bristol's Veterinary School has been selected for the first ever national PhD Training Programme in antimicrobial resistance (AMR) - launched by the Medical Research Foundation.
Liz Cresswell, who is studying for a PhD in Clinical Veterinary Science, is one of 18 students from 16 UK universities who through their research will contribute to the ambitious aims of the UKRI-funded cross-council research consortia, which is tackling AMR on a global scale.
Antibiotics transformed healthcare in the 20th century and are still considered one of greatest medical achievements of the era. Today, we rely on antibiotics to treat life-threatening bacterial infections and to prevent infection after surgery. But antibiotic overuse and misuse has led to antibiotics becoming increasingly ineffective and antimicrobial resistance, specifically antibiotic resistance, now poses a global threat to human life.
Working alongside the Medical Research Council, the Foundation spotted a gap in funding for PhD studentships in antimicrobial resistance research – right now there are few emerging researchers trained in the multidisciplinary approach required to tackle the antimicrobial resistance problem. This new PhD Training Programme is designed to help build a strong, active network of early career researchers by bringing together those who study microbiology, genetics and medicine with social scientists, vets, dentists, ecologists, environmental biologists, anthropologists, chemists and biomedical engineers.
Professor Dame Sally Davies, Chief Medical Officer for England who is a leading advocate on the need to address antimicrobial resistance said: "I am thrilled that the Medical Research Foundation is building on the successful work of the UK Research Councils by investing £2.85 million to create the UK's only national PhD Training Programme in Antimicrobial Resistance. Training the next generation of researchers in this area is vital and we must equip scientists with the multi-disciplinary skills needed to conduct world leading research into this global threat."
Dr Jonathan Pearce, MRC Head of Immunity and Infections, added: "Over the past five years, in partnership with the other UKRI Councils, we've made huge efforts to better understand the threat of AMR and find solutions – together investing £44 million in 78 UK projects and £41 million in projects worldwide. A key aspect of recent investment has been interdisciplinarity – bringing researchers with different expertise together to look at complex problems from a different angle. The Medical Research Foundation's AMR PhD programme is exactly the type of initiative required to develop the future cadre of interdisciplinary researchers that we need."
Liz Cresswell explained: "My research focuses on AMR in smallholding farms, which is the fastest growing sector of farming. I hope to be able to identify the issues surrounding AMR in smallholdings and implement ways in which we can control disease and AMR transmission and spread in this population."
Liz will investigate the part smallholder farming may play in the development of antimicrobial resistance and transmission between animals and humans and compare this to current data being collected on dairy farms and within companion animal populations.
Liz Cresswell, commenting on her motivation to join the scheme, said: "Antimicrobial resistance is an issue which has huge implications for human and animal welfare, especially at a time when we need to feed an increasing world population. I believe research is much more impactful when we communicate with other disciplines and I wanted to be part of a cohort where I could share ideas and work with other people outside of my own subject area."
Matthew Avison, Professor of Molecular Bacteriology from the University's Faculty of Life Sciences and a supporter of the scheme, added: "The fight against antimicrobial resistance is serious, life-threatening and global and it is a fight we must win. As academic lead for the Medical Research Foundation's national PhD Training Programme, I look forward to leading the next generation of researchers to develop the multidisciplinary research skills required to tackle this major health problem."
The Foundation will also reach a further 150 UK PhD students training in AMR-related research through training and network-building activities such as on-line resources, summer residential training weeks, annual AMR conferences and tailored meetings responsive to developments and opportunities relevant to the AMR field.
Antimicrobial resistance - or AMR - is a global threat, with an estimated 700,000 people dying from resistant infections every year. This week [12-18 November] is World Antibiotic Awareness Week.