View all news
Pupils 'Discover Economics' with Apprentice-style challenges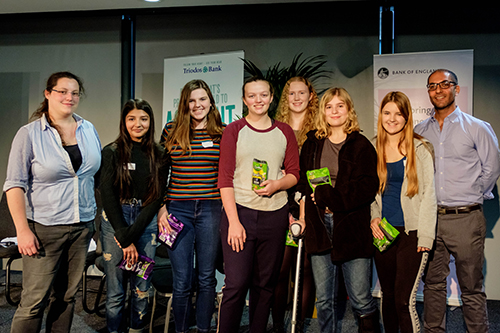 Press release issued: 15 November 2018
Over 250 pupils from local Bristol, Bath and Somerset schools discovered the world of economics at a special interactive event.
Staff from the University of Bristol and UWE Bristol ran a free outreach event at We The Curious, as part of the Bristol Festival of Economics, to enable school children to find out more about what economics is all about.
The day's schedule was jam-packed with educational and interactive sessions helping pupils to understand the varied role economists play in the world and to get practical in an Apprentice-style team challenge.
Professor Sarah Smith, Head of the Economics Department at the University of Bristol, hopes the event has helped to tackle the discipline's public image problem.
She said: "Ask a 15 to 17-year-old to describe an economist and they will tell you that he - because it's usually male - is a man in a grey suit spouting jargon and statistics.
"As a result, the subject lacks broad appeal. Discover Economics aimed to present a more diverse image of economics."
In an effort to stamp out this stigma, the University of Bristol and UWE Bristol signed up more than 250 local Year 11 and 12 pupils to learn what economics is really like from the staff and economics practitioners.
Students engaged in talks and interactive sessions covering a range of topics, from auctions to the gender pay gap. Hot topics in politics and society were considered during the 'Are the rich paying their fair share of taxes?' talk by Helen Miller, Associate Director of the Institute for Fiscal Studies.
By meeting recent graduates, pupils also got the opportunity to find out what it's like to study economics at university and find out where an economics degree can take you.
The day culminated with a schools' challenge – The Apprentice Economist – where teams of pupils came up with economic solutions to tackle real-life problems.
Bank of England Chief Economist, Andy Haldane, was one of the competition judges, and awarded the winning prize to Pates Grammar school in Cheltenham. They will now have the chance to take part in a youth economics summit in Hamburg in September 2019.
Other activities included a game that gets pupils playing economics as they simultaneously soak up basic economic principles.
'Discover Economics' was part of the Bristol Festival of Economics, a Bristol Festival of Ideas event supported by Triodos Bank, the Bank of England and the Economic and Social Research Council, as well as the University of West England and the University of Bristol.