View all news
UK and Colombian researchers working together for sustainable peace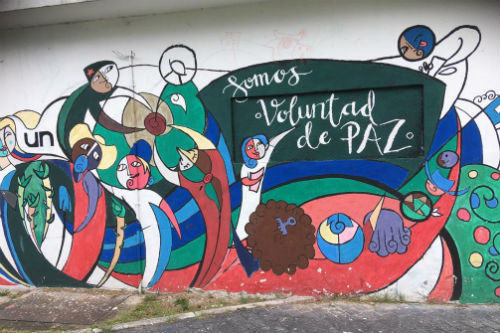 Press release issued: 9 November 2018
Ten new research projects announced by UK Research and Innovation (UKRI) will address issues facing Colombia's transition from conflict to peace.
This includes a project led by academics from the University of Bristol to support community members in some of Colombia's most marginalised municipalities to produce creative pieces of memory work.
Creating memory work means using the pain of the past to create something useful for working towards peace in the present and future.
Working with a set of national partners (including the National Library of Colombia, the Ruta Pacifica de las Mujeres women's group, and the National Network of Memory Sites) the project will enable victims to develop the skills, networks, and confidence to share their memories on a national stage, including with Colombia's Truth Commission.

The project aims to contribute to a sustainable, inclusive reconciliation process in Colombia, after Peace Accords ended the long-running armed conflict between the FARC-EP guerrilla group and the Colombia state in 2016.
In doing so, it also aims to generate important knowledge which might be applied globally about the potential for localised processes of reconciliation to be connected with formal initiatives like Truth Commissions and shared in schools using co-production and digital methodologies.
These lessons will be valuable for global policy discussions around transitional justice and for academic debates across our disciplines.
Professor Matthew Brown from Bristol's School of Modern Languages, will lead the UK-side of project along with Dr Julia Paulson from Bristol's School of Education. He said: "This is a big, international project which aims to co-produce new knowledge about Colombia's difficult past. By working directly with some of the people who have been most affected by the armed conflict, but whose histories are not widely known, we hope that the project will have a significant effect in producing an inclusive reconciliation process.
"We are delighted to be working in collaboration with the National University of Colombia, and our colleagues Fabio Lopez de la Roche and Maria-Teresa Pinto Ocampo, and to building upon the trusting working relationship between Colombia and Bristol."
The ten projects, launched by UKRI in partnership with Colombia's Administrative Department of Science, Technology and Innovation (Colciencias) have been funded with £2.8 million through the Newton Fund. UK researchers will collaborate with colleagues in Colombia on projects designed to promote peaceful and inclusive societies for sustainable development using the arts, humanities and social sciences.
Professor Andrew Thompson, UKRI Champion for International and Executive Chair of the Arts and Humanities Research Council (AHRC), said: "These projects will contribute to a more just and peaceful world,assess the causes and effects of long-term conflict and promote sustainable development by starting a dialogue based on understanding and respect.
"It is heartening to see, in the Colombian context, research projects that take fresh approaches to tackling development challenges. As well as being insightful in themselves, I hope they will also open up new corridors of research practice within the arts, humanities, and social sciences."
Dr Eduardo Rojas Pineda, Colciencias Director of Research Development, said:"This initiative promotes the consolidation of a scientific community across different research areas and the promotion of the transfer of knowledge in ways that will contribute to the economic and social development of Colombia in collaboration with UKRI. These are internationally competitive, transformative and high-quality collaborative projects which address a broad range of areas related to peace transitions in Colombia."
The new projects, being led by UKRI's AHRC and Economic and Social Research Council, address a broad range of areas relating to post-conflict transitions in Colombia.
This announcement is an example of UKRI's vision that international collaboration is key to ensuring world-leading research and development, and global challenges require global solutions, across nations and disciplines. Find out more about our international work by following the hashtag #UKRIGlobal on Twitter.
Further information
UK Research and Innovationis a new body which works in partnership with universities, research organisations, businesses, charities, and government to create the best possible environment for research and innovation to flourish. We aim to maximise the contribution of each of our component parts, working individually and collectively. We work with our many partners to benefit everyone through knowledge, talent and ideas.
Operating across the whole of the UK with a combined budget of more than £6 billion, UK Research and Innovation brings together the seven Research Councils, Innovate UK and a new organisation, Research England.
The Newton Fund builds research and innovation partnerships with 17 active partner countries to support their economic development and social welfare, and to develop their research and innovation capacity for long-term sustainable growth. It has a total UK Government investment of £735 million up until 2021, with matched resources from the partner countries.
The Newton Fund is managed by the UK Department for Business, Energy and Industrial Strategy (BEIS), and delivered through 7 UK delivery partners, which includes UK Research and Innovation (comprising the 7 research councils and Innovate UK), the UK Academies, the British Council and the Met Office.