View all news
Hundreds of visitors get hands-on with pioneering postgraduate research at Research without Borders festival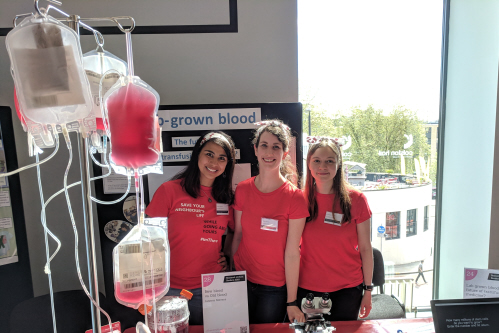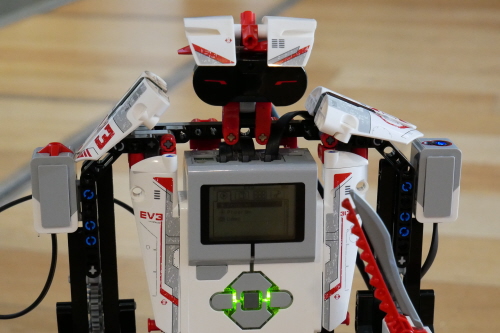 Press release issued: 17 May 2018
More than 750 visitors attended the series of festival events, including an interactive exhibition of postgraduate research in Colston Hall.
Hundreds of people had the chance to see first hand the cutting-edge work emerging at the University of Bristol during a free festival of postgraduate research, organised by the Bristol Doctoral College.
A day-long exhibition in Colston Hall on 9 May showcased the work of more than 100 postgraduate research students through interactive stalls and activities designed to bring their work to life for members of the public.
Among the 70 research stalls on display, visitors were also be able to try out piloting a drone, experience what nighttime might be like in a refugee camp, and trying to spot the difference between real red blood cells and artificial lab-grown blood.
One of the hundreds to attend was Briony Phillips, Scale-Up Business Enabler at the Engine Shed, who said, "The researchers were brilliantly well prepared with accessible information and a real enthusiasm to share, explain and demonstrate. I only wish I'd had more time to spend at the event. I look forward to attending again next year!"
An evening discussion series, in collaboration with the University Research Institutes, was also held as part of the festival. Led by 17 students working on global challenges from different approaches, these took place in various city centre venues including the Watershed and Bristol Energy Hub. The series included a discussion on the challenges of big data and the pervasive use of algorithms in today's world.
Professor Hugh Brady, Vice-Chancellor, said, "Our postgraduate research students are at the forefront of the pioneering research underway here in Bristol. Our annual Research without Borders festival is a fantastic way to open the doors on what happens here at our University to enable other researchers, local organisations and the wider Bristol community to explore our postgraduate research."
The festival exhibition finale was the Three Minute Thesis® competition finals in Colston Hall, with eight doctoral students competing to deliver their research findings in just three short minutes. A panel of expert judges selected Isabel Stockton, a third year PhD student in the School of Economics, Finance and Management, as the winner for her women's wages and employment patterns.
Isabel said, "Economics as a discipline has taken a bit of a reputational hit over the years; many people think of it as a very dry sort of field, stuck in complicated theoretical models. I'm thrilled the competition gave me the chance to instead give our audience a glimpse of the economics that I love - an exciting field that's hugely relevant to our everyday lives."
Further information
Three Minute Thesis winners:
Judges Winner
Isabel Stockton, School of Economics, Finance and Management, 'What Women Workers Want (And What They'll Pay For It)'
Judges runner up
Sam Williams, School of Biochemistry, 'Antibiotics from the Abyss'
People's Choice Winner
Victoria Taylor, School of Chemistry, 'Ultrafast lasers — Shining a light on the future of renewable energy'
Research without Borders exhibition prize winners:
Best-Communicated Exhibit
Milo Rengel, School of Humanities,'What's the T? LGBT+ History in Ancient Greece'
Most Engaging Exhibit
Peter Thomas, School of Civil, Aerospace and Mechanical Engineering, 'Could you live without access to electricity?'
Popular Vote exhibition winner
Hsing-Yu Chen, Richard Suphapol Diteesawat, Alice Haynes, Alixander Partridge, Melanie Simons and Enrico Werner, 'Robots: with a twist'