View all news
University to host Gromit and friends as charity trail locations are revealed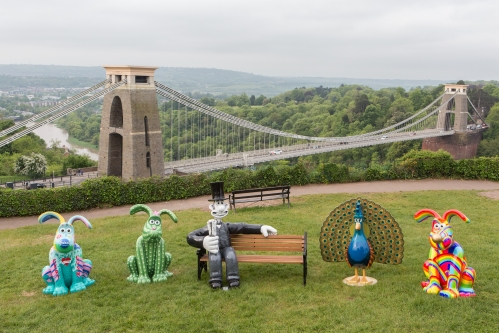 Press release issued: 16 May 2018
Bristol's favourite pooch and friends will reside at three University of Bristol locations this summer as Gromit Unleashed 2 fever sweeps across the city.
Over 60 giant Wallace, Gromit and Feathers McGraw sculptures will adorn the streets, buildings and parks of Bristol from 2 July to 2 September as part of the trail organised by Wallace & Gromit's Grand Appeal, the Bristol Children's Hospital charity.
Among the locations revealed today is Royal Fort Garden – the first time it will be part of a public art trail. There will also be sculptures located outside the Wills Memorial Building and the Victoria Rooms.
The University of Bristol is one of the 'trailblazers' playing a significant role in the trail, alongside Creditcall, Renishaw and Rolls-Royce.
Along with its trailblazing sculpture, created by a group of female engineering students, staff within the Faculty of Engineering are also working on a further three interactive sculptures – details of which are being kept under wraps for now.
Nicola Masters, Director of The Grand Appeal, said: "Our dedicated 'Trailblazer' partners – Rolls-Royce, Renishaw and the University of Bristol – are busy working away to create some very special sculptures for our eager trail fans, whilst Creditcall are supporting us with contactless payments devices throughout the trail.
"You'll have to wait a few more weeks before we reveal more – it wouldn't be a Grand Appeal trail without a few surprises."
Each sculpture of the Aardman characters will be individually designed and decorated by high-profile artists, designers, innovators and local talent, spread across the city and the surrounding areas.
Thornbury represents the most northerly point of the trail, with Avon Valley Adventure and Wildlife Park and Chew Valley marking the East and South boundaries respectively, and Weston-Super-Mare in the West.
Nicola added: "We are incredibly fortunate to live in such a wonderfully diverse city, and we are proud to showcase as much of beautiful Bristol and its surrounding areas as possible through our third charity arts trail.
"Over the last year, we have worked with our amazing sponsors, local community groups and the council to determine the best locations for each sculpture.
"It's only with the support from our local community that we can continue to support sick children and their families at Bristol Children's Hospital, so we are delighted that we are able to give something back to our supporters."
The University of Bristol has supported The Grand Appeal since 1997 and tours it runs of the Wills Memorial Building have raised over £32,000.
It's also the proud owner of 'Bark at Ee' Gromit and 'Wish ewe were here' Shaun the Sheep statues.
Further information
The Grand Appeal is the Bristol Children's Hospital Charity.
Founded in 1995, the multi award-winning Grand Appeal has raised over £50 million to save lives and support sick children and their families at Bristol children's hospital. Money raised helps to ensure that Bristol children's hospital is one of the UK's leading children's hospitals treating patients from across the South West, South Wales and beyond with access to the latest pioneering facilities and lifesaving equipment. The Grand Appeal also provides family accommodation across two sites in central Bristol as well as a whole range of family and patient services, including music, arts, play and family support. Bristol Children's Hospital covers the largest catchment area of any children's hospital in England, treating more than 100,000 children each year, and serves as the paediatric intensive care centre for the whole South West region. The hospital is an international, national and regional specialist centre of excellence for a range of services including neurosurgery, burns, epilepsy, cardiac, leukemia and bone marrow transplants.
About Aardman
Aardman, based in Bristol (UK) co-founded and run by Peter Lord and David Sproxton, is a world leader in animation. It produces feature films, series, advertising and digital entertainment for both the domestic and international market. Their multi-award winning productions are novel, entertaining, brilliantly characterised and full of charm that reflects the unique talent, energy and personal commitment of the very special people who make up the Aardman team. The studio's work is often imitated and yet the company continues to lead the field producing a rare brand of visually stunning and amusing independent and commercial productions.