View all news
Bristol students win national engineering scholarships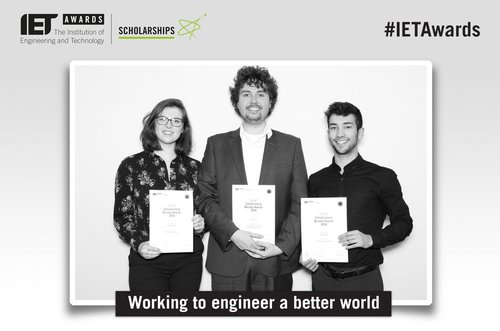 9 March 2018
Three Engineering Design students from the University of Bristol have received awards from the Institution of Engineering and Technology (IET).
Nathan Wooster and Phoebe Andrew each won a Diamond Jubilee Scholarship; James Clark received an Engineering Horizons Bursary.
These were among 150 awards (75 scholarships and 75 bursaries) given by IET to students who started a Masters or an undergraduate degree in engineering at a UK university in 2017. Each receives at least £1,000 per academic year, plus mentoring and work experience placements through the IET's extensive networks.
Nathan Wooster said: 'The IET Diamond Jubilee Scholarship will provide me with unique opportunities throughout my degree as well as financial support. I look forward to progressing further towards an engineering career.'
James Clark said: 'It was an honour to receive the Horizons Bursary and I am incredibly grateful for the helping hand. The award will be very useful in providing learning materials and I look forward to being able to show my appreciation by assisting with STEM outreach and furthering the IET's goals of inspiring the next generation of engineers.'
Further information
The IET are funding these awards in collaboration with the Belling Charitable Settlement, the ERA Foundation, The Royal Commission for the Exhibition of 1851, Siemens, BAE Systems, BT and Thales.
For details about the awards, please see the IET webpages.