View all news
Bristol to collaborate with India on country's first 5G Testbed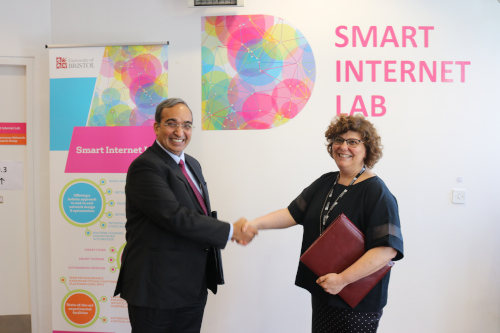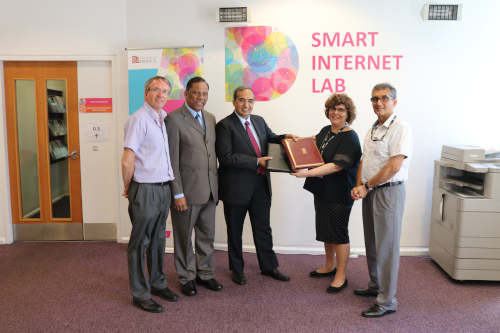 Press release issued: 22 June 2018
The University's Smart Internet Lab has entered into a strategic relationship with C-DOT (the Centre for Development of Telematics), an autonomous Telecom research and development centre supported by the Indian Government. The MoU was signed on the 20th June in the presence of senior members of Department of Telecommunications and Indian Minister Shri Manoj Sinha, Hon'ble Minister of State for Communications.
Mr Manoj Sinha, Minister of State for Communications (Independent Charge) and Minister of State for Railways, Government of India, said: "The Government of India is fully committed to ensuring that we march in step with the world, and be among the leaders to accelerate the exploration, adoption, and full-scale deployment of 5G technology for the benefit of our citizens. The signing of these agreements with premier academic institutions in the United Kingdom is an important milestone for us. We expect this strong partnership to produce accelerated outcomes that benefit both our great countries."
On 22nd June the delegation of C-DOT officials concluded their UK trip with a visit to the Smart Internet Lab at the University of Bristol. In India, preparations are already underway to build a 5G Testbed, comparable to the one already located in Bristol's Millennium Square. As digital architects of the Bristol 5G Testbed and having hosted the world's first public 5G showcase, The Smart Internet Lab is ideally positioned to assist in this process.
Professor Dimitra Simeonidou, Director of the Smart Internet Lab, said 'Along with our academic partners – the University of Surrey and King's College London – we have already accomplished a world first by successfully linking our 5G UK testbeds. Our eventual hope is to link India's new 5G Testbed to our own network in the UK. We are very excited to be working with C-DOT and sharing our expertise to accomplish this. This is an opportunity to foster a relationship with India that has long-term potential for the collaborative development of 5G.'
The MoU will also foster a knowledge by exchanging researchers between the two locations as well as collaborating in research projects that focus on the areas of Machine Learning (ML), Artificial Intelligence (AI), deployment of Mobile Edge Computing (MEC), Cloud RAN, Massive MIMO and mmWave.
The economic and cultural importance of 5G development is recognised by both Indian and UK Governments. Earlier this month the Smart Internet Lab was visited by the Minister of State for Department of Digital, Culture, Media & Sport, Margot James. The Minister praised the Smart Internet Lab for its collaborative approach in facilitating 'the next generation of connectivity.' As part of the UK Testbeds and Trials programme, the University was granted a share in a £16m investment by DCMS for the development of the world's first end-to-end 5G system. The Smart Internet Lab will also be supporting the upcoming 5G Tourism project in conjunction with WECA (West of England Combined Authority).