View all news
Professor Philip Pettit, 1925-2017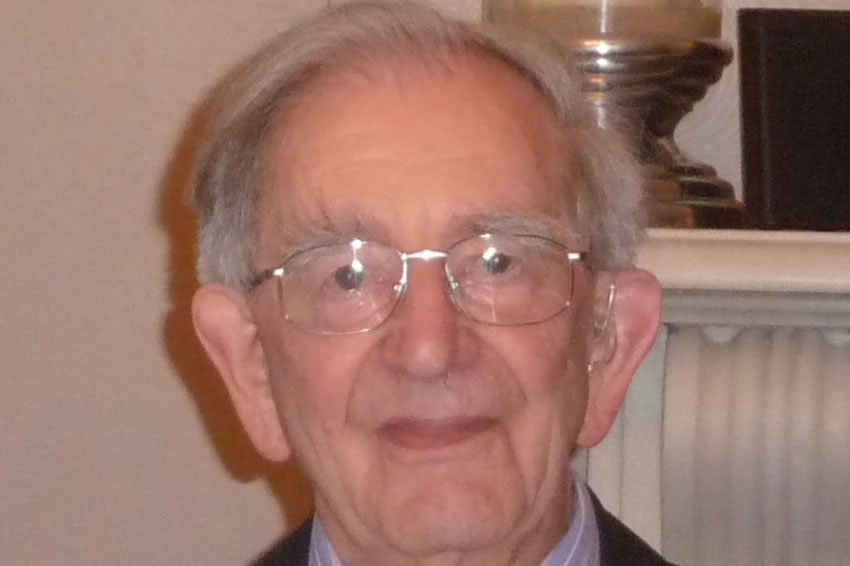 10 January 2018
Philip Pettit, former Dean of the Faculty of Law and Pro-Vice Chancellor, passed away on 28 November at the age of 92. His son, Charles Pettit, offers a remembrance.
Philip Pettit was for many years one of the country's leading lights in legal studies, and served as President of the Society of Public Teachers of Law. For generations of law students, 'Pettit' was his magnum opus Equity and the Law of Trusts, which was first published in 1966 and which he personally saw through 12 editions, with the final edition being published in 2012 when he was 87.
Philip Henry Pettit was the first son of Robert and Lucy Pettit. He was born on 28 February 1925 in Wallingford, Berkshire (now Oxfordshire). His father and grandfather owned a department store in the town, which had been founded by his great-grandfather and his brother in 1856. After two years at a small private school, he moved to WallingfordCountyGrammar School, where he remained for the rest of his school career.
In October 1942 he went up to ExeterCollege, Oxford to read Modern History. However after completing his first academic year in Oxford he left for service in the Navy, where his experiences ranged from three months minesweeping to postings to Colombo, Ceylon (now Sri Lanka) and later Aden. He was released from service in 1947, with the rank of Sub Lieutenant, and returned to ExeterCollege. However he changed to read Jurisprudence, which obviously suited him well for he was awarded a first in 1949. While at Oxford he met Patricia Litt (St Anne's) and they married in 1950.
He passed the Bar examinations and was called to the Bar by the MiddleTemple in the following year. However the Chancery Bar was then going through a lean time and work was slow to come so in 1952 he obtained an Assistant Lectureship in Law in King's College at the University of London, continuing such practice at the Bar as he had. After three years he was appointed to a Lectureship in Law in the University of Sheffield, and after two years there he successfully applied for a Senior Lectureship in the University of Bristol. In 1966 he was appointed as Professor in Law and in 1968 became Professor of Equity. He was also Dean of the Faculty of Law and appointed as Pro-Vice Chancellor of the University from 1980 to 1983. In 1983 he took early retirement from Bristol, as people were then being encouraged to do, and became Emeritus Professor of Equity. Following this, he became Professor of Equity in the new independent University of Buckingham, where he served a term as Dean of the Law School before retiring on reaching the age of 65 in 1990.
He was elected President of the Society of Public Teachers of Law (subsequently renamed the Society of Legal Scholars) in 1982-3, and acted as an external examiner for many universities. He was often a member of a committee appointed by the Council for National Academic Awards to visit polytechnics (which before they became universities under the Further and Higher Education Act 1992 could not award their own degrees) to assess whether a polytechnic's proposed course, staff and facilities should be validated for the award of a law degree by the CNAA.
His first publication was a chapter in A Century of Family Law published in 1957. He made numerous contributions to the leading legal journals, and regularly wrote a chapter for the All England Law Reports Annual Review from its inception in 1982 until it ceased publication in 2013. He contributed to the prestigious Halsbury's Laws of England. He was the first General Editor of the Denning Law Journal and remained on the Editorial Advisory Board right through to the 2017 volume. He contributed a paper at the First International Conference on Equity, held in Jerusalem in 1990. Its proceedings were subsequently published under the title Equity and Contemporary Legal Developments. He published Landlord and Tenant under the Rent Act 1977 in 1977, a second edition being published in 1981 under the title Private Sector Tenancies. His main publication was the aforementioned Equity and the Law of Trusts, which reached its 12th edition in 2012. He was a lawyer member of Rent Assessment Panels from 1967 to 1995, first of the Bristol Panel and subsequently of the Cambridge Chilterns and Thames Panel of which he was Vice-President from 1988 until his age-related retirement.
Following his retirement from university teaching, he continued to contribute actively to legal studies through numbers of publications, and indeed no fewer than six of the twelve editions of Equity and the Law of Trusts were published after his retirement. Only in the last three or four years of his life did he really retire, at which point he turned his energies to researching his family history. He also had more time to visit local places of interest with his wife and family and to enjoy music and especially opera, an enthusiasm that he and his wife had developed together from their earliest days.
Professor Pettit is survived by his wife Patricia, two children, two grandchildren and three great-grandchildren.