View all news
University of Bristol is 4th most-targeted university by employers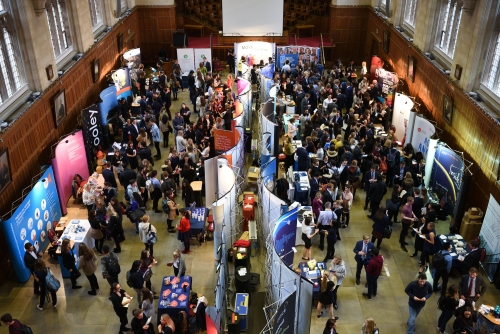 Press release issued: 18 January 2018
A major new report has revealed that students at the University of Bristol are among the most targeted by Britain's top 100 employers.
Bristol has been ranked ahead of Oxford and Cambridge at 4th in the table, which was compiled as part of the Graduate Market in 2018 study.
The study, conducted by High Fliers Research in December, looked at graduate vacancies, starting salaries and undergraduate work experience programmes at the country's 100 leading employers.
Among the companies on this list of leading employers are PwC, Goldman Sachs, BP, HSBC, Rolls-Royce, Unilever, the BBC, Jaguar Land Rover and the NHS.
Stuart Johnson, Director of the Careers Service at the University of Bristol, said: "Bristol has for a long time been a university heavily targeted by top employers and we are very pleased that this continues to be the case.
"Bristol attracts some of the best students and produces some of the most employable graduates, something that as an institution and as a careers service we are tremendously proud of."
The report confirmed that that top 10 universities most-often targeted by Britain's top graduate employers in 2017 were: Manchester, Birmingham, Warwick, Bristol, UCL, Cambridge, Leeds, Nottingham, Oxford and Durham.
A full copy of the report can be downloaded from the High Fliers website.
Further information
About the Careers Service
As a top 4 UK university with leading employers, the University of Bristol Careers Service is the vital link between students at the University of Bristol and their future career. By working with us from day one, students make the most of their time at Bristol and we support them in fulfilling their ambitions: whether that's getting their dream job, experiencing a wide variety of unique and exciting work-related opportunities, or continuing their studies. Our team of specialist staff are here to help students learn more about their chosen field and maximise their employability prospects – helping to introduce them to employers and making them career ready.