View all news
Churchill: film about former Chancellor hits UK screens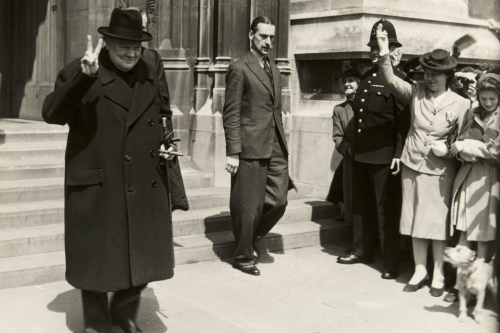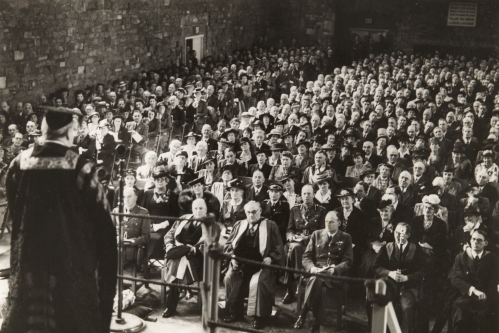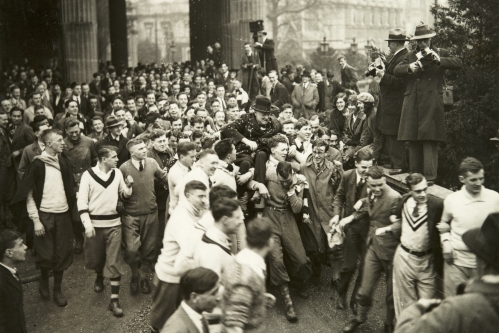 Press release issued: 12 January 2018
As the new Winston Churchill biopic 'Darkest Hour' hits UK screens today [12 January], the University of Bristol looks back at the wartime leader's time as its Chancellor.
'Darkest Hour' focuses on Churchill's first term as Prime Minster of Britain in 1940, when he must decide whether to negotiate a peace treaty with Nazi Germany or stand firm to fight for the ideals, liberty and freedom of a nation.
Gary Oldman's portrayal of the famous politician has already won him a Golden Globe award for Best Actor in a Motion Picture (Drama) and the blockbuster looks set to collect more accolades as awards season continues.
Many people aren't aware that Churchill was also Chancellor of the University of Bristol throughout the war. In fact, he stood as the University's longest-standing Chancellor from 1929 to 1965.
Despite initial controversy over his appointment – especially given that he hadn't attended university himself – Churchill's historic Chancellorship was performed with 'a theatrical flair and consummate panache that were incomparable and inimitable', according to biographer Roy Jenkins.
Churchill as Chancellor
Churchill was popular with students from the start. After an installation ceremony on 13 December 1929, students carried him through the streets on their shoulders to the Victoria Rooms, home to the Students' Union at the time.
Here he took part in a mock trial where he was arrested, tried and imprisoned for failing to provide the students with tea and buns. The performance ended with students carrying off his effigy.
The University stood by its Chancellor throughout the 1930s, even though Churchill's political star was waning and he was concerned mainly with reviving his career in government. But he was always appreciative of Bristol's support.
During the Second World War, when he was back in office, now as Prime Minister, he maintained links with the city through his Cabinet colleague Ernest Bevin, a local man. When the Wills Memorial Building was damaged by incendiaries in 1940, he wrote a letter of commiseration to Loveday.
In 1941, Churchill visited Bristol for an honorary degree ceremony. Although the University hadn't planned to hold ceremonies during the war, Churchill suggested honouring Robert Menzies, the Prime Minister of Australia who was visiting Britain at the time, and John Winant, the newly appointed American ambassador, to help foster international relations.
The night before the event, Bristol was hit by its worst air raid of the war and the Wills Memorial Building sustained further damage.
Dismissing smouldering rubble and what turned out to be an unexploded bomb, Churchill insisted that the ceremony go ahead, in a display of 'fortitude and phlegm'. It was held in the smaller but intact Reception Room next door to the decimated Great Hall.
Crowds gathered outside the building to cheer the emerging graduates and University officers. Churchill was deeply moved by this show of support, and on the train back to London shielded his face with a newspaper to hide his tear-filled eyes.
In 1954, in typically controversial Churchill fashion, and despite a full programme of 80th birthday celebrations having been planned for him in London, he exasperated government colleagues by choosing to spend time in Bristol, coinciding with the completion of the Queen's Building, which houses part of Engineering.
Read a feature on Churchill's time at the University in Nonesuch.