View all news
Immediate breast reconstruction after mastectomy does not delay start of chemotherapy or radiotherapy – but may increase risk of complications and readmission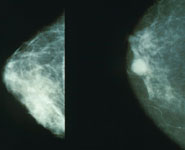 Press release issued: 19 January 2018
Having immediate reconstruction following a mastectomy does not delay the start of a patient's adjuvant breast cancer therapy but may increase the likelihood of complications requiring hospital readmission in the first six weeks after surgery, according to new research led by researchers at the University of Bristol and the Royal Liverpool University Hospital presented at the UK Interdisciplinary Breast Cancer Symposium (UKIBCS) in Manchester – hosted by leading charity Breast Cancer Now.
The option of immediate reconstruction is routinely offered to eligible breast cancer patients requiring a mastectomy – and can offer a number of potential benefits, including fewer hospital visits, better cosmetic outcomes and the psychological impact of knowing you will wake up from surgery with a reconstructed breast, which can make the thought of a mastectomy easier to cope with.
While immediate reconstruction can help improve patients' body confidence, there have been concerns that their recovery from this more complex surgery could require them to delay the start of their chemotherapy or radiotherapy. Recent evidence[1] has also suggested that any delay in the start of adjuvant therapy of more than 7-12 weeks could be enough to negatively impact a breast cancer patient's recurrence-free and overall survival.
However, in a new prospective multi-cohort study of 2,548 patients presented to delegates at the UK Interdisciplinary Breast Cancer Symposium, immediate reconstruction was found not to have any significant impact on the time to delivery of patients' adjuvant therapy, compared to mastectomy alone.
The study – part of the iBRA-2 trial and led by the Breast Reconstruction Research Collaborative – recruited 2,548 patients undergoing a mastectomy from 76 breast and plastic surgery centres across the UK and Europe (between 1st July 2016 and 31st December 2016), of which 1,016 underwent immediate breast reconstruction.
The researchers – led by Dr Shelley Potter and Professor Chris Holcombe from the University of Bristol and the Royal Liverpool University Hospital respectively – compared the experiences of patients undergoing mastectomy with immediate reconstruction to those undergoing mastectomy alone, measuring post-operative complications, whether patients needed chemotherapy and radiotherapy, and any delays in, or omission of, adjuvant therapy due to post-op complications.
Complications were experienced by 932 patients (36.6%), with patients undergoing immediate reconstruction found to be significantly more likely to require readmission to hospital or re-operation in the first six weeks following their surgery.
Chemotherapy or radiotherapy was required by 1,241 patients (48.7%) and the researchers found no significant differences in when those who had undergone immediate reconstruction were able to begin their adjuvant cancer therapy, compared to those who had a mastectomy alone.
Of those who opted for immediate reconstruction, 675 patients (26.5%) received implant-based reconstruction, 105 (4.1%) pedicled-flaps and 228 (8.9%) free-flap reconstructions, with 8 having 'other' forms of reconstruction. The study observed no difference in complication rates or time to adjuvant therapy between types of reconstruction.
It is estimated that around 17,200 women each year in the UK undergo a mastectomy following a breast cancer diagnosis – with it being estimated that over 3,500 (21%) of these patients currently opting to have immediate reconstruction[2].
Study lead Dr Shelley Potter, NIHR Clinician Scientist and Consultant Senior Lecturer in Oncoplastic Breast Surgery at the University of Bristol, said: "Our study provides important information that we hope will help guide patients and clinicians in making decisions about reconstructive surgery.
"Through this trial we are aiming to generate the evidence to help women make more informed decisions about the type and timing of reconstructive surgery that is right for them. We very much hope our data on complications and time to adjuvant therapy will do just that."
Baroness Delyth Morgan, Chief Executive at Breast Cancer Now, which is hosting the UK Interdisciplinary Breast Cancer Symposium, said: "These encouraging and vitally important findings could enable thousands of women to choose to have immediate reconstruction without the fear it will necessitate a delay in their therapy.
"Deciding whether to have reconstruction, and when, can be an incredibly difficult decision for women at an already anxious time. Most choose not to have reconstruction following a mastectomy, but for some it forms an essential part of their cancer treatment, particularly for many younger women.
"It's therefore essential we ensure that all patients are given all the information they need to fully discuss the pros and cons not only of reconstruction, but of the different types and timing of this option.
"This crucial trial brings us another step forward in helping breast cancer patients make the decision that's right for them. We now look forward to further results from iBRA-2 to fully understand the long-term outcomes for patients with or without immediate reconstruction."
NICE guidelines recommend that all patients diagnosed with early breast cancer who are to undergo a mastectomy have the option of immediate reconstruction, planned delayed reconstruction or no reconstruction discussed with them.
The iBRA-2 study – which has been made possible through a collaboration between breast and plastic surgeons and trainees, working together to improve patient outcomes and experiences – will now go on to assess long-term outcomes at 5-years (2021) and 10-years (2027) for patients undergoing mastectomy with and without immediate reconstruction.
Later this year, Breast Cancer Now, the Association of Breast Surgery of Great Britain and Ireland (ABS) and British Association of Plastic, Reconstructive and Aesthetic Surgery (BAPRAS) will be issuing oncoplastic breast surgery guidance to reflect best practice recommendations and consensus opinion of clinical experts and patient advocates.
Further information
---
[1] Chavez-MacGregor M, Clarke CA, Lichtensztajn DY, Giordano SH. Delayed Initiation of Adjuvant Chemotherapy Among Patients With Breast Cancer. JAMA Oncol. 2016;2(3):322–329. doi:10.1001/jamaoncol.2015.3856