View all news
UK's leading surgeons mark official launch of £21m NIHR Biomedical Research Centre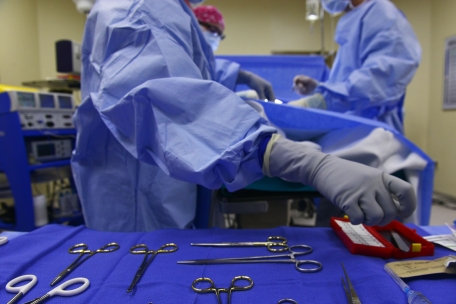 Press release issued: 1 February 2018
Almost a third of hospital admissions involve a surgical procedure and with 4.7 million operations carried out in the UK each year and numbers rising year on year, surgery is one of the most important life-saving treatments offered to patients. Innovative surgical procedures are continually being developed but how are they tested to ensure they are safe? Two of the UK's leading academic surgeons will answer these questions at a public lecture and debate on Thursday 1 February 2018 to mark the official launch of the £21 million National Institute for Health Research (NIHR) Bristol Biomedical Research Centre (BRC).
With over 17,000 surgeons in the UK carrying out thousands of different procedures from replacing joints and removing tumours to repairing organs and reconstructing after injury, developing new techniques and procedures to help speed patient recovery are essential in order improve patient care and reduce the risk of complications. The challenge, however, lies in doing so safely and transparently.
Professor Jane Blazeby, Professor of Surgery at the University of Bristol will discuss how they introduce, evaluate and monitor innovation in surgical procedures and develop research-based surgery in a debate 'Can surgical research improve health', chaired by Professor Debbie Lawlor. Patients and families will also talk about their experiences of surgery.
Professor Jane Blazeby, said: "There is an urgent need to improve how innovative surgical and invasive procedures are introduced and monitored in the NHS – we are working hard to do this".
Professor Gianni Angelini, British Heart Foundation Professor of Cardiac Surgery at the University of Bristol and Bristol Heart Institute, will share some of his experiences as one of the UK's leading cardiac surgeons and his work developing new treatments to tackle cardiovascular disease in his lecture "I'm a heart surgeon - should you trust me?".
Professor Gianni Angelini, said: "This is an exciting opportunity for members of the public to hear about new advances in heart surgery and how cardiovascular research improves patients care."
An art installation 'Making the Invisible Visible' will be on display throughout the event which explores the language, form and narrative of congenital heart disease. The installation includes 3D-printed models of congenital heart disease and a soundscape, in which the voice of a mother narrating the experience of her child's heart transplant is intertwined with medical language and MRI sounds. The MRI is an integral part of the care of these patients, as well as the source of the imaging data from which the 3D models are made. The piece was created by Sofie Layton during her residency at Great Ormond Street Hospital for Children, with Dr Giovanni Biglino (Bristol Heart Institute) and sound artist Jules Maxwell.
The event is now sold out but you can watch the livestream here at 6 pm on Thursday 1 February 2018.

For further information on NIHR Bristol BRC, please contact the Chief Operating Officer, Hazel Phillips on hazel.phillips@bristol.ac.uk.
Further information
About the National Institute for Health Research Bristol Biomedical Research Centre
The research centre, awarded to University Hospitals Bristol NHS Foundation Trust (UH Bristol) and the University of Bristol by the NIHR, will conduct cutting-edge research to develop new, ground-breaking treatments, diagnostics, prevention and care for patients in a wide range of diseases.
Led by John Iredale (Bristol Pro Vice Chancellor for Health) and Jonathan Sterne, NIHR Bristol BRC has research themes on Cardiovascular Research (led by Gianni Angelini) Nutrition, Diet and Lifestyle (led by Andy Ness), Mental Health (led by David Gunnell), Perinatal and Reproductive Health (led by Debbie Lawlor) and Surgical Innovation (led by Jane Blazeby). The research themes are underpinned by cross-cutting themes in Translational Population Science (led by George Davey Smith) and Biostatistics, Evidence Synthesis and Informatics (led by Jonathan Sterne).
A strand of population health science runs through all themes of the BRC, with a focus on translating scientific discoveries that have arisen from population science into better care for NHS patients.
The National Institute for Health Research (NIHR): improving the health and wealth of the nation through research.
Established by the Department of Health, the NIHR:
funds high quality research to improve health
trains and supports health researchers
provides world-class research facilities
works with the life sciences industry and charities to benefit all
involves patients and the public at every step
For further information, visit the NIHR website www.nihr.ac.uk