View all news
'A Grand Gossip: The Bletchley Park Diary of Basil Cottle'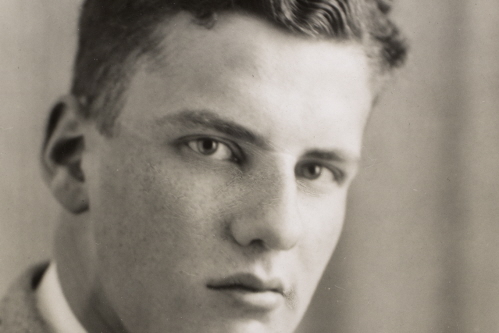 Press release issued: 23 January 2018
Dr Basil Cottle (1917-1994) was one of the University of Bristol's most well-known and respected academics.
His 36-year career, from 1946 to 1982, as a lecturer and reader in the Department of English, including a stint as Sub-Warden at the Burwalls hall of residence, was actually preceded by war-time experience at the famous Bletchley Park – something that many of his friends and pupils did not know about.
Now, his diary, kept during his time at Bletchley Park from 1943 to 1945, has been published, providing a fascinating look at what life was like as a code-breaker during the Second World War, including how he solved the very last Enigma message sent by the Germans at the end of the war.
Basil Cottle arrived at Bletchley Park in September 1943, after medical discharge from the Army. He worked in Hut 6 (Block D).
Well aware of security rules, he usually refers only obliquely to the content of his work – but gives free rein to his opinion of colleagues, landladies, and anyone he bumps into on his days off.
The reader is left in no doubt who he gets on with, and who is a pain! He records amusing scraps of conversation, arguments won and lost, lunch-time diversions, the strains of shift-working, the impact of the newly-arrived US Army contingent, and a host of detail about getting by in wartime conditions.
A gifted illustrator, he took great delight in drawing fantasy birds for colleagues and the book reproduces many of these, and their accompanying comic verses.
James and Judie Hodsdon, have edited the diary and enabled its publication. Both had careers at GCHQ – indeed, Judie's parents had met at Bletchley in the war - so for two seasoned puzzle-solvers the challenge of 'decoding' the diary as a retirement project was well-nigh irresistible.
James said: "Many University of Bristol alumni will recall Dr Basil Cottle but I suspect most people will be surprised to learn of his illustrious career as a war-time code-breaker at Bletchley Park.
"By good fortune, the daily diary he kept at Bletchley – by turns frank and funny – has survived, and we're delighted that it has now been published.
"He was so good at his job (often cracking cipher problems others had failed to solve), that he was asked to stay on after the war
"The book also gives a foretaste of Basil's extra-curricular talents which many will remember from his Bristol days – comic verse, sketches, and of course the gossip – hence the title.
"The issue wasn't so much the handwriting, though Basil did write very small, but all the fleeting references to John, Betty, Agnes, Charles, Lulu and the rest – surnames were often few and far between.
"Systematic cross-referencing, and the good old internet, managed to crack most of the mysteries. But not all – and they're/we're happy to leave those for others to solve."
'A Grand Gossip: The Bletchley Park Diary of Basil Cottle' is available to buy now and is published by Hobnob Press. Its official launch will take place on Thursday, February 1 (6pm-7.30pm) at Wills Hall, Parrys Lane, Stoke Bishop, hosted by The Wills Hall Association.