View all news
Bristol scientists help Attenborough investigate a 200 million-year-old murder mystery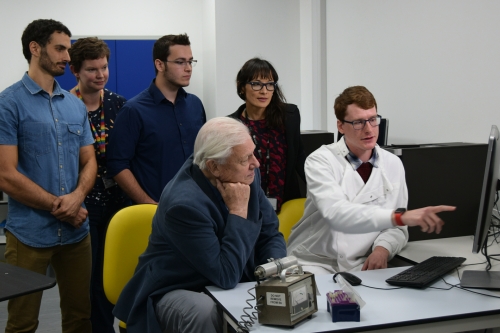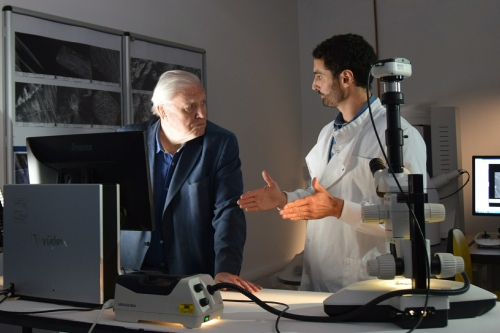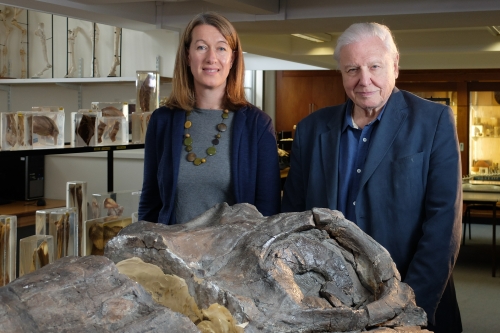 Press release issued: 5 January 2018
In his latest documentary for the BBC, Sir David Attenborough consults scientists from across the University of Bristol to piece together the life - and death - behind a 200-million-year-old fossil.
In Attenborough & the Sea Dragon, Sir David and the team from the University of Bristol undertake a painstaking forensic investigation, leading to surprising revelations about the Jurassic beast.
The bones of the ichthyosaur, a large sea dragon, were discovered on the Jurassic Coast by experienced fossil-hunter Chris Moore and excavated with the help of Fiann Smithwick from the University's School of Earth Sciences.
Unusually, the extraordinary fossil was found covered in preserved skin. Explaining to the world-renowned naturalist and broadcaster, what the preserved pigmentation reveals about the ichthyosaur's colour and behaviour, was a career highlight for Bristol PhD student, Fiann:
"I developed a passion for palaeontology through a love of fossils and nature growing up on the Jurassic Coast. I have been lucky enough to follow that passion through a PhD at Bristol on the function of colour in fossil organisms. Being able to share my findings and work with Sir David Attenborough on this fascinating discovery has been a thrill and a great honour."
Sea-dragon expert, Dr Ben Moon, is also featured in the documentary, and his work reveals the fossil is a previously undiscovered species of ichthyosaur.
"The ichthyosaurs from the Jurassic have remained a comparatively understudied part of an important group of Mesozoic marine reptiles. Having the opportunity to study such a well-preserved fossil is extremely exciting – especially as certain features point to it being a completely new species of ichythosaurus."
Emily Rayfield, Professor of Palaeobiology, utilised her expertise in skeletal mechanics and tomography to reveal the feeding mechanics of the most fearsome ichthyosaur of that time - Temnodontosaurus - a likely predator of smaller, vulnerable ichthyosaurs.
Using state of the art imaging technology and cutting-edge CGI, developed with help from the University of Bristol scientists, the documentary features the most detailed and scientifically-accurate animation of an ichthyosaur ever made - bringing it to life as well as reconstructing its fate.
Sir David Attenborough has a long-standing relationship with the University of Bristol. He was awarded an honorary degree almost 40 years ago in 1977 when he was in the throes of making Life on Earth with the BBC Natural History Unit based in Bristol. It was the start of a close relationship with both the city and the University, and in 2016 Sir David opened the University's new Life Sciences building.
Attenborough & the Sea Dragon is a one-hour special, airing on BBC One at 8pm this Sunday (7 January).