View all news
Lantern parade celebrates a centenary of suffrage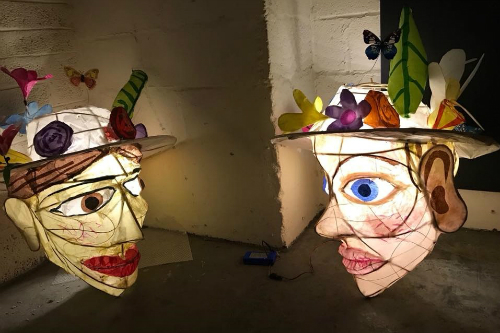 5 February 2018
A lantern parade will take place in Bristol tomorrow (Tuesday 6 February) to celebrate the 100 year anniversary of the first women in the UK being given the right to vote.
Hundreds of people are expected to join the parade, organised by Bristol Women's Voice and supported by the University of Bristol, which begins in Berkeley Square - close to the former Suffragette Headquarters - before suffragette puppet lanterns lead the march down Park Street to City Hall at 6.30pm. Everyone's welcome.
As part of the celebrations, the University will be lighting both the Victoria Rooms, which hosted Annie Kenney and Emmeline Pankhurst during meetings of the Women's Social and Political Union, and the Wills Memorial Building in the suffrage colours of purple, green and white.
The date is exactly 100 years after the Representation of the People Act 1918 was passed, which enabled all men and some women over the age of 30 to vote for the first time.
Penny Gane, Chair of Bristol Women's Voice, said: "We have chosen a lantern parade to commemorate this date so that marchers can illuminate their own words on their lanterns and it will be a truly spectacular event.
"We will march to City Hall to hear choirs sing the March of the Women by Dame Ethel Smyth and We Rise by Dionne Draper, a song commissioned by us for the centenary. College Green will glow with lanterns and our beautiful suffragette puppet lanterns. We're sure it will be a night to remember."
Staff, students and communities from across Bristol will join the parade on Tuesday to mark the centenary.
Sally Patterson, Women's Officer for Bristol SU said: "Commemorating this centenary could not be more important than it is today. The right to vote is something that we perhaps take for granted, yet it is a right that so many people bravely gave their lives for, and continue to do so around the world.
"Students have always been at the forefront of driving social and political change, and as we mark this historic moment for women, we must remember those who are still unsafe and underrepresented today."
Across the country, people took sides both for and against the suffrage movement - and Bristol was no different. In 1913, following an arson attack by suffragettes on the Coombe Dingle pavilion, students from the University retaliated with an assault on the suffragette shop on Park Street.
Despite opposing attitudes to women's rights nationally, the University of Bristol had several women enrolled as students and working in academic and administrative roles, something which is explored by Hannah Lowery, Archivist and Special Collections Manager in a special blog post for the centenary.
Hannah said: "From the first days of the University College Bristol in 1876 women were admitted on an equal status as students as men. Throughout our 5km of Special Collections stock we have evidence of women politicising, learning, protesting, developing and creating."
Further information
For more details of the lantern parade, visit Bristol Women's Voice website or their Facebook event. People wishing to take part should arrive at Berkeley Square for 6pm.
Vote100 is a national campaign, led by the UK government, to marks 100 years since Parliament passed a law which allowed the first women, and all men, to vote for the first time. The University will be running a number of events throughout the year to mark the centenary.
The Special Collections of the University of Bristol Library comprise a rich and diverse range of printed books and journals, archival resources and artefacts. Their collections support the academic work of the University and the wider scholarly community.
Bristol Women's Voice bring women together to share ideas and experiences, support campaigns and celebrate success so that together to make Bristol a showcase for women's involvement, empowerment and equality. Its Deeds Not Words programme of events for Vote 100 is available on their website.