View all news
'Microsphere' protein could help 50 per cent of patients who have heart bypass surgery failure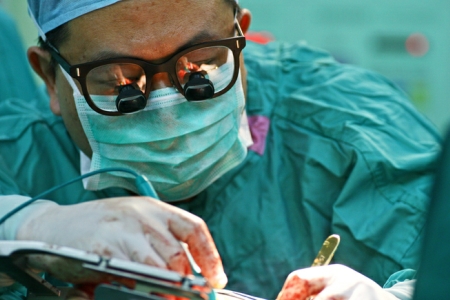 5 April 2018
A new £147,000 research project funded by Heart Research UK aims to help 50 per cent of patients who suffer from failed heart bypass surgery, saving them from further invasive surgery and potentially fatal heart attacks.
The project, led by Professor Sarah George, Professor of Cardiovascular Signalling from the Bristol Medical School and Bristol Heart Institute at the University of Bristol will look at how to prevent the failure of leg vein grafts used to treat blocked coronary arteries.
Currently just over 16,000 heart bypass operations are carried out in the UK each year. Heart attacks are usually caused by blockage of the coronary arteries supplying blood to the heart muscle. One of the treatments for blocked coronary arteries is heart bypass surgery using sections of vein from the patient's leg to bypass the blockage.
However, vein graft failure occurs in around 50 per cent of cases within ten years, due to an increased activity of cells within the vein graft which causes thickening of the inner layer of the vein.
Professor George's team has already been studying a protein that plays an important role in 'cell adhesion' – where cells bind together. This protein reduces over-activity of cells within the vein and graft thickening, without harmful effects on the blood vessel wall. They have also found that a very small part of the protein can act as a mimic for the full-length version and has similar effects on the vein graft.
In this project they will package the mimic in small, biodegradable spheres called 'microspheres', as a way of slowly delivering the mimic to the vein graft.
If the mimic reduces over-activity of the cells within the vein graft without adverse effects on the blood vessel wall, it may have potential as a treatment to prevent vein graft failure following bypass surgery. If successful, it could be used to improve the outcome of heart bypass surgery and reduce the need for surgery to be repeated.
Professor Sarah George said: "Whilst it's considered to be a standard treatment, 50 per cent of heart bypass grafts using leg vein fail within ten years meaning that some patients go on to have further angina or heart attacks, and need further operations. This is an unacceptable figure.
"By researching the benefits of the adhesion protein mimic, we hope to improve the long-term success of heart bypass surgery and reduce this figure."
The University of Bristol is just one recipient of Heart Research UK's Translational Research Project Grants. Awarded since 2009, the national charity based in Leeds has given almost £5m to fund these innovative and pioneering medical research projects across the UK.
Barbara Harpham, Chief Executive of Heart Research UK, said: "Our Translational Research Project Grants aim to bridge the gap between laboratory-based scientific research and patient care with the aim that patients benefit as soon as possible.
"This innovative research project has the potential to help people who have heart bypass surgery by reducing the need for further invasive surgery to be carried out again later."
Further information
Heart Research UK
Heart Research UK is a visionary charity that has been helping hearts near you since 1967. It funds ground-breaking medical research that benefits patients as soon as possible. Over the last 50 years the charity has funded over £24m on medical research in hospitals and universities across the UK and £2.1m on innovative community-based lifestyle projects that help people live healthier, happier and longer lives. Unique, for a national charity, we spend money where it is given, helping hearts near you.
Bristol Heart Institute
Bristol Heart Institute is a world-leading centre for translational cardiovascular research and the leading academic cardiac surgery centre in the UK.
We are specialist in preventing, predicting, detecting, reducing and treating cardiovascular disease, bringing together scientists and clinicians from across the University and the NHS in Bristol, and training the next generation of cardiovascular scientists and clinical academics.
We harness the expertise of Bristol's translational science community and benefit from close proximity to outstanding medical facilities, such as the £61M Bristol Heart Institute Clinical Facility.
In this way, we make the journey from bench to bedside, from scientist to patient, in our fight against heart disease, still the UK's number one killer today.